---
BIRTH: ABT 1735, prob, Providence, Providence, Rhode Island
DEATH: 18 May 1736, prob, Providence, Providence, Rhode Island
BURIAL: North Burial Ground, North Main Street, Providence, Providence, Rhode Island
Father: Abraham Angell (ABT 1711 - 13 Jan 1739)
Mother: Lydia Olney (7 Nov 1716 - 3 Aug 1770)


---

                                                                                                     _____________________
                                                                                                    |                     
                                                                             _Thomas Angell ________|_____________________
                                                                            | (1618 - 1694) m 1643                        
                                             _John Angell __________________|
                                            | (1646 - 1720) m 1670          |
                                            |                               |                        _James Ashton _______
                                            |                               |                       | (1580 - 1651)       
                                            |                               |_Alice Ashton _________|_Alice ______________
                                            |                                 (1617 - 1694) m 1643                        
                       _John Angell ________|
                      | (1677 - 1744)       |
                      |                     |                                                        _____________________
                      |                     |                                                       |                     
                      |                     |                                _John Field ___________|_____________________
                      |                     |                               | (1616 - 1685)                               
                      |                     |_Ruth Field ___________________|
                      |                       (1649 - 1727) m 1670          |
                      |                                                     |                        _____________________
                      |                                                     |                       |                     
                      |                                                     |_Ruth Fairbanks _______|_____________________
                      |                                                                                                   
 _Abraham Angell _____|
| (1711 - 1739)       |
|                     |                                                                              _____________________
|                     |                                                                             |                     
|                     |                                                      _Thomas Clemence ______|_____________________
|                     |                                                     | (.... - 1688)                               
|                     |                      _Richard Clemence _____________|
|                     |                     | (1658 - 1723) m 1686          |
|                     |                     |                               |                        _____________________
|                     |                     |                               |                       |                     
|                     |                     |                               |_Elizabeth ____________|_____________________
|                     |                     |                                 (.... - 1721)                               
|                     |_Sarah Clemence _____|
|                       (1688 - 1725)       |
|                                           |                                                        _John Smith _________
|                                           |                                                       | (1595 - 1649)       
|                                           |                                _John Smith ___________|_Alice ______________
|                                           |                               | (1639 - 1683) m 1659    (.... - 1650)       
|                                           |_Sarah Smith __________________|
|                                             (1663 - 1725) m 1686          |
|                                                                           |                        _John Whipple _______
|                                                                           |                       | (1617 - 1685) m 1638
|                                                                           |_Sarah Whipple ________|_Sarah ______________
|                                                                             (1641 - 1710) m 1659    (1624 - 1666)       
|
|--Anna Angell 
|  (1735 - 1736)
|                                                                                                    _____________________
|                                                                                                   |                     
|                                                                            _Thomas Olney _________|_____________________
|                                                                           | (1605 - 1682) m 1629                        
|                                            _Epenetus Olney _______________|
|                                           | (.... - 1698) m 1665          |
|                                           |                               |                        _James Ashton _______
|                                           |                               |                       | (1580 - 1651)       
|                                           |                               |_Marie Ashton _________|_Alice ______________
|                                           |                                 (.... - 1659) m 1629                        
|                      _James Olney ________|
|                     | (1670 - 1744) m 1702|
|                     |                     |                                                        _____________________
|                     |                     |                                                       |                     
|                     |                     |                                _John Whipple _________|_____________________
|                     |                     |                               | (1617 - 1685) m 1638                        
|                     |                     |_Mary Whipple _________________|
|                     |                       (.... - 1698) m 1665          |
|                     |                                                     |                        _____________________
|                     |                                                     |                       |                     
|                     |                                                     |_Sarah ________________|_____________________
|                     |                                                       (1624 - 1666) m 1638                        
|_Lydia Olney ________|
  (1716 - 1770)       |
                      |                                                                              _____________________
                      |                                                                             |                     
                      |                                                      _Chad Brown ___________|_____________________
                      |                                                     | (1600 - 1650)                               
                      |                      _Daniel Brown _________________|
                      |                     | (1638 - 1710)                 |
                      |                     |                               |                        _____________________
                      |                     |                               |                       |                     
                      |                     |                               |_Elizabeth Sharparowe _|_____________________
                      |                     |                                 (1604 - 1672)                               
                      |_Hallelujah Brown ___|
                        (1680 - 1771) m 1702|
                                            |                                                        _____________________
                                            |                                                       |                     
                                            |                                _Benjamin Hearnden ____|_____________________
                                            |                               | (.... - 1687)                               
                                            |_Alice Hearnden or Harrington _|
                                              (1652 - 1718)                 |
                                                                            |                        _William White ______
                                                                            |                       |                     
                                                                            |_Elizabeth White ______|_____________________
                                                                              (.... - 1701)                               

---
Notes
!SOURCE: Avery F. Angell, Genealogy of the Descendants of Thomas Angell, Who Settled in Providence, 1636 (Providence, R.I.: A. Crawford Greene, 1872), p. 31.

!SOURCE: Email from N. Combs to the Whipple Website, 13 Apr 2003. Cites Sterling's North Burial Ground, Providence, RI: Old Section 1700-1848, p. 84, which gives Anna's burial in the North Burial Ground with her father, Abraham Angell.
Gravestone of Anne Angell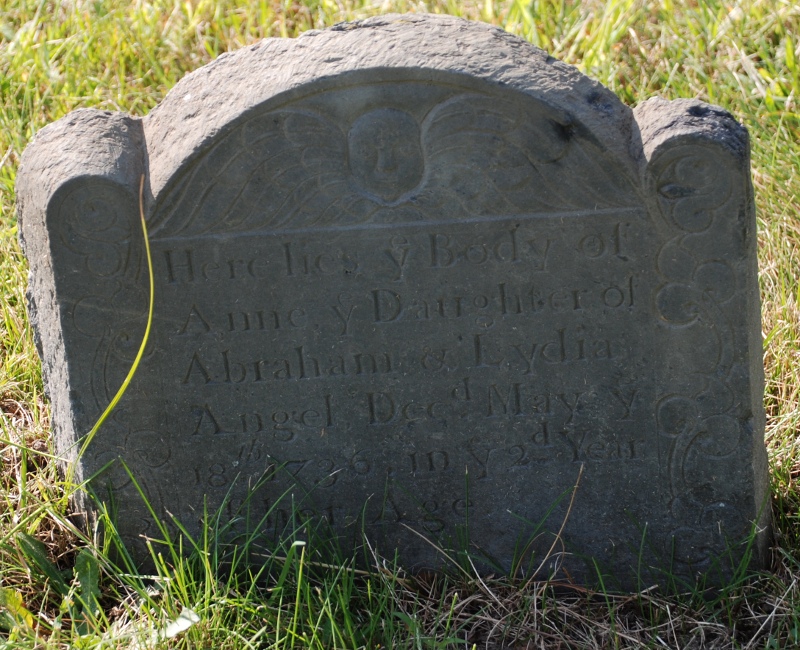 North Burial Ground, North Main Street, Providence, Rhode Island
(Submitted by Hugh Hudson, 19 Mar 2014)

RIN 27652. Quick link to this page: https://genweb.whipple.org/27652
View this person at the Whipple One-Name Study

Email corrections and additions to whipple@one-name.org

© Whipple Website. All rights reserved.

---
HTML created by GED2HTML v3.6-Linux (Mar 8 2001) on Sat Mar 25 00:56:37 2023 GMT.