---
BIRTH: ABT 1624
DEATH: 1666, Providence, Providence, Rhode Island
BURIAL: 1666, North Burial Ground, North Main Street, Providence, Providence, Rhode Island
Family 1: John Whipple (ABT 1617 - 16 May 1685)

MARRIAGE: 1638, Dorchester, Suffolk, Massachusetts
---

             __
            |  
          __|__
         |     
       __|
      |  |
      |  |   __
      |  |  |  
      |  |__|__
      |        
    __|
   |  |
   |  |      __
   |  |     |  
   |  |   __|__
   |  |  |     
   |  |__|
   |     |
   |     |   __
   |     |  |  
   |     |__|__
   |           
 __|
|  |
|  |         __
|  |        |  
|  |      __|__
|  |     |     
|  |   __|
|  |  |  |
|  |  |  |   __
|  |  |  |  |  
|  |  |  |__|__
|  |  |        
|  |__|
|     |
|     |      __
|     |     |  
|     |   __|__
|     |  |     
|     |__|
|        |
|        |   __
|        |  |  
|        |__|__
|              
|
|--Sarah 
|  (1624 - 1666)
|            __
|           |  
|         __|__
|        |     
|      __|
|     |  |
|     |  |   __
|     |  |  |  
|     |  |__|__
|     |        
|   __|
|  |  |
|  |  |      __
|  |  |     |  
|  |  |   __|__
|  |  |  |     
|  |  |__|
|  |     |
|  |     |   __
|  |     |  |  
|  |     |__|__
|  |           
|__|
   |
   |         __
   |        |  
   |      __|__
   |     |     
   |   __|
   |  |  |
   |  |  |   __
   |  |  |  |  
   |  |  |__|__
   |  |        
   |__|
      |
      |      __
      |     |  
      |   __|__
      |  |     
      |__|
         |
         |   __
         |  |  
         |__|__
               

---
Notes
!SOURCE: The following primary sources of information were supplied by Dr. Charles M. Whipple (email hidden) to the Whipple Website, 1 Aug 2008:
Church membership at Dorchester: Sarah Whipple, on 29 October 1641, addressed as "Goodwife Whipple," one of the lowest social class distinctions, was admitted to the Dorchester church. [Records of the First Church at Dorchester in New England, 1636-1734 (Boston: George H. Ellis, 1891) 6.] John would have had to be a member by then, as freemen were required to be members of the church. It is believed that the record of John's admittance to membership was taken to Connecticut in 1635/36. "There is little hope of finding these ancient records either in Windsor or in Dorchester." [Records of First Church, iv & xi]. As quoted in: Charles Whipple, A History of Captain John and Sarah Whipple... 6.

Sarah Whipple's maiden name: Previous antiquarian researches claim that Sarah's maiden name, among others, could have been: Hutchinson, Darling, or They. Regrettably, none of these writers provided requisite proof for their assertions. Sarah's birthplace and date of birth are likewise unknown.

In a subsequent email to the Whipple Website dated 11 Mar 2021, Charles cites Representative Men and Old Families of Rhode Island (Chicago: J.H. Beers, 1908), 3:1676-1677 as the only known source that gives Sarah's maiden name They. Suggesting that evidence to positively identify Sarah's maiden name is as yet inconclusive, he writes:

"Three hundred years of anecdotal and theoretical primary research attempts have proven to be of no use whatsoever in explicating the mystery of Sarahus wayward surname that appears on the Whipple marriage certificate of 1638. I therefore undertook an empirical attempt, using the above-cited 1908 secondary source--the only known source that gives her name as 'They'--to determine Sarah's maiden name once and for all. I advanced the possibility of the standalone name 'They,' or a proximate variant of the name, 'Theyer,' having conceivably been Sarahus name. The evidence proved encouraging yet indeterminate. (See my post Sarah Theyer Whipple, Putative Wife of Captain John Whipple, 25 February 2021, on the Whipple Website blog)."

The deaths of John and Sarah Whipple: John and Sarah's gravestones were carved around the year 1750, subsequent to the removal of their remains to the North Burial Grounds. Sarah died in 1666, being dead then for approximately 85 years before her gravestone was carved. Moreover, John would have been dead for approximately 65 years in 1750. A lack of accurate and complete cemetery information was the result. Those who had access to the truth were long since deceased themselves. Well-meaning descendants, likely their grandsons, Deputy Governor Joseph Junior and his brother, John, were insufficiently prepared to carry out Captain John's 1682 directive to their father to see to it that "I be decently buried." It must be pointed out that John and Sarah's gravestones are recognized to be the earliest dated in the cemetery. [John E. Sterling, North Burial Ground, Old Section, 1700-1848, Special Publication #5 (Providence: Rhode Island Genealogical Society, 2000) xii.
!DEATH: Age at death: 42.
!SOURCE: Dwane V. Norris, Whipple Family Tree, Revised 23 Jul 1996 (Jackson, Mich.: D.V. Norris, c1993), p. 81.
!SOURCE: Judith Whipple, "Genealogy Chart of Captain John Whipple 1617-1685 to Grace Louise (Whipple) Pitcher 1892 and Alfred Whipple 1903, and John Whipple 1904 and Lorey Whipple 1910-1970" (Portland, Tex., c1977). Copy in the NEHGS library, call number CS71.W574 1977.
!NAME: Philip Currier, The Currier Family Records, v.4, p. 12, gives Sarah's surname as Hutchinson. The name Sarah Hutchinson occurs much less frequently than "Sarah They? or Darling?" as Captain John's wife. One Sarah Hutchinson does appear in the Whipple genealogy (RIN 3573 in this database)--married to Joseph(4), Joseph(3), Matthew(2), Matthew(1) of the Ipswich/Bocking Whipple line.
!BIRTH: Date from John Osborne Austin, _Genealogical Dictionary of Rhode Island_ (Albany, N.Y., 1887; reprint ed. Baltimore: Genealogical Publishing Co., 1978. Judith Whipple gives birth place of Massachusetts (no date given).
!BURIAL: Sarah's grave marker in the Whipple section of the North Burial Grounds, Providence, R.I., reads: "IN MEMORY / of / Mrs. Sarah WHIPPLE / wife of / Capt. John Whipple / She was born in Dorchester, in New England; and died in / Providence, Anno Dona, 1666 / aged about 42 years." -- D.V. Norris, p. 81.
!RESIDENCES: Dorchester, Mass., and Providence, R.I. (Austin, _Dictionary_, p. 221.)
!SOURCE: Representative Men and Old Families of Rhode Island (Chicago: J.H. Beers, 1908), 3:1676-1677. Gives surname They.
!SOURCE: Mail from Charles M. Whipple, Jr., to Weldon Whipple, 8 Dec 2006. Estimates marriage in 1638 or earlier (previously entered as 1639/40) based on the Early Records of the Town of Providence, XVII:53-4: "On 24 Nov 1684, John junior made a declaration that he was 45 years old at the time, making his date of birth 1639." Thus his parents likely married in 1638 or earlier.
Headstone of Mrs. Sarah Whipple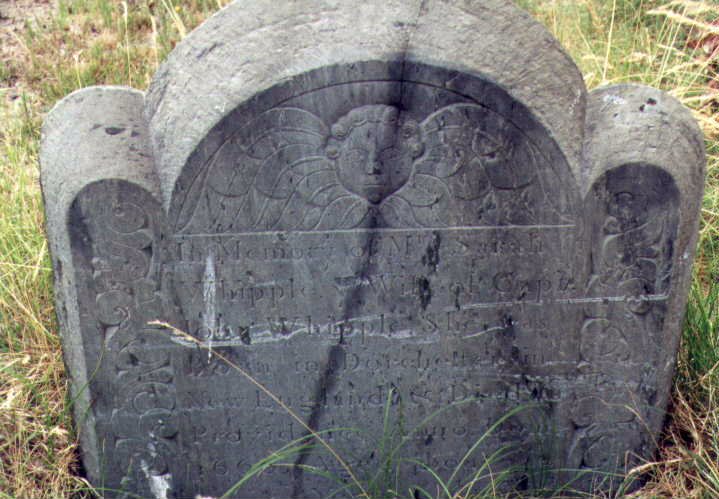 In Memory of Mrs Sarah
Whipple. Wife of Capt.
John Whipple. She was
Born in Dorchester, in
New England & died in
Providence Anno Dona[?]
1666 Aged About 42 years

Sarah Whipple is buried next to her husband, Captain John Whipple, in the Whipple family plot in the North Burial Ground on Main Street in Providence, R.I. Secondary sources indicate that Sarah and John were initially buried in the garden burial site near their home. Their bodies were moved to the North Burial Ground when it was established in 1700.

The headstones of Sarah and John are located approximately 48 feet WSW (west-south-west) of the "Dahlia Path" sign in the cemetery.

RIN 367. Quick link to this page: https://genweb.whipple.org/367
View this person at the Whipple One-Name Study

Email corrections and additions to whipple@one-name.org

© Whipple Website. All rights reserved.

---
HTML created by GED2HTML v3.6-Linux (Mar 8 2001) on Fri Sep 15 09:44:26 2023 GMT.