---
BIRTH: 14 May 1883, Ledyard, New London, Connecticut
DEATH: 7 May 1937, New London, New London, Connecticut
BURIAL: Lambtown Cemetery, Lambtown Road, Ledyard, New London, Connecticut
Father: Alden Avery Crouch (27 Dec 1857 - 2 Mar 1932)
Mother: Lucy W. Phillips (8 Jan 1859 - 28 Jun 1930)

Family 1: Daniel L. Chesbro (18 May 1883 - 1970)

MARRIAGE: 2 Apr 1903, Westerly, Washington, Rhode Island
---

                                                                                                  _William Crouch _____
                                                                                                 |  m 1765             
                                                                       _John Crouch _____________|_Christiana Bolles __
                                                                      | (1777 - 1830) m 1797                           
                                                 _John Crouch ________|
                                                | (1800 - 1868) m 1821|
                                                |                     |                           _Timothy Waterhouse _+
                                                |                     |                          | (1740 - 1814) m 1764
                                                |                     |_Elizabeth Watrous _______|_Content Whipple ____
                                                |                       (1780 - 1862) m 1797       (1743 - 1831)       
                       _Timothy Crouch _________|
                      | (1826 - 1874) m 1846    |
                      |                         |                                                 _Timothy Waterhouse _+
                      |                         |                                                | (1740 - 1814) m 1764
                      |                         |                      _John Watrous ____________|_Content Whipple ____
                      |                         |                     | (1778 - 1820) m 1803       (1743 - 1831)       
                      |                         |_Rachel Watrous _____|
                      |                           (1806 - 1826) m 1821|
                      |                                               |                           _Alexander Rogers ___
                      |                                               |                          |  m 1777             
                      |                                               |_Desire Rogers ___________|_Rachel Larrabee ____
                      |                                                 (1780 - 1821) m 1803                           
 _Alden Avery Crouch _|
| (1857 - 1932) m 1877|
|                     |                                                                           _Noah Whipple _______+
|                     |                                                                          | (1741 - 1775) m 1762
|                     |                                                _Samuel Stillman Whipple _|_Hope Whipple _______
|                     |                                               | (1766 - 1843) m 1788       (1740 - 1829)       
|                     |                          _Noah Whipple _______|
|                     |                         | (1792 - 1871) m 1813|
|                     |                         |                     |                           _Thomas Gates _______+
|                     |                         |                     |                          | (1720 - 1797)       
|                     |                         |                     |_Hepzibah Gates __________|_Elizabeth Mitchell _
|                     |                         |                       (1765 - 1822) m 1788       (1724 - ....)       
|                     |_Betsey Whipple _________|
|                       (1826 - 1902) m 1846    |
|                                               |                                                 _William Crouch _____
|                                               |                                                |  m 1765             
|                                               |                      _William Crouch __________|_Christiana Bolles __
|                                               |                     | (1770 - 1840) m 1791                           
|                                               |_Content Crouch _____|
|                                                 (1794 - 1835) m 1813|
|                                                                     |                           _Timothy Waterhouse _+
|                                                                     |                          | (1740 - 1814) m 1764
|                                                                     |_Content Watrous _________|_Content Whipple ____
|                                                                       (1769 - 1853) m 1791       (1743 - 1831)       
|
|--Clara Fenella Crouch 
|  (1883 - 1937)
|                                                                                                 _____________________
|                                                                                                |                     
|                                                                      __________________________|_____________________
|                                                                     |                                                
|                                                _Asa Phillips _______|
|                                               |                     |
|                                               |                     |                           _____________________
|                                               |                     |                          |                     
|                                               |                     |__________________________|_____________________
|                                               |                                                                      
|                      _Josiah Fuller Phillips _|
|                     | (1826 - 1896) m 1851    |
|                     |                         |                                                 _____________________
|                     |                         |                                                |                     
|                     |                         |                      __________________________|_____________________
|                     |                         |                     |                                                
|                     |                         |_Amelia Thomas ______|
|                     |                                               |
|                     |                                               |                           _____________________
|                     |                                               |                          |                     
|                     |                                               |__________________________|_____________________
|                     |                                                                                                
|_Lucy W. Phillips ___|
  (1859 - 1930) m 1877|
                      |                                                                           _Comfort Chapman ____
                      |                                                                          |  m 1780             
                      |                                                _Samuel Chapman __________|_Eunice Whipple _____
                      |                                               | (1780 - 1820) m 1820       (1764 - ....)       
                      |                          _Samuel Chapman _____|
                      |                         | (1806 - 1844) m 1827|
                      |                         |                     |                           _Timothy Waterhouse _+
                      |                         |                     |                          | (1740 - 1814) m 1764
                      |                         |                     |_Abiah Watrous ___________|_Content Whipple ____
                      |                         |                       (1782 - 1820) m 1820       (1743 - 1831)       
                      |_Abiah Chapman __________|
                        (1834 - 1911) m 1851    |
                                                |                                                 _William Crouch _____
                                                |                                                |  m 1765             
                                                |                      _John Crouch _____________|_Christiana Bolles __
                                                |                     | (1777 - 1830) m 1797                           
                                                |_Abiah Crouch _______|
                                                  (1804 - 1871) m 1827|
                                                                      |                           _Timothy Waterhouse _+
                                                                      |                          | (1740 - 1814) m 1764
                                                                      |_Elizabeth Watrous _______|_Content Whipple ____
                                                                        (1780 - 1862) m 1797       (1743 - 1831)       

---
Notes
!SOURCE: Grave Marker in the Ledyard Union Cemetery, cited in email from R. Gilebarto to Weldon Whipple, May 1998.

!SOURCE: Email from Dianne Domino (email hidden) to Weldon Whipple, 7 Jan 2002. Cites information from her Great-aunt Evelyn Phillips Hysell's book entitled Phillips Genealogies.

!DEATH: Lawrence Memorial Hospital. --D. Domino

!SOURCE: Interenational Genealogical Index (Internet). Adds marriage date.
Gravestone of Daniel L. and Clara F. (Crouch) Chesbro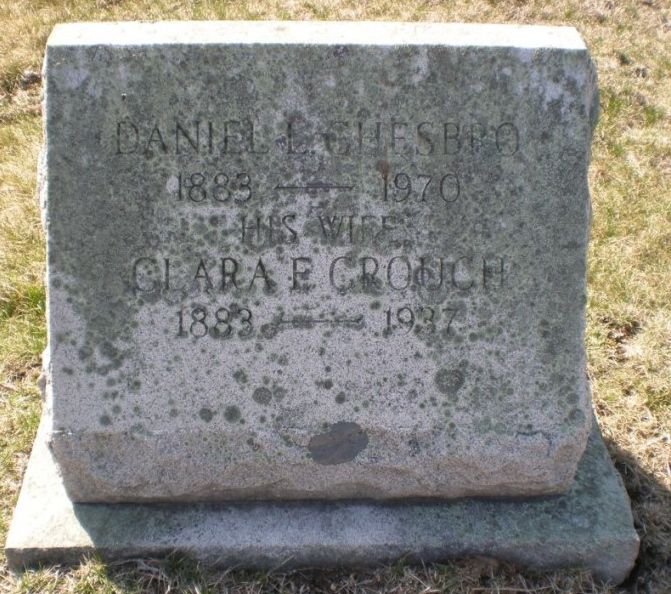 Lambtown Cemetery, Lambtown Road, Ledyard, New London, Connecticut
(Submitted by R. Gilebarto, 12 Apr 2009)

RIN 21394. Quick link to this page: https://genweb.whipple.org/21394
View this person at the Whipple One-Name Study

Email corrections and additions to whipple@one-name.org

© Whipple Website. All rights reserved.

---
HTML created by GED2HTML v3.6-Linux (Mar 8 2001) on Mon Nov 27 00:14:57 2023 GMT.