---
BIRTH: ABT 1801, , , Vermont or New Hampshire
DEATH: Jan 1888, of, Ionia, Ionia, Michigan
Family 1: Zebulon W. Whipple (1793 - 17 Jul 1853)


---

             __
            |  
          __|__
         |     
       __|
      |  |
      |  |   __
      |  |  |  
      |  |__|__
      |        
    __|
   |  |
   |  |      __
   |  |     |  
   |  |   __|__
   |  |  |     
   |  |__|
   |     |
   |     |   __
   |     |  |  
   |     |__|__
   |           
 __|
|  |
|  |         __
|  |        |  
|  |      __|__
|  |     |     
|  |   __|
|  |  |  |
|  |  |  |   __
|  |  |  |  |  
|  |  |  |__|__
|  |  |        
|  |__|
|     |
|     |      __
|     |     |  
|     |   __|__
|     |  |     
|     |__|
|        |
|        |   __
|        |  |  
|        |__|__
|              
|
|--Phoebe Andrews 
|  (1801 - 1888)
|            __
|           |  
|         __|__
|        |     
|      __|
|     |  |
|     |  |   __
|     |  |  |  
|     |  |__|__
|     |        
|   __|
|  |  |
|  |  |      __
|  |  |     |  
|  |  |   __|__
|  |  |  |     
|  |  |__|
|  |     |
|  |     |   __
|  |     |  |  
|  |     |__|__
|  |           
|__|
   |
   |         __
   |        |  
   |      __|__
   |     |     
   |   __|
   |  |  |
   |  |  |   __
   |  |  |  |  
   |  |  |__|__
   |  |        
   |__|
      |
      |      __
      |     |  
      |   __|__
      |  |     
      |__|
         |
         |   __
         |  |  
         |__|__
               

---
Notes
!SOURCE: Email from Ruth Tinker Smith (email hidden) to the Whipple Website, 29 Jan 2001.

!RESIDENCES: "Family was a resident of Town of Barre or Albion, Orleans Co., New York, 1830." --R.T. Smith

!CENSUS: Enumerated on the 1850 census on 6 Aug 1850, in Ionia Township, Ionia County, Michigan. Listed as a 49-year-old farmer, born in [not N.Y.].

!SOURCE: "Descendants of Zebulon W. Whipple," email from N. Combs to Weldon Whipple, 16 Apr 2017. Cites 1850 Census, Ionia, Ionia, MI (birth); Michigan, Wills and Probate Records, 1784-1980 (death).
Zebulon's Family in the 1850 U.S. Census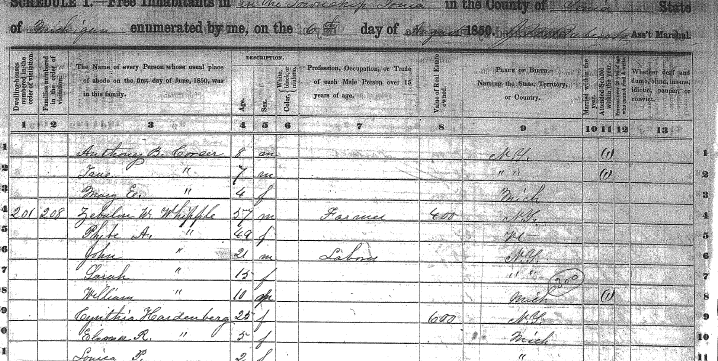 RIN 50166. Quick link to this page: https://genweb.whipple.org/50166
View this person at the Whipple One-Name Study

Email corrections and additions to whipple@one-name.org

© Whipple Website. All rights reserved.

---
HTML created by GED2HTML v3.6-Linux (Mar 8 2001) on Sun Aug 7 20:05:56 2022 GMT.