---
BIRTH: 17 Sep 1738, of, Cumberland, Providence, Rhode Island
DEATH: 17 Mar 1814, Cumberland, Providence, Rhode Island
BURIAL: Dexter Street Cemetery, Cumberland, Providence, Rhode Island
Family 1: William Wilkinson (31 Jul 1739 - 1 Jul 1814)

MARRIAGE: 5 Jul 1759, Cumberland, Providence, Rhode Island
---

             __
            |  
          __|__
         |     
       __|
      |  |
      |  |   __
      |  |  |  
      |  |__|__
      |        
    __|
   |  |
   |  |      __
   |  |     |  
   |  |   __|__
   |  |  |     
   |  |__|
   |     |
   |     |   __
   |     |  |  
   |     |__|__
   |           
 __|
|  |
|  |         __
|  |        |  
|  |      __|__
|  |     |     
|  |   __|
|  |  |  |
|  |  |  |   __
|  |  |  |  |  
|  |  |  |__|__
|  |  |        
|  |__|
|     |
|     |      __
|     |     |  
|     |   __|__
|     |  |     
|     |__|
|        |
|        |   __
|        |  |  
|        |__|__
|              
|
|--Mary "Molly" Alverson 
|  (1738 - 1814)
|            __
|           |  
|         __|__
|        |     
|      __|
|     |  |
|     |  |   __
|     |  |  |  
|     |  |__|__
|     |        
|   __|
|  |  |
|  |  |      __
|  |  |     |  
|  |  |   __|__
|  |  |  |     
|  |  |__|
|  |     |
|  |     |   __
|  |     |  |  
|  |     |__|__
|  |           
|__|
   |
   |         __
   |        |  
   |      __|__
   |     |     
   |   __|
   |  |  |
   |  |  |   __
   |  |  |  |  
   |  |  |__|__
   |  |        
   |__|
      |
      |      __
      |     |  
      |   __|__
      |  |     
      |__|
         |
         |   __
         |  |  
         |__|__
               

---
Notes
!SOURCE: Israel Wilkinson, _Memoirs of the Wilkinson Family in America_ (Jacksonville, Ill.: Davis & Penniman, 1869), p. 170.

!SOURCE: Email from N. Combs to Weldon Whipple, 29 Aug 2004. Cites Rhode Island Cemeteries Database Index (adds approximate birth date, death date and place, burial place); Arnold's VRs 3:5:70 Cumberland 1:17 (marriage).

!SOURCE: "Direct Descendants of William Wilkinson," email from N. Combs to Weldon Whipple, 15 Nov 2011. Confirms information submitted previously.

!SOURCE: Photo of gravestone in the Dexter Street Cemetery, Cumberland, RI, submitted by Peter Sarazin (email hidden) to Weldon Whipple, 9 Apr 2014. Gives name Mrs. Mary Wilkinson (given name previously entered as Molly).
Gravestones of William and Mary (Alverson) Wilkinson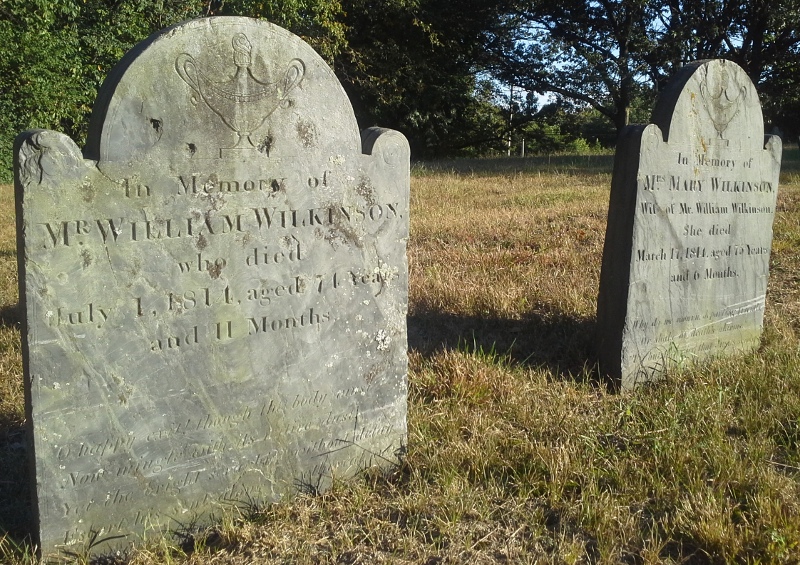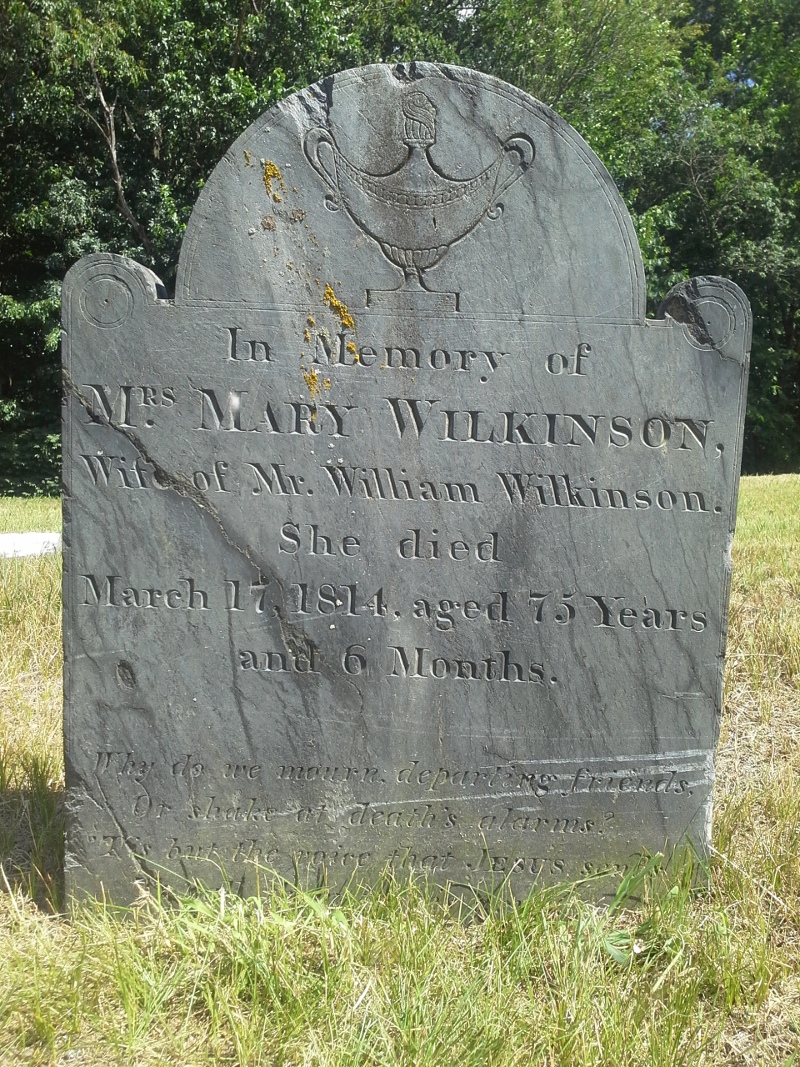 Dexter Street Cemetery, Cumberland, Rhode Island
(Submitted by Peter Sarazin, 9 Apr 2014)

In Memory of
Mrs. MARY WILKINSON
Wife of Mr. William Wilkinson
She died
March 17, 1814, aged 75 Years
and 6 Months.

Why do we mourn departing friends,
Or shake at death's alarms?
'Tis the voice that Jesus sends
To call them to his arms.

RIN 20811. Quick link to this page: https://genweb.whipple.org/20811
View this person at the Whipple One-Name Study

Email corrections and additions to whipple@one-name.org

© Whipple Website. All rights reserved.

---
HTML created by GED2HTML v3.6-Linux (Mar 8 2001) on Fri Sep 22 22:01:36 2023 GMT.