---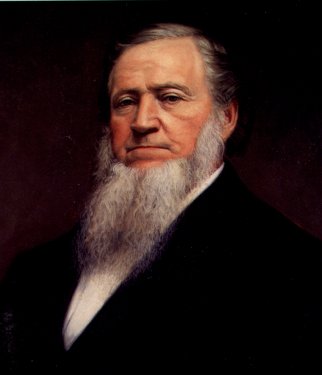 Brigham Young
BIRTH: 1 Jun 1801, Whitingham, Windham, Vermont
DEATH: 29 Aug 1877, Salt Lake City, Salt Lake, Utah
BURIAL: 2 Sep 1877, Salt Lake City, Salt Lake, Utah
Father: John Young (6 Mar 1763 - 12 Oct 1839)
Mother: Abigail "Nabby" Howe (3 May 1766 - 11 Jul 1815)

Family 1: Miriam Angeline Works (7 Jun 1806 - 8 Sep 1832)

MARRIAGE: 8 Oct 1824, , Cayuga, New York
+Elizabeth Young (26 Sep 1825 - 2 Feb 1903)
+Vilate Young (1 Jun 1830 - 19 Nov 1902)
Family 2: Mary Ann Angell (8 Jun 1803 - 27 Jun 1882)

MARRIAGE: 10 Feb 1834, Kirtland, Lake, Ohio
Family 3: Lucy Ann Decker (17 May 1822 - 24 Jan 1890)

MARRIAGE: 14 Jun 1842, Nauvoo, Hancock, Illinois
Family 4: Olive Grey Frost (____ - ____)

MARRIAGE: Feb 1843, Nauvoo, Hancock, Illinois

Family 5: Harriett Elizabeth Cook (7 Nov 1824 - 5 Nov 1898)

MARRIAGE: 2 Nov 1843, Nauvoo, Hancock, Illinois
+Oscar Brigham Young (10 Feb 1846 - 4 Aug 1910)
Family 6: Augusta Adams (7 Dec 1802 - 3 Feb 1866)

MARRIAGE: 2 Nov 1843, Nauvoo, Hancock, Illinois

Family 7: Clarissa Clara Decker (22 Jul 1828 - 5 Jan 1889)

MARRIAGE: 8 May 1844, Nauvoo, Hancock, Illinois
Family 8: Emily Dow Partridge (28 Feb 1824 - 9 Dec 1899)

MARRIAGE: Sep 1844, Nauvoo, Hancock, Illinois
Family 9: Clarissa Ross (16 Jun 1814 - 17 Oct 1858)

MARRIAGE: 10 Sep 1844, Nauvoo, Hancock, Illinois
Family 10: Louisa Beeman (7 Feb 1815 - 15 May 1850)

MARRIAGE: 19 Sep 1844, Nauvoo, Hancock, Illinois
Family 11: Susannah Snively (30 Oct 1815 - 20 Nov 1892)

MARRIAGE: 2 Nov 1844, Nauvoo, Hancock, Illinois

Family 12: Mary Harvey Pierce (29 Nov 1821 - 16 Mar 1847)

MARRIAGE: 16 Jan 1845, Nauvoo, Hancock, Illinois

Family 13: Margaret Pierce (19 Apr 1823 - 16 Jan 1907)

MARRIAGE: 16 Jan 1845, Nauvoo, Hancock, Illinois
+Brigham Morris Young (18 Jan 1855 - 20 Feb 1931)
Family 14: Sophronia Gray Frost (24 Jul 1816 - 6 Oct 1845)

MARRIAGE: Feb 1845, Nauvoo, Hancock, Illinois

Family 15: Ellen Rockwood (23 Mar 1829 - 6 Jan 1866)

MARRIAGE: 21 Jan 1846, Nauvoo, Hancock, Illinois

Family 16: Maria Lawrence (ABT 1805 - 1847)

MARRIAGE: 21 Jan 1846, Nauvoo, Hancock, Illinois

Family 17: Emeline Free (28 Apr 1826 - 17 Jul 1875)

MARRIAGE: 14 Jan 1846, Nauvoo, Hancock, Illinois
Family 18: Margaret Maria Alley (19 Dec 1825 - 5 Nov 1852)

MARRIAGE: 14 Jan 1846, Nauvoo, Hancock, Illinois
+Evelyn Louise Young (30 Jul 1850 - 30 Jan 1917)
+Mahonri Moriancumer Young (1 Nov 1852 - 20 Apr 1884)
Family 19: Martha Bowker (24 Jan 1822 - 26 Sep 1890)

MARRIAGE: 21 Jan 1846, Nauvoo, Hancock, Illinois
+Ida Young (30 Dec 1860 - ____)
Family 20: Rebecca Greenleaf Holman (20 Feb 1824 - 11 Jul 1849)

MARRIAGE: 26 Jan 1846, Nauvoo, Hancock, Illinois

Family 21: Naamah Kendall Jenkins Carter (21 Mar 1821 - 26 Sep 1868)

MARRIAGE: 26 Jan 1846, Nauvoo, Hancock, Illinois

Family 22: Jemima Angell (4 Oct 1804 - 13 Jul 1869)

MARRIAGE: 28 Jan 1846, Nauvoo, Hancock, Illinois

Family 23: Elizabeth "Betsy" Fairchild (28 Mar 1828 - 10 Jun 1910)

MARRIAGE: 30 Jan 1846, Nauvoo, Hancock, Illinois

Family 24: Rhoda Richards (8 Aug 1784 - 17 Jan 1879)

MARRIAGE: 31 Jan 1846, Nauvoo, Hancock, Illinois

Family 25: Zina Diantha Huntington (31 Jan 1821 - 27 Aug 1901)

MARRIAGE: 2 Feb 1846, Nauvoo, Hancock, Illinois
+Zina Presendia Young (3 Apr 1850 - 31 Jan 1931)
Family 26: Mary Ann Turley (13 Jul 1827 - 24 Dec 1904)

MARRIAGE: 3 Feb 1846, Nauvoo, Hancock, Illinois

Family 27: Abigail Harback (____ - ____)

MARRIAGE: 3 Feb 1846, Nauvoo, Hancock, Illinois

Family 28: Nancy Crissie or Cressy (20 Jan 1780 - 17 Dec 1871)

MARRIAGE: 6 Feb 1846, Nauvoo, Hancock, Illinois

Family 29: Diana "Diora" Severance Chase (25 Jul 1827 - 6 Sep 1886)

MARRIAGE: 7 Feb 1846, Nauvoo, Hancock, Illinois

Family 30: Lucy Bigelow (3 Oct 1830 - 3 Feb 1905)

MARRIAGE: 20 Mar 1847, Winter Quarters, Douglas, Nebraska
+Eudora Lovina Young (12 May 1852 - 12 Nov 1922)
+Susan Amelia Young (18 Mar 1856 - 27 May 1933)
+Rhoda Mabel Young (22 Feb 1863 - 20 Sep 1950)
Family 31: Mary Jane Bigelow (15 Oct 1827 - 26 Sep 1868)

DIVORCE: Y
MARRIAGE: 20 Mar 1847, Winter Quarters, Douglas, Nebraska

Family 32: Eliza Roxey Snow (21 Jan 1804 - 5 Dec 1887)

Family 33: Eliza Burgess (8 Dec 1827 - Aug 1915)

MARRIAGE: 3 Oct 1850, Salt Lake City, Salt Lake, Utah
Alffales Young (3 Oct 1853 - 30 Mar 1920)
Family 34: Eliza Babcock (8 Oct 1828 - 1874)

Family 35: Harriet Emeline Barney (13 Oct 1830 - 14 Feb 1911)

MARRIAGE: 14 Mar 1856, Salt Lake City, Salt Lake, Utah
Phineas Howe Young (15 Feb 1863 - ____)
Young (ABT 1865 - ____)
Family 36: Harriet Amelia Folsom (23 Aug 1838 - 11 Dec 1910)

MARRIAGE: 24 Jan 1863, Salt Lake City, Salt Lake, Utah

Family 37: Mary Van Cott (2 Feb 1844 - 5 or 15 Jan 1884)

MARRIAGE: 8 Jan 1868, Salt Lake City, Salt Lake, Utah
+Fannie Van Cott Young (14 Jan 1870 - 31 Jan 1950)
Family 38: Ann Eliza Webb (13 Sep 1844 - ____)

DIVORCE: Y
MARRIAGE: 7 Apr 1868, Salt Lake City, Salt Lake, Utah

Family 39: Lydia Farnsworth (5 Feb 1808 - 5 Feb 1896)

Family 40: Hepzibah Richards (28 Jul 1795 - 30 Sep 1838)



---

                                                                                           _____________________
                                                                                          |                     
                                                                     _____________________|_____________________
                                                                    |                                           
                                               _____________________|
                                              |                     |
                                              |                     |                      _____________________
                                              |                     |                     |                     
                                              |                     |_____________________|_____________________
                                              |                                                                 
                         _Joseph Young _______|
                        | (1729 - ....) m 1759|
                        |                     |                                            _____________________
                        |                     |                                           |                     
                        |                     |                      _____________________|_____________________
                        |                     |                     |                                           
                        |                     |_____________________|
                        |                                           |
                        |                                           |                      _____________________
                        |                                           |                     |                     
                        |                                           |_____________________|_____________________
                        |                                                                                       
 _John Young ___________|
| (1763 - 1839) m 1785  |
|                       |                                                                  _____________________
|                       |                                                                 |                     
|                       |                                            _____________________|_____________________
|                       |                                           |                                           
|                       |                      _____________________|
|                       |                     |                     |
|                       |                     |                     |                      _____________________
|                       |                     |                     |                     |                     
|                       |                     |                     |_____________________|_____________________
|                       |                     |                                                                 
|                       |_Elizabeth Hayden ___|
|                         (1728 - ....) m 1759|
|                                             |                                            _____________________
|                                             |                                           |                     
|                                             |                      _____________________|_____________________
|                                             |                     |                                           
|                                             |_____________________|
|                                                                   |
|                                                                   |                      _____________________
|                                                                   |                     |                     
|                                                                   |_____________________|_____________________
|                                                                                                               
|
|--Brigham Young 
|  (1801 - 1877)
|                                                                                          _____________________
|                                                                                         |                     
|                                                                    _____________________|_____________________
|                                                                   |                                           
|                                              _Peter Howe _________|
|                                             |                     |
|                                             |                     |                      _____________________
|                                             |                     |                     |                     
|                                             |                     |_____________________|_____________________
|                                             |                                                                 
|                        _Phineas Howe _______|
|                       | (1735 - 1807) m 1761|
|                       |                     |                                            _____________________
|                       |                     |                                           |                     
|                       |                     |                      _____________________|_____________________
|                       |                     |                     |                                           
|                       |                     |_Thankful Howe ______|
|                       |                                           |
|                       |                                           |                      _____________________
|                       |                                           |                     |                     
|                       |                                           |_____________________|_____________________
|                       |                                                                                       
|_Abigail "Nabby" Howe _|
  (1766 - 1815) m 1785  |
                        |                                                                  _William Goddard ____
                        |                                                                 |                     
                        |                                            _Edward Goddard _____|_Elizabeth Miles ____
                        |                                           | (1674 - 1754) m 1697                      
                        |                      _Ebenezer Goddard ___|
                        |                     | (1713 - 1762) m 1736|
                        |                     |                     |                      _Simon Stone ________+
                        |                     |                     |                     | (1630 - 1707) m 1656
                        |                     |                     |_Susanna Stone ______|_Mary Whipple _______
                        |                     |                       (1675 - 1754) m 1697  (1634 - 1720)       
                        |_Susanna Goddard ____|
                          (1742 - 1837) m 1761|
                                              |                                            _____________________
                                              |                                           |                     
                                              |                      _Samuel Brigham _____|_____________________
                                              |                     |                                           
                                              |_Sybil Brigham ______|
                                                (1718 - 1807) m 1736|
                                                                    |                      _____________________
                                                                    |                     |                     
                                                                    |_Abigail Moore ______|_____________________
                                                                                                                

---
Notes
!SOURCE: Dean Crawford Smith, The Ancestry of Emily Jane Angell, 1844-1910 (Boston: NEHGS, 1992), p. 149.

!SOURCE: Blaine Whipple, History and Genealogy of "Elder" John Whipple of Ipswich, Massachusetts (Victoria, B.C.: Trafford, 2004), p. G81.

RIN 16223. Quick link to this page: https://genweb.whipple.org/16223
View this person at the Whipple One-Name Study

Email corrections and additions to whipple@one-name.org

© Whipple Website. All rights reserved.

---
HTML created by GED2HTML v3.6-Linux (Mar 8 2001) on Sat Oct 1 19:22:16 2022 GMT.