---
BIRTH: 28 Oct 1723, Groton, New London, Connecticut
DEATH: 4 Nov 1796, Brattleboro, Windham, Vermont
BURIAL: Meetinghouse Hill Cemetery, Orchard Road, West Brattleboro, Windham, Vermont
Father: Samuel Whipple (8 Nov 1695 - BEF Jan 1760)
Mother: Ruth Card (3 Aug 1700 - ____)

Family 1: Elizabeth Safford (7 Feb 1724 - 10 Feb 1810)

MARRIAGE: 4 Jul 1744, Norwich, New London, Connecticut
---

                                                                                                    _____________________
                                                                                                   |                     
                                                                            _John Whipple _________|_____________________
                                                                           | (1617 - 1685) m 1638                        
                                             _Samuel Whipple ______________|
                                            | (.... - 1710) m 1666         |
                                            |                              |                        _____________________
                                            |                              |                       |                     
                                            |                              |_Sarah ________________|_____________________
                                            |                                (1624 - 1666) m 1638                        
                       _Samuel Whipple _____|
                      | (1669 - 1728) m 1690|
                      |                     |                                                       _Andrew Harris ______
                      |                     |                                                      | (.... - 1616) m 1603
                      |                     |                               _Thomas Harris ________|_Jane Bagley ________
                      |                     |                              | (.... - 1686) m 1636                        
                      |                     |_Mary Harris _________________|
                      |                       (1639 - 1722) m 1666         |
                      |                                                    |                        _____________________
                      |                                                    |                       |                     
                      |                                                    |_Elizabeth ____________|_____________________
                      |                                                       m 1636                                     
 _Samuel Whipple _____|
| (1695 - 1760) m 1720|
|                     |                                                                             _William Eddy _______+
|                     |                                                                            | (1560 - 1616) m 1586
|                     |                                                     _Samuel Eddy __________|_Mary Fosten ________
|                     |                                                    | (.... - 1687) m 1636    (1570 - 1611)       
|                     |                      _Zachariah or Zacharias Eddy _|
|                     |                     | (1639 - 1718) m 1663         |
|                     |                     |                              |                        _Thomas Savery ______+
|                     |                     |                              |                       | (1572 - ....) m 1596
|                     |                     |                              |_Elizabeth Savery _____|_Mary Woodcocke _____
|                     |                     |                                (1607 - 1689) m 1636    (1575 - ....)       
|                     |_Elizabeth Eddy _____|
|                       (1670 - 1717) m 1690|
|                                           |                                                       _____________________
|                                           |                                                      |                     
|                                           |                               _Robert Paddock _______|_____________________
|                                           |                              | (1605 - 1660) m 1633                        
|                                           |_Alice Paddock _______________|
|                                             (1639 - 1692) m 1663         |
|                                                                          |                        _Zachariah Faunce ___
|                                                                          |                       |                     
|                                                                          |_Mary Trine or Faunce _|_ Bradford __________
|                                                                            (1613 - 1650) m 1633                        
|
|--Timothy Whipple 
|  (1723 - 1796)
|                                                                                                   _____________________
|                                                                                                  |                     
|                                                                           _______________________|_____________________
|                                                                          |                                             
|                                            _Richard Card ________________|
|                                           | (1618 - 1675)                |
|                                           |                              |                        _____________________
|                                           |                              |                       |                     
|                                           |                              |_______________________|_____________________
|                                           |                                                                            
|                      _James Card _________|
|                     | (1649 - 1706)       |
|                     |                     |                                                       _____________________
|                     |                     |                                                      |                     
|                     |                     |                               _______________________|_____________________
|                     |                     |                              |                                             
|                     |                     |_Rebecca _____________________|
|                     |                       (.... - 1674)                |
|                     |                                                    |                        _____________________
|                     |                                                    |                       |                     
|                     |                                                    |_______________________|_____________________
|                     |                                                                                                  
|_Ruth Card __________|
  (1700 - ....) m 1720|
                      |                                                                             _____________________
                      |                                                                            |                     
                      |                                                     _______________________|_____________________
                      |                                                    |                                             
                      |                      _William Havens ______________|
                      |                     | (1606 - 1680) m 1639         |
                      |                     |                              |                        _____________________
                      |                     |                              |                       |                     
                      |                     |                              |_______________________|_____________________
                      |                     |                                                                            
                      |_Ruth Havens ________|
                        (1654 - ....)       |
                                            |                                                       _____________________
                                            |                                                      |                     
                                            |                               _______________________|_____________________
                                            |                              |                                             
                                            |_Dionis ______________________|
                                              (1624 - 1692) m 1639         |
                                                                           |                        _____________________
                                                                           |                       |                     
                                                                           |_______________________|_____________________
                                                                                                                         

---
Notes
!SOURCE: Edson Whipple Family Organization microfilm.

!SOURCE: Post to the Whipple Mailing List (email hidden) by Ward Whipple (email hidden) on 30 Jun 1997.

!SOURCE: Clara Hammond McGuigan, The Antecedents and Descendants of Noah Whipple of the Rogerene Community at Quakertown, Connecticut (Ithaca, N.Y.: J.M. Kingsbury, 1971), p. 41.

!SOURCE: Josephine C. Frost, Ancestors of Benjamin Ferris Blakeney and His Wife Stella Peronne Sabin (Brooklyn, N.Y., 1926), p. 253.

!SOURCE: Email from Joanne Lahr-Kreischer to Weldon Whipple, 15 Jun 2004. Joanne writes: "I too, have a reference indicating Timothy was buried at Wicopee Hill Cemetery (Antecedents & Descendants of Noah). A lady I corresponded with several years ago believed he was buried at Meeting House Cemetery, but have no other information regarding its possible location. The Vermont Quarterly, Vol 20 Page 223 gives this information:
Brattleboro Cemetery
Epitaphs

"Timothy Whipple
d. 1796
Delirium State, was worse than fate
And vacancy of mind
But real grace fill up the space
And left a hope behind.
"

!SOURCE: Photo of Elizabeth's gravestone at Meetinghouse Hill Cemetery, Orchard Road, West Brattleboro, Vermont., received from Loren Dahling 22 Aug 2004.

!SOURCE: Email from Hugh Hudson (email hidden) to Weldon Whipple, 12 May 2012. Cites Groton Vital Records p. 229 (scanned page attached to email). Part of the Barbour Collection.
Gravestone of Timothy Whipple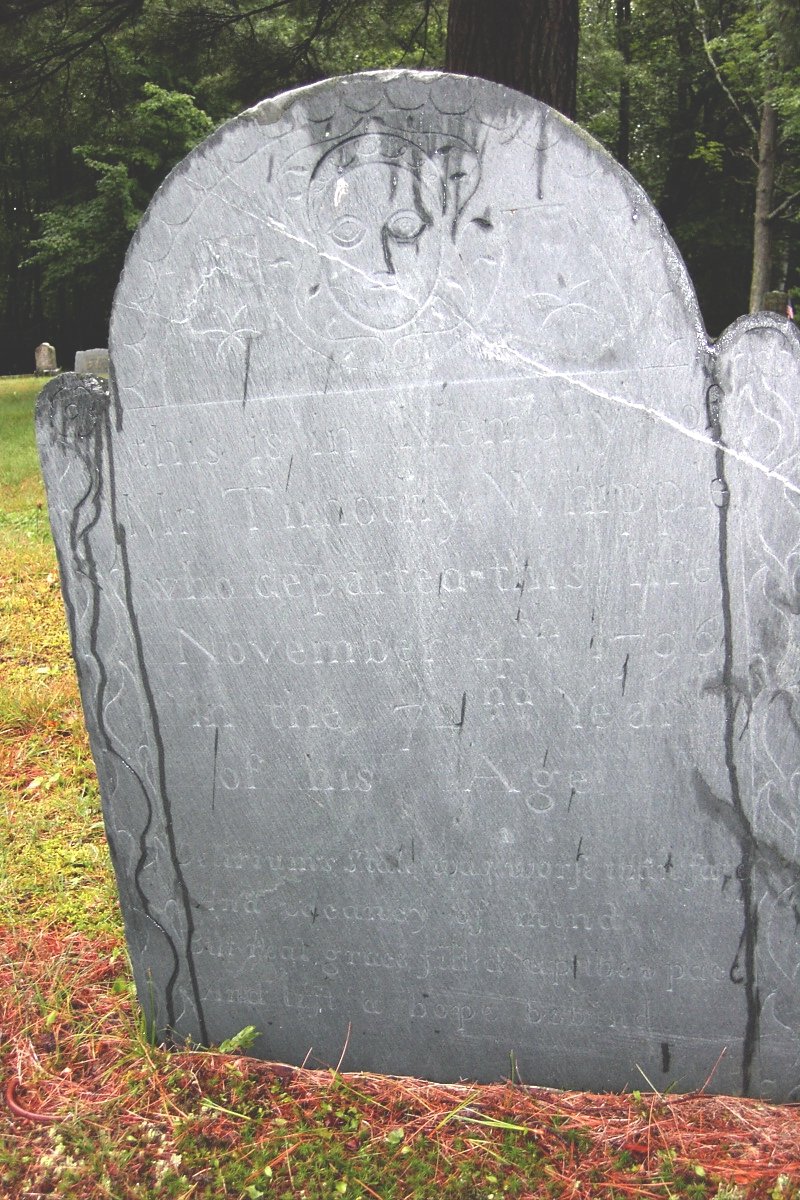 Meetinghouse Hill Cemetery, Orchard Road, West Brattleboro, Vermont

This is in memory of
Mr Timothy Whipple
who departed this life
November 4th 1796
in the 72nd Year
of his Age

(Submitted by Loren Dahling)

RIN 358. Quick link to this page: https://genweb.whipple.org/358
View this person at the Whipple One-Name Study

Email corrections and additions to whipple@one-name.org

© Whipple Website. All rights reserved.

---
HTML created by GED2HTML v3.6-Linux (Mar 8 2001) on Sat May 20 22:44:52 2023 GMT.