---
CHRISTENING: 17 Mar 1643/1644, Dorchester, Suffolk, Massachusetts
DEATH: 12 Mar 1710/1711, Providence, Providence, Rhode Island
BURIAL: North Burial Ground, North Main Street, Providence, Providence, Rhode Island
Father: John Whipple (ABT 1617 - 16 May 1685)
Mother: Sarah (ABT 1624 - 1666)

Family 1: Mary Harris (ABT 1639 - 14 Dec 1722)

MARRIAGE: ABT 1666, Providence, Providence, Rhode Island
---

                                __
                               |  
                             __|__
                            |     
                          __|
                         |  |
                         |  |   __
                         |  |  |  
                         |  |__|__
                         |        
                       __|
                      |  |
                      |  |      __
                      |  |     |  
                      |  |   __|__
                      |  |  |     
                      |  |__|
                      |     |
                      |     |   __
                      |     |  |  
                      |     |__|__
                      |           
 _John Whipple _______|
| (1617 - 1685) m 1638|
|                     |         __
|                     |        |  
|                     |      __|__
|                     |     |     
|                     |   __|
|                     |  |  |
|                     |  |  |   __
|                     |  |  |  |  
|                     |  |  |__|__
|                     |  |        
|                     |__|
|                        |
|                        |      __
|                        |     |  
|                        |   __|__
|                        |  |     
|                        |__|
|                           |
|                           |   __
|                           |  |  
|                           |__|__
|                                 
|
|--Samuel Whipple 
|  (.... - 1710)
|                               __
|                              |  
|                            __|__
|                           |     
|                         __|
|                        |  |
|                        |  |   __
|                        |  |  |  
|                        |  |__|__
|                        |        
|                      __|
|                     |  |
|                     |  |      __
|                     |  |     |  
|                     |  |   __|__
|                     |  |  |     
|                     |  |__|
|                     |     |
|                     |     |   __
|                     |     |  |  
|                     |     |__|__
|                     |           
|_Sarah ______________|
  (1624 - 1666) m 1638|
                      |         __
                      |        |  
                      |      __|__
                      |     |     
                      |   __|
                      |  |  |
                      |  |  |   __
                      |  |  |  |  
                      |  |  |__|__
                      |  |        
                      |__|
                         |
                         |      __
                         |     |  
                         |   __|__
                         |  |     
                         |__|
                            |
                            |   __
                            |  |  
                            |__|__
                                  

---
Notes
!SOURCE: Helen Schatvet Ullmann and L. Randall Harris, "The Origins of Thomas Harris and William Harris of Providence, Rhode Island," The New England Historical and Genealogical Register, 167 (April 2013): 102.

!SOURCE: Henry E. Whipple, A Brief History of the Whipple Families Who Settled in Rhode Island (Providence: A. Crawford Greene, 1873), p. 13. It appears that Henry *might* have skipped a generation in his book. Samuel's children listed on page 13 appear to be his grandchildren--the children of Samuel Jr. in other sources. Furthermore, the Elizabeth Eddy listed as Samuel's wife on page 13 is listed as Samuel's daughter-in-law (wife of Samuel's son named Samuel) in other sources. (A corrected copy of this source in the R.I. Historical Society Library also indicates that there are major problems with this information.)

!SOURCE: John Osborne Austin, _Genealogical Dictionary of Rhode Island_ (Albany, N.Y., 1887; reprint ed. Baltimore: Genealogical Publishing Co., 1978) p. 222.

!SOURCE: Charles M. Whipple, Jr., Sons and Daughters of Jesse: A 360 Year History of the Whipple Family (Oklahoma City: Southwestern Press, 1976), p. 12.

!SOURCE: Email from Charles M. Whipple, Jr., to Weldon Whipple, 22 Mar 2013. Samuel "....was the first to set up a stagecoach [to Boston]; after him, Robert Currie, then Samuel Whipple; when they got through by day light, they thought to have done well." -- William R. Staples, Annals of the Town of Providence (Knowles and Vose, 1843) 605.
As you will note from my book on Capt. John and family that Samuel was indeed a most enterprising fellow. Currie was his son-in-law.

!SOURCE: Samuel's will, dated 9 Mar 1710/11, proved 20 Mar 1710/11, p. 181-2. Abstracted in Abstracts Providence Wills, Rhode Island Genealogical Register, vol. 12, p. 151.

!BURIAL: 1st person to be buried at North Burial Ground, Providence, R.I. --Wm. Lee Whipple.

!RESIDENCES: Lived and died in "Abbot House," N. Main, Providence, R.I.

!DEATH: Family Tree Maker database of William Lee Whipple (email hidden)--received by the Whipple Web Site 4 Dec 1997, gives year 1709/10.
Gravestone of Samuel Whipple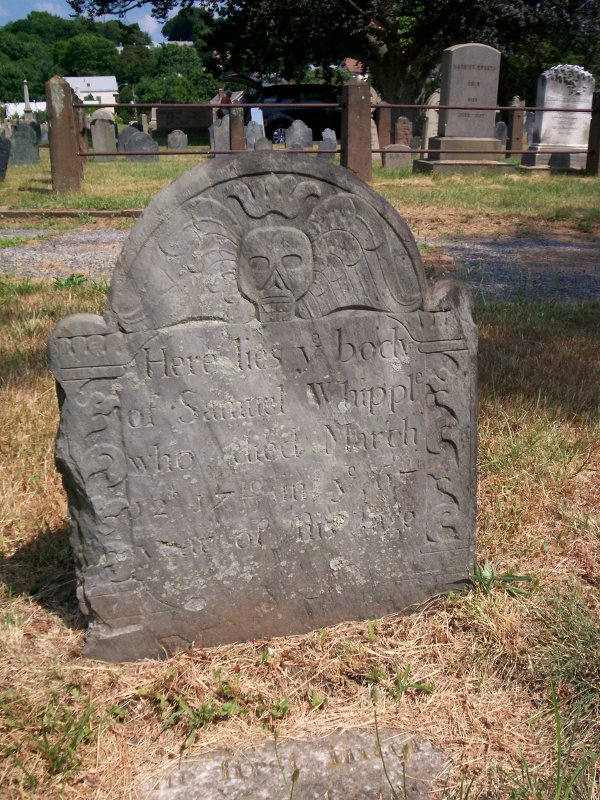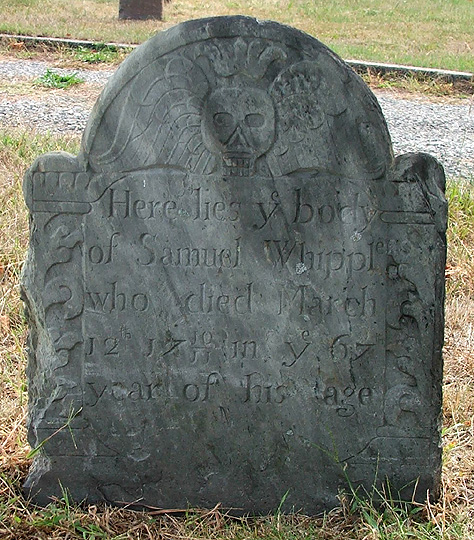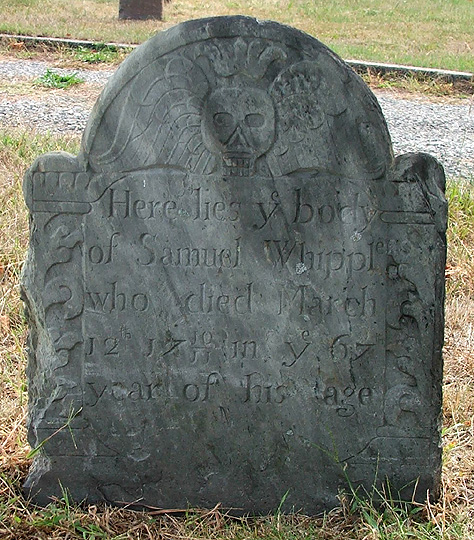 North Burial Ground, Providence, Rhode Island
(Submitted by Hugh Hudson, 27 Jul 2013)

RIN 370. Quick link to this page: https://genweb.whipple.org/370
View this person at the Whipple One-Name Study

Email corrections and additions to whipple@one-name.org

© Whipple Website. All rights reserved.

---
HTML created by GED2HTML v3.6-Linux (Mar 8 2001) on Mon Nov 27 00:14:57 2023 GMT.