---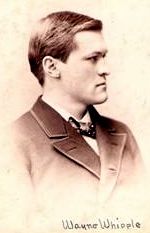 Wayne Whipple
(Submitted by Sue Lamoree, 20 Oct 2009)
BIRTH: 17 Nov 1856, Meadville, Crawford, Pennsylvania
DEATH: 22 Oct 1942, New York City, New York
Father: Andrew Jackson "AJ" Whipple (9 Mar 1824 - 26 Jan 1907)
Mother: Hannah Jane Carr (13 Jan 1831 - 24 Dec 1922)

Family 1: Gertrude May Kimball (11 Sep 1867 - ____)

MARRIAGE: 28 Jan 1893, Malden, Middlesex, Massachusetts
Paul Kimball Whipple (ABT 1894 - ____)
---

                                                                                                   _Jonathan Whipple ________+
                                                                                                  | (1692 - 1745) m 1726     
                                                                             _Titus Whipple ______|_Elizabeth Darte or Dart _
                                                                            | (1741 - ....) m 1766  (1708 - 1779)            
                                                       _Ebenezer Whipple ___|
                                                      | (1769 - 1844) m 1791|
                                                      |                     |                      _Jesse Minor _____________
                                                      |                     |                     | (1716 - 1763) m 1737     
                                                      |                     |_Lucy Minor _________|_Jane Watrous ____________
                                                      |                       (.... - 1816) m 1766  (1719 - 1810)            
                                _Jeremiah R. Whipple _|
                               | (1792 - 1848) m 1816 |
                               |                      |                                            __________________________
                               |                      |                                           |                          
                               |                      |                      _____________________|__________________________
                               |                      |                     |                                                
                               |                      |_Susanna Rogers _____|
                               |                        (1770 - 1815) m 1791|
                               |                                            |                      __________________________
                               |                                            |                     |                          
                               |                                            |_____________________|__________________________
                               |                                                                                             
 _Andrew Jackson "AJ" Whipple _|
| (1824 - 1907) m 1851         |
|                              |                                                                   __________________________
|                              |                                                                  |                          
|                              |                                             _____________________|__________________________
|                              |                                            |                                                
|                              |                       _Ezra Pelton ________|
|                              |                      | (1767 - 1837) m 1794|
|                              |                      |                     |                      __________________________
|                              |                      |                     |                     |                          
|                              |                      |                     |_____________________|__________________________
|                              |                      |                                                                      
|                              |_Nancy Ann Pelton ____|
|                                (1796 - 1887) m 1816 |
|                                                     |                                            __________________________
|                                                     |                                           |                          
|                                                     |                      _____________________|__________________________
|                                                     |                     |                                                
|                                                     |_Chloe Wright _______|
|                                                       (1777 - 1860) m 1794|
|                                                                           |                      __________________________
|                                                                           |                     |                          
|                                                                           |_____________________|__________________________
|                                                                                                                            
|
|--Wayne Whipple 
|  (1856 - 1942)
|                                                                                                  __________________________
|                                                                                                 |                          
|                                                                            _Eleazer Carr _______|__________________________
|                                                                           | (1746 - 1816)                                  
|                                                      _Stutely Carr _______|
|                                                     | (1773 - 1840) m 1791|
|                                                     |                     |                      __________________________
|                                                     |                     |                     |                          
|                                                     |                     |_Eleanor Stafford ___|__________________________
|                                                     |                       (.... - 1813)                                  
|                               _Alvah Carr __________|
|                              | (1800 - 1850) m 1824 |
|                              |                      |                                            __________________________
|                              |                      |                                           |                          
|                              |                      |                      _____________________|__________________________
|                              |                      |                     |                                                
|                              |                      |_Sybil Dyer _________|
|                              |                        (1772 - 1839) m 1791|
|                              |                                            |                      __________________________
|                              |                                            |                     |                          
|                              |                                            |_____________________|__________________________
|                              |                                                                                             
|_Hannah Jane Carr ____________|
  (1831 - 1922) m 1851         |
                               |                                                                   __________________________
                               |                                                                  |                          
                               |                                             _____________________|__________________________
                               |                                            |                                                
                               |                       _____________________|
                               |                      |                     |
                               |                      |                     |                      __________________________
                               |                      |                     |                     |                          
                               |                      |                     |_____________________|__________________________
                               |                      |                                                                      
                               |_Martha Place Tyler __|
                                 (1799 - 1890) m 1824 |
                                                      |                                            __________________________
                                                      |                                           |                          
                                                      |                      _____________________|__________________________
                                                      |                     |                                                
                                                      |_____________________|
                                                                            |
                                                                            |                      __________________________
                                                                            |                     |                          
                                                                            |_____________________|__________________________
                                                                                                                             

---
Notes
!SOURCE: _The National Cyclopedia of American Biography_, vol. 34 (New Nork: J.T. White, 1948), p. 212-13.

!OCCUPATION: Author. At age 49 "began writing and gave up all other interests, ... producing the equivalent of fifty books, including newspaper and magazine syndicate articles, and at sixty began writing for the motion picture industry." --National Cyclopedia.

!SOURCE: Email from Sandy (email hidden) to the Whipple Website, 16 Aug 2001. Her note includes an email attachment from email hidden, dated 1 Oct 2000.

!SOURCE: Email from N. Combs to Weldon Whipple, 29 Jun 2004. Cites the 6/28/1860 Census, Hayfield Twp. Crawford, PA, p.382 (age 3, born PA abt 1856-1857 [age 13 in 1870]).

!SOURCE: Rootweb's WorldConnect Project (Internet), 7 Nov 2007.

Read Blaine Whipple's article about the "Whipple Flag," designed by Wayne Whipple.

RIN 24529. Quick link to this page: https://genweb.whipple.org/24529
View this person at the Whipple One-Name Study

Email corrections and additions to webmaster@whipple.org

© Whipple Website. All rights reserved.

---
HTML created by GED2HTML v3.6-Linux (Mar 8 2001) on Sat Jan 22 21:05:31 2022 GMT.