---
BIRTH: 15 Nov 1816, North Providence, Providence, Rhode Island
DEATH: 15 Sep 1817, North Providence, Providence, Rhode Island
BURIAL: Intervale Cemetery, Intervale Avenue, North Providence, Providence, Rhode Island
Father: Benjamin Whipple (22 Jul 1782 - 21 Apr 1824)
Mother: Elizabeth Greene (ABT 1782 - 9 Oct 1861)


---

                                                                                               _John Whipple _______________
                                                                                              | (1617 - 1685) m 1638        
                                                                         _Benjamin Whipple ___|_Sarah ______________________
                                                                        | (.... - 1703) m 1686  (1624 - 1666)               
                                             _Benjamin Whipple _________|
                                            | (1688 - 1788) m 1734      |
                                            |                           |                      _James Mathewson ____________
                                            |                           |                     | (1638 - 1682) m 1663        
                                            |                           |_Ruth Mathewson _____|_Hannah Field _______________
                                            |                             (.... - 1704) m 1686  (1642 - 1703)               
                       _John Whipple _______|
                      | (1751 - 1824) m 1781|
                      |                     |                                                  _Robert Millard _____________
                      |                     |                                                 |                             
                      |                     |                            _Nehemiah Millard ___|_Elizabeth Sabin ____________
                      |                     |                           |                                                   
                      |                     |_Esther Millard or Miller _|
                      |                        m 1734                   |
                      |                                                 |                      _____________________________
                      |                                                 |                     |                             
                      |                                                 |_Phoebe Shores ______|_____________________________
                      |                                                                                                     
 _Benjamin Whipple ___|
| (1782 - 1824)       |
|                     |                                                                        _Samuel Irons _______________
|                     |                                                                       | (1650 - 1690) m 1677        
|                     |                                                  _Samuel Irons _______|_Sarah Belcher ______________
|                     |                                                 | (1680 - 1720) m 1709                              
|                     |                      _Samuel Irons _____________|
|                     |                     | (1713 - 1793) m 1742      |
|                     |                     |                           |                      _Jonathan Whipple ___________+
|                     |                     |                           |                     | (1664 - 1721) m 1680        
|                     |                     |                           |_Sarah Whipple ______|_Margaret or Margery Angell _
|                     |                     |                             (1696 - 1722) m 1709  (1660 - 1702)               
|                     |_Lydia Irons ________|
|                       (1759 - 1838) m 1781|
|                                           |                                                  _Resolved Waterman __________+
|                                           |                                                 | (1638 - 1670) m 1659        
|                                           |                            _Resolved Waterman __|_Mercy Williams _____________
|                                           |                           | (1667 - 1718)         (1640 - 1705)               
|                                           |_Hannah Waterman __________|
|                                             (1719 - 1806) m 1742      |
|                                                                       |                      _____________________________
|                                                                       |                     |                             
|                                                                       |_Mercy ______________|_____________________________
|                                                                         (1673 - 1750)                                     
|
|--Stephen Decatur Whipple 
|  (1816 - 1817)
|                                                                                              _____________________________
|                                                                                             |                             
|                                                                        _____________________|_____________________________
|                                                                       |                                                   
|                                            ___________________________|
|                                           |                           |
|                                           |                           |                      _____________________________
|                                           |                           |                     |                             
|                                           |                           |_____________________|_____________________________
|                                           |                                                                               
|                      _Benjamin Greene ____|
|                     |                     |
|                     |                     |                                                  _____________________________
|                     |                     |                                                 |                             
|                     |                     |                            _____________________|_____________________________
|                     |                     |                           |                                                   
|                     |                     |___________________________|
|                     |                                                 |
|                     |                                                 |                      _____________________________
|                     |                                                 |                     |                             
|                     |                                                 |_____________________|_____________________________
|                     |                                                                                                     
|_Elizabeth Greene ___|
  (1782 - 1861)       |
                      |                                                                        _____________________________
                      |                                                                       |                             
                      |                                                  _____________________|_____________________________
                      |                                                 |                                                   
                      |                      ___________________________|
                      |                     |                           |
                      |                     |                           |                      _____________________________
                      |                     |                           |                     |                             
                      |                     |                           |_____________________|_____________________________
                      |                     |                                                                               
                      |_Sarah ______________|
                                            |
                                            |                                                  _____________________________
                                            |                                                 |                             
                                            |                            _____________________|_____________________________
                                            |                           |                                                   
                                            |___________________________|
                                                                        |
                                                                        |                      _____________________________
                                                                        |                     |                             
                                                                        |_____________________|_____________________________
                                                                                                                            

---
Notes
!SOURCE: Henry E. Whipple, A Brief Genealogy of the Whipple Families Who Settled in Rhode Island (Providence: A. Crawford Greene, 1873), p. 35.

!SOURCE: Email from N. Combs to the Whipple Website, 6 Apr 2002. Cites Rhode Island Cemeteries Database Index.
Gravestone of Stephen Decatur Whipple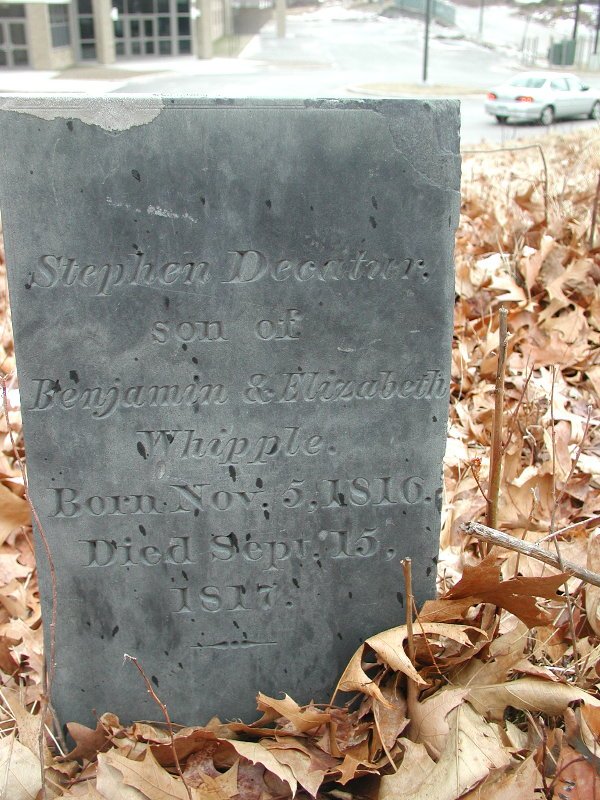 Stephen Decatur
son of
Benjamin & Elizabeth
Whipple
Born Nov. 5, 1816,
Died Sept. 15,
1817.

Intervale Cemetery, Intervale Avenue, North Providence, Rhode Island.
Submitted by Beth Hurd

RIN 10015. Quick link to this page: https://genweb.whipple.org/10015
View this person at the Whipple One-Name Study

Email corrections and additions to whipple@one-name.org

© Whipple Website. All rights reserved.

---
HTML created by GED2HTML v3.6-Linux (Mar 8 2001) on Sat Aug 13 20:01:22 2022 GMT.