---
BIRTH: 17 May 1770, Glocester, Providence, Rhode Island
DEATH: 28 Mar 1842, of, Cooperstown, Otsego, New York
BURIAL: Amboy Center, Oswego, New York
Father: Benajah or Beneger Whipple (17 Jun 1734 - 17 Mar 1817)
Mother: Tabitha (ABT 1730 - 18 Mar 1813)

Family 1: Alice Sprague (1768 - 23 Mar 1842)


---

                                                                                                       _____________________
                                                                                                      |                     
                                                                                 _John Whipple _______|_____________________
                                                                                | (1617 - 1685) m 1638                      
                                                           _Benjamin Whipple ___|
                                                          | (.... - 1703) m 1686|
                                                          |                     |                      _____________________
                                                          |                     |                     |                     
                                                          |                     |_Sarah ______________|_____________________
                                                          |                       (1624 - 1666) m 1638                      
                               _Benjamin Whipple _________|
                              | (1688 - 1788) m 1734      |
                              |                           |                                            _____________________
                              |                           |                                           |                     
                              |                           |                      _James Mathewson ____|_____________________
                              |                           |                     | (1638 - 1682) m 1663                      
                              |                           |_Ruth Mathewson _____|
                              |                             (.... - 1704) m 1686|
                              |                                                 |                      _John Field _________
                              |                                                 |                     | (1616 - 1685)       
                              |                                                 |_Hannah Field _______|_Ruth Fairbanks _____
                              |                                                   (1642 - 1703) m 1663                      
 _Benajah or Beneger Whipple _|
| (1734 - 1817)               |
|                             |                                                                        _____________________
|                             |                                                                       |                     
|                             |                                                  _Robert Millard _____|_____________________
|                             |                                                 |                                           
|                             |                            _Nehemiah Millard ___|
|                             |                           |                     |
|                             |                           |                     |                      _____________________
|                             |                           |                     |                     |                     
|                             |                           |                     |_Elizabeth Sabin ____|_____________________
|                             |                           |                                                                 
|                             |_Esther Millard or Miller _|
|                                m 1734                   |
|                                                         |                                            _____________________
|                                                         |                                           |                     
|                                                         |                      _____________________|_____________________
|                                                         |                     |                                           
|                                                         |_Phoebe Shores ______|
|                                                                               |
|                                                                               |                      _____________________
|                                                                               |                     |                     
|                                                                               |_____________________|_____________________
|                                                                                                                           
|
|--Reuben or Winslow Whipple 
|  (1770 - 1842)
|                                                                                                      _____________________
|                                                                                                     |                     
|                                                                                _____________________|_____________________
|                                                                               |                                           
|                                                          _____________________|
|                                                         |                     |
|                                                         |                     |                      _____________________
|                                                         |                     |                     |                     
|                                                         |                     |_____________________|_____________________
|                                                         |                                                                 
|                              ___________________________|
|                             |                           |
|                             |                           |                                            _____________________
|                             |                           |                                           |                     
|                             |                           |                      _____________________|_____________________
|                             |                           |                     |                                           
|                             |                           |_____________________|
|                             |                                                 |
|                             |                                                 |                      _____________________
|                             |                                                 |                     |                     
|                             |                                                 |_____________________|_____________________
|                             |                                                                                             
|_Tabitha ____________________|
  (1730 - 1813)               |
                              |                                                                        _____________________
                              |                                                                       |                     
                              |                                                  _____________________|_____________________
                              |                                                 |                                           
                              |                            _____________________|
                              |                           |                     |
                              |                           |                     |                      _____________________
                              |                           |                     |                     |                     
                              |                           |                     |_____________________|_____________________
                              |                           |                                                                 
                              |___________________________|
                                                          |
                                                          |                                            _____________________
                                                          |                                           |                     
                                                          |                      _____________________|_____________________
                                                          |                     |                                           
                                                          |_____________________|
                                                                                |
                                                                                |                      _____________________
                                                                                |                     |                     
                                                                                |_____________________|_____________________
                                                                                                                            

---
Notes
!SOURCE: Genealogy of Whipple, Paddick, Bull Families [microfilm] / Ruth Whipple Kapphahn. -- Columbus, Ohio : UMI, 1992. -- (Genealogy & Local History ; G5108), p. 3.

!SOURCE: Dwane V. Norris, Whipple Family Tree (Jackson, Mich., 1996), p. 133.

!SOURCE: Email from Lynda Ozinga to the Whipple Website, 12 Apr 2001.

!SOURCE: Will of mother-in-law, Freelove (Jenckes) Sprague, dated 24 May 1827, proved 4 Jan 1828. Abstracted in "Abstracts of Glocester, Rhode Island, Wills," Rhode Island Genealogical Register, vol. 9, no. 2 (Oct 1986), p. 121. Gives Reuben's name as Winslow Whipple.

!SOURCE: Email from Lynda Ozinga (email hidden) to the Whipple Website, 5 Sep 2001. Cites brother James' will. dated 21 Aug 1812 and probated 30 Mar 1814. Refers to brother Reuben.

!SOURCE: Email from Lynda Ozinga (email hidden) to the Whipple Website, 9 Dec 2001. Cites (and sends transcription of) father Benejah's will, which gives name of Reuben, not Winslow.

!RELIGION: He and Alice (with a son and daughter) were among the first members of Fitch Hill Methodist Church in 1813. --R.W. Kapphahn

!SOURCE: Email from N. Combs to Weldon Whipple, 15 Aug 2021. Cites Family Records of Deacons James W. and Elisha S. Converse / compiled and edited by William G. Hill (Boston, A. Mudge & Sons, 1887), p. 141. Spells name Rheben Whipple, born 1 May 1770.
Headstone of Reuben Whipple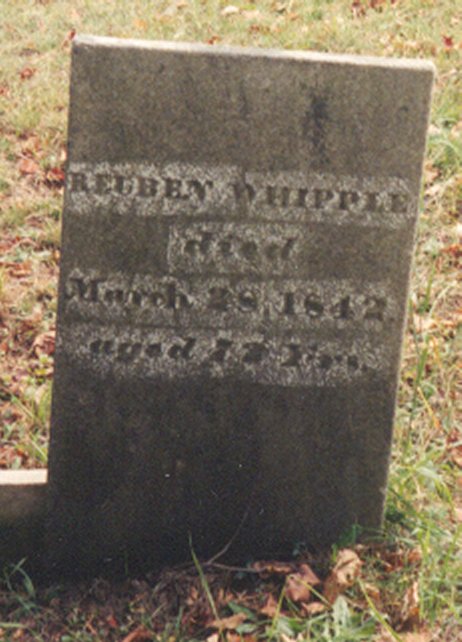 The grave stone "is located about 10 miles outside of Camden, NY, about 10-15 miles from Mexico,
New York, on the highway between Mexico & Camden, ... in a farm field."
(Submitted by Lynda & B.J. Ozinga <Ozlynn@chartermi.net>, 5 Sep 2001.)

RIN 8211. Quick link to this page: https://genweb.whipple.org/8211
View this person at the Whipple One-Name Study

Email corrections and additions to whipple@one-name.org

© Whipple Website. All rights reserved.

---
HTML created by GED2HTML v3.6-Linux (Mar 8 2001) on Sat Jan 28 18:22:11 2023 GMT.