---
BIRTH: 21 May 1796, Cumberland, Providence, Rhode Island
DEATH: 26 May 1853, Cumberland, Providence, Rhode Island
BURIAL: Ballou Cemetery, Old Mendon Road, Cumberland, Providence, Rhode Island
Father: William Whipple (18 Dec 1768 - 5 Aug 1839)
Mother: Sarah Ray or Rey (7 Jul 1769 - 31 Mar 1844)

Family 1: Priscilla "Sila" Brown (ABT 1804 - 31 Oct 1835)

MARRIAGE: ABT 26 Sep 1827, Cumberland, Providence, Rhode Island
Ellen Maria Whipple (1829 - 12 Apr 1856)
+Charles Lyman Whipple (30 Oct 1830 - 22 Dec 1873)
Emily Ardelia Whipple (1834 - 25 Jul 1855)
Family 2: Betsey S. (ABT 1811 - 1 Jun 1867)



---

                                                                                          _John Whipple _______
                                                                                         | (1617 - 1685) m 1638
                                                                    _William Whipple ____|_Sarah ______________
                                                                   | (.... - 1711) m 1675  (1624 - 1666)       
                                             _William Whipple _____|
                                            | (1691 - 1776) m 1713 |
                                            |                      |                      _____________________
                                            |                      |                     |                     
                                            |                      |_Mary _______________|_____________________
                                            |                        (.... - 1713) m 1675                      
                       _Moses Whipple ______|
                      | (1729 - 1807) m 1764|
                      |                     |                                             _Anthony Sprague ____+
                      |                     |                                            | (1635 - 1719) m 1661
                      |                     |                       _Anthony Sprague ____|_Elizabeth Bartlett _
                      |                     |                      | (1663 - 1731) m 1689  (1636 - 1712)       
                      |                     |_Elizabeth Sprague ___|
                      |                       (1694 - 1735) m 1713 |
                      |                                            |                      _Thomas Tilden ______+
                      |                                            |                     | (1618 - 1704) m 1663
                      |                                            |_Mary Tilden ________|_Mary Holmes ________
                      |                                              (1665 - 1731) m 1689  (1644 - ....)       
 _William Whipple ____|
| (1768 - 1839) m 1789|
|                     |                                                                   _James Mathewson ____
|                     |                                                                  | (1638 - 1682) m 1663
|                     |                                             _Daniel Mathewson ___|_Hannah Field _______
|                     |                                            | (1683 - 1751) m 1703  (1642 - 1703)       
|                     |                      _Peregrine Mathewson _|
|                     |                     | (1707 - 1789) m 1733 |
|                     |                     |                      |                      _John Inman _________+
|                     |                     |                      |                     | (1648 - 1712) m 1672
|                     |                     |                      |_Sarah Inman ________|_Mary Whitman _______
|                     |                     |                        (.... - 1742) m 1703  (1652 - 1720)       
|                     |_Patience Mathewson _|
|                       (1736 - 1812) m 1764|
|                                           |                                             _____________________
|                                           |                                            |                     
|                                           |                       _____________________|_____________________
|                                           |                      |                                           
|                                           |_Hannah Hide _________|
|                                              m 1733              |
|                                                                  |                      _____________________
|                                                                  |                     |                     
|                                                                  |_____________________|_____________________
|                                                                                                              
|
|--Otis Whipple 
|  (1796 - 1853)
|                                                                                         _____________________
|                                                                                        |                     
|                                                                   _____________________|_____________________
|                                                                  |                                           
|                                            ______________________|
|                                           |                      |
|                                           |                      |                      _____________________
|                                           |                      |                     |                     
|                                           |                      |_____________________|_____________________
|                                           |                                                                  
|                      _Henry Ray __________|
|                     | (1729 - 1804)       |
|                     |                     |                                             _____________________
|                     |                     |                                            |                     
|                     |                     |                       _____________________|_____________________
|                     |                     |                      |                                           
|                     |                     |______________________|
|                     |                                            |
|                     |                                            |                      _____________________
|                     |                                            |                     |                     
|                     |                                            |_____________________|_____________________
|                     |                                                                                        
|_Sarah Ray or Rey ___|
  (1769 - 1844) m 1789|
                      |                                                                   _____________________
                      |                                                                  |                     
                      |                                             _Daniel Jencks ______|_____________________
                      |                                            |                                           
                      |                      _Daniel Jenckes ______|
                      |                     | (1701 - 1789) m 1727 |
                      |                     |                      |                      _____________________
                      |                     |                      |                     |                     
                      |                     |                      |_Katherine Balcomb __|_____________________
                      |                     |                                                                  
                      |_Hannah Jenckes _____|
                        (1732 - 1794)       |
                                            |                                             _Anthony Sprague ____+
                                            |                                            | (1635 - 1719) m 1661
                                            |                       _Anthony Sprague ____|_Elizabeth Bartlett _
                                            |                      | (1663 - 1731) m 1689  (1636 - 1712)       
                                            |_Mercy Sprague _______|
                                              (1703 - 1750) m 1727 |
                                                                   |                      _Thomas Tilden ______+
                                                                   |                     | (1618 - 1704) m 1663
                                                                   |_Mary Tilden ________|_Mary Holmes ________
                                                                     (1665 - 1731) m 1689  (1644 - ....)       

---
Notes
!SOURCE: Henry E. Whipple, A Brief Genealogy of the Whipple Families Who Settled in Rhode Island (Providence: A. Crawford Greene, 1873), p. 51.

!SOURCE: James N. Arnold, Vital Record of Rhode Island, 1636-1850, vol. 3, Cumberland, pt. 5 (Providence, R.I.: Narragansett Historical Pub. Co., 1892), p. 132.

!SOURCE: Email from N. Combs to the Whipple Website, 25 Oct 2001. Cites Vital Record of Rhode Island, 1636-1850; Rhode Island Cemeteries Database Index.

!SOURCE: Israel Wilkinson, _Memoirs of the Wilkinson Family in America_ (Jacksonville, Ill.: Davis & Penniman, 1869), p. 165.

!SOURCE: Mentioned in will of Almira Brown, "singlewoman," dated 24 Oct 1841, proved 3 Jan 1842. Abstracted by Nellie M.C. Beaman in "Abstracts of Cumberland, Rhode Island Wills," Rhode Island Genealogical Register, vol. 5, no. 3 (Jan 1983), p. 235. Mentions Otis as the father of Charles Lyman Whipple, Ellen Maria Whipple and Emily Andelia Whipple (no relationship to Almira Brown).
Gravestone of Otis Whipple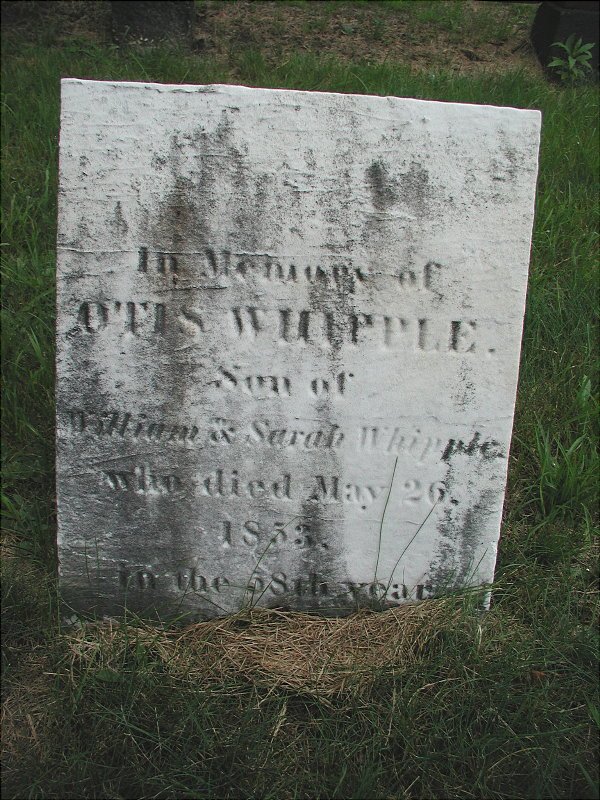 Ballou Cemetery (Historical Cemetery # CU009), Old Mendon Road at telephone pole # 109, Cumberland, Providence, Rhode Island.
Submitted by Beth Hurd, 20 Jul 2004.
In Memory of Otis Whipple son of William and Sarah Whipple who died May 26, 1853, in the 58th year of his age

RIN 10198. Quick link to this page: https://genweb.whipple.org/10198
View this person at the Whipple One-Name Study

Email corrections and additions to whipple@one-name.org

© Whipple Website. All rights reserved.

---
HTML created by GED2HTML v3.6-Linux (Mar 8 2001) on Sat May 20 22:44:52 2023 GMT.