---
BIRTH: 6 Apr 1792, Groton, New London, Connecticut
DEATH: 26 Oct 1871
BURIAL: Ledyard Union Cemetery, Ledyard, New London, Connecticut
Father: Samuel Stillman Whipple (28 Nov 1766 - 23 Mar 1843)
Mother: Hepzibah Gates (24 Dec 1765 - 3 Nov 1822)

Family 1: Content Crouch (5 Oct 1794 - 30 Apr 1835)

Family 2: Christian "Christina" Crouch (23 Oct 1799 - 5 Jul 1884)

MARRIAGE: 16 Aug 1835, Groton, New London, Connecticut
---

                                                                                                    _Samuel Whipple ______________+
                                                                                                   | (1669 - 1728) m 1690         
                                                                              _Samuel Whipple _____|_Elizabeth Eddy ______________
                                                                             | (1695 - 1760) m 1720  (1670 - 1717)                
                                                  _Samuel Whipple ___________|
                                                 | (1722 - 1794) m 1740      |
                                                 |                           |                      _James Card __________________+
                                                 |                           |                     | (1649 - 1706)                
                                                 |                           |_Ruth Card __________|_Ruth Havens _________________
                                                 |                             (1700 - ....) m 1720  (1654 - ....)                
                            _Noah Whipple _______|
                           | (1741 - 1775) m 1762|
                           |                     |                                                  ______________________________
                           |                     |                                                 |                              
                           |                     |                            _Joseph Mitchell ____|______________________________
                           |                     |                           |                                                    
                           |                     |_Eunice or Unice Mitchell _|
                           |                       (.... - 1801) m 1740      |
                           |                                                 |                      ______________________________
                           |                                                 |                     |                              
                           |                                                 |_Elizabeth Lamb _____|______________________________
                           |                                                                                                      
 _Samuel Stillman Whipple _|
| (1766 - 1843) m 1788     |
|                          |                                                                        _Samuel Whipple ______________+
|                          |                                                                       | (.... - 1710) m 1666         
|                          |                                                  _Samuel Whipple _____|_Mary Harris _________________
|                          |                                                 | (1669 - 1728) m 1690  (1639 - 1722)                
|                          |                      _Zachariah Whipple ________|
|                          |                     | (1706 - 1760) m 1728      |
|                          |                     |                           |                      _Zachariah or Zacharias Eddy _+
|                          |                     |                           |                     | (1639 - 1718) m 1663         
|                          |                     |                           |_Elizabeth Eddy _____|_Alice Paddock _______________
|                          |                     |                             (1670 - 1717) m 1690  (1639 - 1692)                
|                          |_Hope Whipple _______|
|                            (1740 - 1829) m 1762|
|                                                |                                                  _John Rogers _________________+
|                                                |                                                 |                              
|                                                |                            _John Rogers ________|______________________________
|                                                |                           |                                                    
|                                                |_Elizabeth Rogers _________|
|                                                  (1706 - 1751) m 1728      |
|                                                                            |                      _ Smith ______________________
|                                                                            |                     |                              
|                                                                            |_Bathsheba Smith ____|_Bathsheba Rogers ____________
|                                                                                                                                 
|
|--Noah Whipple 
|  (1792 - 1871)
|                                                                                                   _Stephen Gates _______________
|                                                                                                  | (1599 - 1662) m 1628         
|                                                                             _Thomas Gates _______|_Ann Veare ___________________
|                                                                            | (1642 - 1726) m 1670  (1602 - 1682)                
|                                                 _Caleb Gates ______________|
|                                                | (1693 - 1774) m 1716      |
|                                                |                           |                      ______________________________
|                                                |                           |                     |                              
|                                                |                           |_Elizabeth Freeman __|______________________________
|                                                |                              m 1670                                            
|                           _Thomas Gates _______|
|                          | (1720 - 1797)       |
|                          |                     |                                                  ______________________________
|                          |                     |                                                 |                              
|                          |                     |                            _____________________|______________________________
|                          |                     |                           |                                                    
|                          |                     |_Mary Forbes or Fobes _____|
|                          |                       (1697 - ....) m 1716      |
|                          |                                                 |                      ______________________________
|                          |                                                 |                     |                              
|                          |                                                 |_____________________|______________________________
|                          |                                                                                                      
|_Hepzibah Gates __________|
  (1765 - 1822) m 1788     |
                           |                                                                        ______________________________
                           |                                                                       |                              
                           |                                                  _____________________|______________________________
                           |                                                 |                                                    
                           |                      _Joseph Mitchell __________|
                           |                     |                           |
                           |                     |                           |                      ______________________________
                           |                     |                           |                     |                              
                           |                     |                           |_____________________|______________________________
                           |                     |                                                                                
                           |_Elizabeth Mitchell _|
                             (1724 - ....)       |
                                                 |                                                  ______________________________
                                                 |                                                 |                              
                                                 |                            _____________________|______________________________
                                                 |                           |                                                    
                                                 |_Elizabeth Lamb ___________|
                                                                             |
                                                                             |                      ______________________________
                                                                             |                     |                              
                                                                             |_____________________|______________________________
                                                                                                                                  

---
Notes
!SOURCE: Henry E. Whipple, A Brief History of the Whipple Families Who Settled in Rhode Island (Providence: A. Crawford Greene, 1873), p. 58.

!SOURCE: William Lee Whipple (email hidden) database, 4 Dec 1997.

!SOURCE: Email from R. Gilebarto to Weldon Whipple, 23 Feb 1998.

!SOURCE: Dwane V. Norris, Whipple Family Tree (Jackson, Mich., 1996), p. 173.

!BURIAL: At Quakertown Cemetery, Colonel Ledyard Hwy, Ledyard, CT. --R. Gilebarto

!CHILDREN: "Noah and Content had seventeen children and when Noah married Christina Crouch, she had ten children by the marriage with Daniel Whipple. Noah and Christina had five children from their union for a total of thirty-two children." --D.V. Norris

!SOURCE: Email from Hugh Hudson (email hidden) to Weldon Whipple, 12 May 2012. Cites Groton Vital Records p. 228 (scanned page attached to email). Part of the Barbour Collection.
Gravestone of Noah Whipple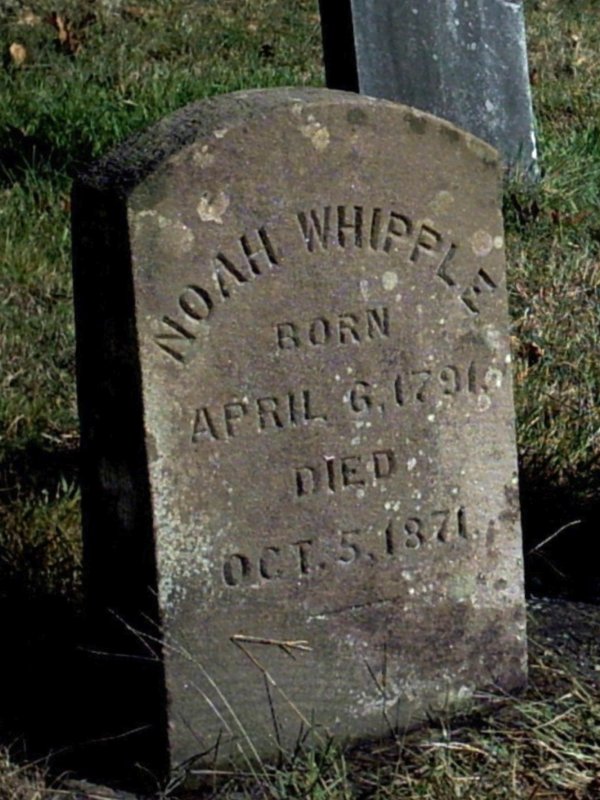 Gravestones of Noah and Content (Crouch) Whipple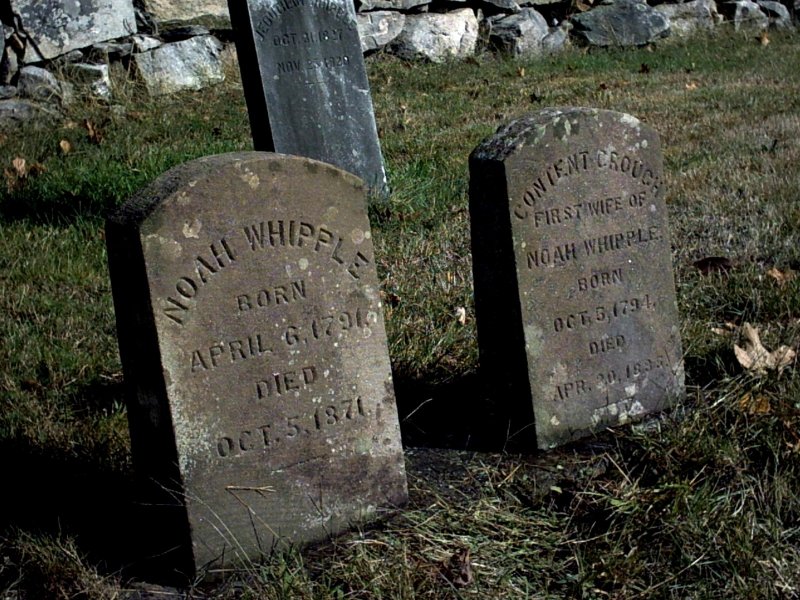 Ledyard Union Cemetery, Colonel Ledyard Highway, Ledyard, Connecticut
(Submitted by R. Gilebarto, 16 Oct 2007)

RIN 10249. Quick link to this page: https://genweb.whipple.org/10249
View this person at the Whipple One-Name Study

Email corrections and additions to whipple@one-name.org

© Whipple Website. All rights reserved.

---
HTML created by GED2HTML v3.6-Linux (Mar 8 2001) on Sat May 20 22:44:52 2023 GMT.