---
BIRTH: 28 Mar 1837, Ledyard, New London, Connecticut
DEATH: 23 Oct 1863
BURIAL: Ledyard Union Cemetery, Ledyard, New London, Connecticut
Father: Silas Watrous (20 Aug 1802 - 23 Nov 1852)
Mother: Mary Crouch (30 Apr 1801 - 11 Sep 1884)

Family 1: Daniel Watrous (16 Apr 1819 - 29 Apr 1886)

+Daniel E. Watrous (5 Dec 1860 - 27 Dec 1942)
Silas Watrous (15 Oct 1863 - 1 Feb 1904)
---

                                                                                         _____________________
                                                                                        |                     
                                                                   _John Waterhouse ____|_____________________
                                                                  | (1690 - ....) m 1719                      
                                             _Timothy Waterhouse _|
                                            | (1740 - 1814) m 1764|
                                            |                     |                      _John Culver ________
                                            |                     |                     | (1670 - ....) m 1697
                                            |                     |_Esther Culver ______|_Sarah Long _________
                                            |                       (1698 - ....) m 1719  (1673 - ....)       
                       _Timothy Watrous ____|
                      | (1765 - 1820) m 1787|
                      |                     |                                            _Samuel Whipple _____+
                      |                     |                                           | (1669 - 1728) m 1690
                      |                     |                      _Zachariah Whipple __|_Elizabeth Eddy _____
                      |                     |                     | (1706 - 1760) m 1728  (1670 - 1717)       
                      |                     |_Content Whipple ____|
                      |                       (1743 - 1831) m 1764|
                      |                                           |                      _John Rogers ________+
                      |                                           |                     |                     
                      |                                           |_Elizabeth Rogers ___|_Bathsheba Smith ____
                      |                                             (1706 - 1751) m 1728                      
 _Silas Watrous ______|
| (1802 - 1852) m 1823|
|                     |                                                                  _____________________
|                     |                                                                 |                     
|                     |                                            _____________________|_____________________
|                     |                                           |                                           
|                     |                      _Stephen Wilcox _____|
|                     |                     |                     |
|                     |                     |                     |                      _____________________
|                     |                     |                     |                     |                     
|                     |                     |                     |_____________________|_____________________
|                     |                     |                                                                 
|                     |_Hannah Wilcox ______|
|                       (1766 - 1851) m 1787|
|                                           |                                            _____________________
|                                           |                                           |                     
|                                           |                      _____________________|_____________________
|                                           |                     |                                           
|                                           |_____________________|
|                                                                 |
|                                                                 |                      _____________________
|                                                                 |                     |                     
|                                                                 |_____________________|_____________________
|                                                                                                             
|
|--Lucy Watrous 
|  (1837 - 1863)
|                                                                                        _____________________
|                                                                                       |                     
|                                                                  _____________________|_____________________
|                                                                 |                                           
|                                            _William Crouch _____|
|                                           |  m 1765             |
|                                           |                     |                      _____________________
|                                           |                     |                     |                     
|                                           |                     |_____________________|_____________________
|                                           |                                                                 
|                      _William Crouch _____|
|                     | (1770 - 1840) m 1791|
|                     |                     |                                            _____________________
|                     |                     |                                           |                     
|                     |                     |                      _John Bolles ________|_____________________
|                     |                     |                     |                                           
|                     |                     |_Christiana Bolles __|
|                     |                        m 1765             |
|                     |                                           |                      _____________________
|                     |                                           |                     |                     
|                     |                                           |_____________________|_____________________
|                     |                                                                                       
|_Mary Crouch ________|
  (1801 - 1884) m 1823|
                      |                                                                  _____________________
                      |                                                                 |                     
                      |                                            _John Waterhouse ____|_____________________
                      |                                           | (1690 - ....) m 1719                      
                      |                      _Timothy Waterhouse _|
                      |                     | (1740 - 1814) m 1764|
                      |                     |                     |                      _John Culver ________
                      |                     |                     |                     | (1670 - ....) m 1697
                      |                     |                     |_Esther Culver ______|_Sarah Long _________
                      |                     |                       (1698 - ....) m 1719  (1673 - ....)       
                      |_Content Watrous ____|
                        (1769 - 1853) m 1791|
                                            |                                            _Samuel Whipple _____+
                                            |                                           | (1669 - 1728) m 1690
                                            |                      _Zachariah Whipple __|_Elizabeth Eddy _____
                                            |                     | (1706 - 1760) m 1728  (1670 - 1717)       
                                            |_Content Whipple ____|
                                              (1743 - 1831) m 1764|
                                                                  |                      _John Rogers ________+
                                                                  |                     |                     
                                                                  |_Elizabeth Rogers ___|_Bathsheba Smith ____
                                                                    (1706 - 1751) m 1728                      

---
Notes
!SOURCE: Email from R. Gilebarto to Weldon Whipple, 6 Feb 1998.

!SOURCE: Grave Marker in the Ledyard Union Cemetery, cited in email from R. Gilebarto to Weldon Whipple, May 1998.
Gravestone of Daniel Watrous, 4 Wives and 2 Children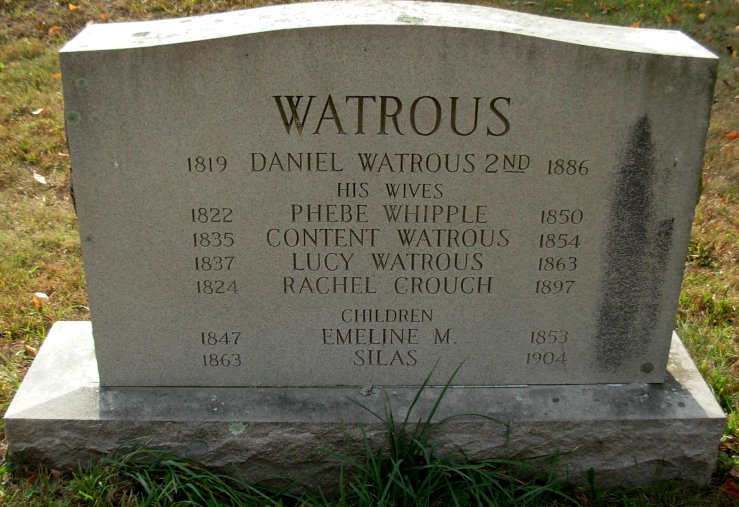 Ledyard Union Cemetery, Colonel Ledyard Highway, Ledyard, Connecticut
(Submitted by R. Gilebarto, 30 Oct 2007)

RIN 15980. Quick link to this page: https://genweb.whipple.org/15980
View this person at the Whipple One-Name Study

Email corrections and additions to webmaster@whipple.org

© Whipple Website. All rights reserved.

---
HTML created by GED2HTML v3.6-Linux (Mar 8 2001) on Sat Dec 4 19:54:06 2021 GMT.