---
BIRTH: ABT 1664, Providence, Providence, Rhode Island
DEATH: 8 Sep 1721, Providence, Providence, Rhode Island
Father: John Whipple (ABT 1617 - 16 May 1685)
Mother: Sarah (ABT 1624 - 1666)

Family 1: Margaret or Margery Angell (ABT 1660 - AFT 1 Mar 1702/1703)

MARRIAGE: ABT 1680, Providence, Providence, Rhode Island
Family 2: Anne Darling (____ - 5 Mar 1724/1725)



---

                                __
                               |  
                             __|__
                            |     
                          __|
                         |  |
                         |  |   __
                         |  |  |  
                         |  |__|__
                         |        
                       __|
                      |  |
                      |  |      __
                      |  |     |  
                      |  |   __|__
                      |  |  |     
                      |  |__|
                      |     |
                      |     |   __
                      |     |  |  
                      |     |__|__
                      |           
 _John Whipple _______|
| (1617 - 1685) m 1638|
|                     |         __
|                     |        |  
|                     |      __|__
|                     |     |     
|                     |   __|
|                     |  |  |
|                     |  |  |   __
|                     |  |  |  |  
|                     |  |  |__|__
|                     |  |        
|                     |__|
|                        |
|                        |      __
|                        |     |  
|                        |   __|__
|                        |  |     
|                        |__|
|                           |
|                           |   __
|                           |  |  
|                           |__|__
|                                 
|
|--Jonathan Whipple 
|  (1664 - 1721)
|                               __
|                              |  
|                            __|__
|                           |     
|                         __|
|                        |  |
|                        |  |   __
|                        |  |  |  
|                        |  |__|__
|                        |        
|                      __|
|                     |  |
|                     |  |      __
|                     |  |     |  
|                     |  |   __|__
|                     |  |  |     
|                     |  |__|
|                     |     |
|                     |     |   __
|                     |     |  |  
|                     |     |__|__
|                     |           
|_Sarah ______________|
  (1624 - 1666) m 1638|
                      |         __
                      |        |  
                      |      __|__
                      |     |     
                      |   __|
                      |  |  |
                      |  |  |   __
                      |  |  |  |  
                      |  |  |__|__
                      |  |        
                      |__|
                         |
                         |      __
                         |     |  
                         |   __|__
                         |  |     
                         |__|
                            |
                            |   __
                            |  |  
                            |__|__
                                  

---
Notes
!SOURCE: John Osborne Austin, _Genealogical Dictionary of Rhode Island (Albany, N.Y., 1887; reprint ed. Baltimore: Genealogical Publishing Co., 1978) p. 223.

!SOURCE: David Jillson, "Descendants of Capt. John Whipple, of Providence, R.I.," New-England Historical and Genealogical Register, 32 (1878): 407.

!SOURCE: Representative Men and Old Families of Rhode Island (Chicago: J.H. Beers, 1908), 3:1639. States that all his children were born to Jonathan's second wife, Ann (no surname given).

!SOURCE: "Possible Ancestry of John S. Hammond: A Conundrum," Dec. 8, 2010. Email attachment from George L. Hammond (email hidden) to Weldon Whipple, 11 Jan 2010. Gives death 28 Sep 1721 (previously entered as 8 Sep 1721).
Jonathan Whipple House, c. 1701, North Providence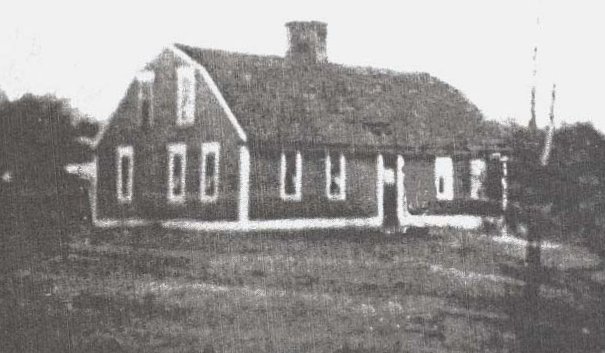 Lieutenant Jonathan Whipple, the youngest son of Captain John Whipple, built this house at 238 Lexington Street in North Providence in 1701. It was demolished 302 years later, in 2003.

Source: Thomas E. and Barbara Greene, Images of North America, North Providence (Hanover NH: Arcadia Publishing, 1996) 111. Submitted by Charles M. Whipple.

RIN 378. Quick link to this page: https://genweb.whipple.org/378
View this person at the Whipple One-Name Study

Email corrections and additions to whipple@one-name.org

© Whipple Website. All rights reserved.

---
HTML created by GED2HTML v3.6-Linux (Mar 8 2001) on Fri Sep 22 22:01:36 2023 GMT.