---
BIRTH: 1596, Bocking, Essex, England
CHRISTENING: 29 Aug 1596, Bocking, Essex, England
DEATH: 30 Jun 1669, Ipswich, Essex, Massachusetts
Father: Matthew Whipple (ABT 1550 - Jan 1618/1619)
Mother: Joan (ABT 1562 - May 1612)

Family 1: Susanna Clarke (CHR 11 Jan 1595/1596 - AFT 13 Jul 1661)

MARRIAGE: 28 Aug 1621, St. Andrew by the Wardrobe, London, England
Family 2: Jennet (____ - 30 Jan 1686/1687)

MARRIAGE: AFT Apr 1662, Ipswich, Essex, Massachusetts
---

                                                                       __
                                                                      |  
                                                                    __|__
                                                                   |     
                                             _Thomas Whipple ______|
                                            | (1475 - 1535) m 1506 |
                                            |                      |   __
                                            |                      |  |  
                                            |                      |__|__
                                            |                            
                       _Thomas Whipple _____|
                      | (1510 - ....)       |
                      |                     |                          __
                      |                     |                         |  
                      |                     |                       __|__
                      |                     |                      |     
                      |                     |_Isabel or Elizabeth _|
                      |                       (.... - 1557) m 1506 |
                      |                                            |   __
                      |                                            |  |  
                      |                                            |__|__
                      |                                                  
 _Matthew Whipple ____|
| (1550 - 1618) m 1580|
|                     |                                                __
|                     |                                               |  
|                     |                                             __|__
|                     |                                            |     
|                     |                      ______________________|
|                     |                     |                      |
|                     |                     |                      |   __
|                     |                     |                      |  |  
|                     |                     |                      |__|__
|                     |                     |                            
|                     |_Margaret ___________|
|                                           |
|                                           |                          __
|                                           |                         |  
|                                           |                       __|__
|                                           |                      |     
|                                           |______________________|
|                                                                  |
|                                                                  |   __
|                                                                  |  |  
|                                                                  |__|__
|                                                                        
|
|--John Whipple 
|  (1596 - 1669)
|                                                                      __
|                                                                     |  
|                                                                   __|__
|                                                                  |     
|                                            ______________________|
|                                           |                      |
|                                           |                      |   __
|                                           |                      |  |  
|                                           |                      |__|__
|                                           |                            
|                      _____________________|
|                     |                     |
|                     |                     |                          __
|                     |                     |                         |  
|                     |                     |                       __|__
|                     |                     |                      |     
|                     |                     |______________________|
|                     |                                            |
|                     |                                            |   __
|                     |                                            |  |  
|                     |                                            |__|__
|                     |                                                  
|_Joan _______________|
  (1562 - 1612) m 1580|
                      |                                                __
                      |                                               |  
                      |                                             __|__
                      |                                            |     
                      |                      ______________________|
                      |                     |                      |
                      |                     |                      |   __
                      |                     |                      |  |  
                      |                     |                      |__|__
                      |                     |                            
                      |_____________________|
                                            |
                                            |                          __
                                            |                         |  
                                            |                       __|__
                                            |                      |     
                                            |______________________|
                                                                   |
                                                                   |   __
                                                                   |  |  
                                                                   |__|__
                                                                         

---
Notes
!SOURCE: William Wyman Fiske, "The Whipple Family of Bishops Stortford, Hertfordshire: Proposed Ancestral Origin of Matthew Whipple of Bocking, Essex, and a Whipple Ancestral Line for Arthur Gary of Roxbury, Massachusetts," The Genealogist, Vol. 20, No. 2 (Fall 2006), p. 215-216.

!SOURCE: Dwane V. Norris, Whipple Family Tree (Jackson, Mich., 1996), p. 6-7.

!SOURCE: Mabel Young Sanborn, "The Ancestry of Brigham Young," The Utah Genealogical and Historical Magazine (1931), vol. 22, p. 16-17.

!SOURCE: "Genealogical Gleanings in England," The New-England Historical and Genealogical Register (October 1890) 44:389. Mentioned in father's will.

!SOURCE: Blaine Whipple, History and Genealogy of "Elder" John Whipple of Ipswich, Massachusetts (Victoria, B.C.: Trafford, 2004), p. G4-G5.

!BIRTH: Date given by John Osborne Austin, in _One Hundred and Sixty Allied Families_ (Salem, Mass., 1893; reprint ed. Baltimore: Genealogical Publishing Co., 1977), p. 262.

!DEATH: Date given by John Osborne Austin, in _One Hundred and Sixty Allied Families_ (Salem, Mass., 1893; reprint ed. Baltimore: Genealogical Publishing Co., 1977), p. 262.

!NATURALIZATION: 13 May 1640: Freeman; and same date taxed 120 pounds, and he was on the committee to assess the tax. Ordered that silver plate pass at 5s. per ounce, Indian corn at 5s. per bushel, wheat at 7s. and rye at 6s. (All these being taken at such values, in payment of taxes.) At Ipswich, Essex, Massachusetts. (Austin, p. 262)

!OCCUPATION: Deputy in Ipswich, 1641, 1642, 1646, 1650, 1651, 1652, 1653. (Austin, p. 262).

!CHURCH: 1642 became deacon of the church at Ipswich. --Austin, p. 263; Ruling Elder of the Congregational Church in Ipswich. --Henry Burdette Whipple, p. 15.

!CHRISTENING: A Partial list of the Descendents of Matthew Whipple, the Elder, of Bocking, Essex County, England / Compiled from Divers Sources by Henry Burdette Whipple (High Point, North Carolina, Oct. 1965), p. 4, 8.

!MARRIAGE: Henry Burdette Whipple lists marriage to Susanna (Stacy or Clark) [instead of Sarah Hawkins] in 1620. (p. 8)

!RESIDENCES: "John Whipple's house, which is one of the most famous homes of its period and locale, was built on a lot formerly belonging to Mr. John Fawn, who received a grant of a house lot recorded 13 January 1637. He had previously received a grant of a six-acre tillage lot in December 1634, and since tillage lots were granted only to house owners, we may infer that he acquired both at the earlier date. Mr. Fawn built a house on the lot, which he sold in December 1638. Franklin Waters in _Puritan Homes_ says that the present John Whipple house cannot possibly be the same structure erected by Mr. Fawn, for Elder John left 'an humble estate.' The estate of his son, Captain John Whipple, was inventoried at 3,314 pounds, and therefore the present house must have been built between 1669 and 1683. At what exact date John Whipple took possession of the Fawn house is not certain, but the town records state that he was living there in 1642." --D.V. Norris, p. 6.

!SOURCE: Blaine Whipple, 15 Generations of Whipples: Descendants of Matthew Whipple of Ipswich, Massachusetts, Abt 1590-1647: An American Story (Baltimore, MD: Gateway Press, 2007), 2:G5, G8.
John Whipple House, Ipswich, Massachusetts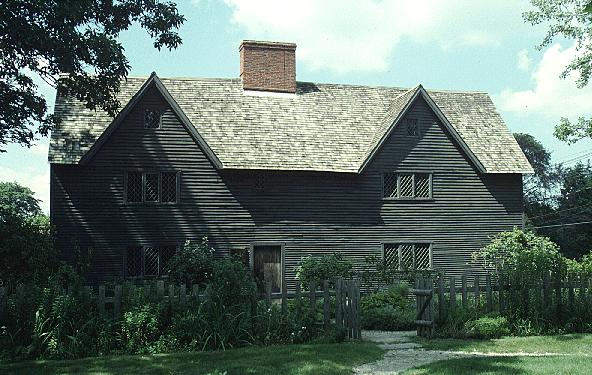 Owned and maintained by the Ipswich (Mass.) Historical Society, the original house was built before 1650 (possibly as early as 1638 by John Fawn), then sold to John Whipple "the Elder." The house grew in size, as did the generations of Whipples that lived there. Elder John's son, Captain John [Note: This is not the same person as Captain John Whipple of Dorchester, Mass., and Providence, R.I.] made a large addition in 1670, which more than doubled the size of the house. The next Whipple generation was Major John Whipple, who added a lean-to of considerable size at the back, completing the house's present-day form. (Source: Hugh Morrison, Early American Architecture from the First Colonial Settlements to the National Period [New York, Oxford University Press, 1952], pp. 54-55.)

Compare this John with his contemporary (also named John) who arrived in America about six years earlier and settled first in Dorchester, Massachusetts, then in Providence, Rhode Island.

RIN 5890. Quick link to this page: https://genweb.whipple.org/5890
View this person at the Whipple One-Name Study

Email corrections and additions to whipple@one-name.org

© Whipple Website. All rights reserved.

---
HTML created by GED2HTML v3.6-Linux (Mar 8 2001) on Mon Nov 27 00:14:57 2023 GMT.