---
BIRTH: 26 Jun 1683, Providence, Providence, Rhode Island
DEATH: 14 May 1721, Attleboro, Bristol, Massachusetts
BURIAL: Newell Cemetery, South Attleboro, Bristol, Massachusetts
Father: David Whipple (CHR 28 Sep 1656 - 18 Dec 1710)
Mother: Hannah Tower (17 Jul 1652 - Nov 1722)

Family 1: Deborah Bucklin (15 May 1692 - ____)

MARRIAGE: 22 Nov 1711, Rehoboth, Bristol, Massachusetts
---

                                                   __
                                                  |  
                                                __|__
                                               |     
                                             __|
                                            |  |
                                            |  |   __
                                            |  |  |  
                                            |  |__|__
                                            |        
                       _John Whipple _______|
                      | (1617 - 1685) m 1638|
                      |                     |      __
                      |                     |     |  
                      |                     |   __|__
                      |                     |  |     
                      |                     |__|
                      |                        |
                      |                        |   __
                      |                        |  |  
                      |                        |__|__
                      |                              
 _David Whipple ______|
| (.... - 1710) m 1677|
|                     |                            __
|                     |                           |  
|                     |                         __|__
|                     |                        |     
|                     |                      __|
|                     |                     |  |
|                     |                     |  |   __
|                     |                     |  |  |  
|                     |                     |  |__|__
|                     |                     |        
|                     |_Sarah ______________|
|                       (1624 - 1666) m 1638|
|                                           |      __
|                                           |     |  
|                                           |   __|__
|                                           |  |     
|                                           |__|
|                                              |
|                                              |   __
|                                              |  |  
|                                              |__|__
|                                                    
|
|--Jeremiah Whipple 
|  (1683 - 1721)
|                                                  __
|                                                 |  
|                                               __|__
|                                              |     
|                                            __|
|                                           |  |
|                                           |  |   __
|                                           |  |  |  
|                                           |  |__|__
|                                           |        
|                      _John Tower _________|
|                     | (.... - 1701) m 1638|
|                     |                     |      __
|                     |                     |     |  
|                     |                     |   __|__
|                     |                     |  |     
|                     |                     |__|
|                     |                        |
|                     |                        |   __
|                     |                        |  |  
|                     |                        |__|__
|                     |                              
|_Hannah Tower _______|
  (1652 - 1722) m 1677|
                      |                            __
                      |                           |  
                      |                         __|__
                      |                        |     
                      |                      __|
                      |                     |  |
                      |                     |  |   __
                      |                     |  |  |  
                      |                     |  |__|__
                      |                     |        
                      |_Margaret Ibrook ____|
                        (1620 - 1700) m 1638|
                                            |      __
                                            |     |  
                                            |   __|__
                                            |  |     
                                            |__|
                                               |
                                               |   __
                                               |  |  
                                               |__|__
                                                     

---
Notes
!SOURCE: John Osborne Austin, _Genealogical Dictionary of Rhode Island (Albany, N.Y., 1887; reprint ed. Baltimore: Genealogical Publishing Co., 1978) p. 222

!DEATH: Email from Joanne Lahr-Kreischer to the Whipple Web Site, 13 Aug 1997.

!CHILD: Joanne Lahr-Kreischer also idendified this Jeremiah Whipple (instead of his cousin by the same name) as the ancestor of Bishop Henry Benjamin Whipple, Bishop of Minnesota.

!SOURCE: Henry E. Whipple, A Brief Genealogy of the Whipple Families Who Settled in Rhode Island (Providence: A. Crawford Greene, 1873), p. 38. From a corrected copy of the book found in the Rhode Island Historical Society Library, call no. CS71.W574 1873 RIHSL.

!SOURCE: Vital Records of Attleborough, Bristol Co., Massachusetts to the end of the year 1849: Attleborough Deaths, p. 738.

!SOURCE: Vital Records of Rehoboth, Bristol Co., Massachusetts: Rehoboth Marriages & Intentions, p. 395.

!SOURCE: Photo of gravestone in "Newell Cemetery", the oldest in S. Attleboro, MA. Emailed by Beth Hurd to Weldon Whipple, 20 Jul 2004.
Gravestone of Ensign Jeremiah Whipple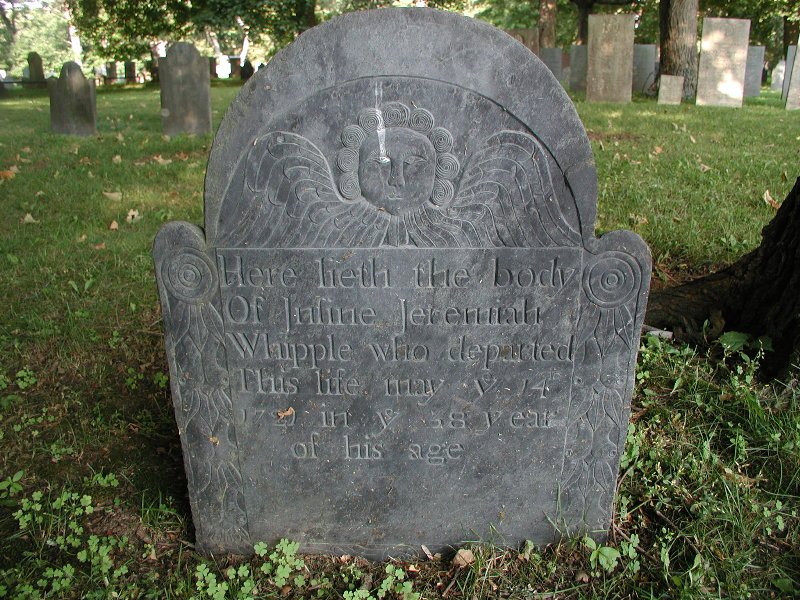 "Newell Cemetery," the oldest in S. Attleboro, Massachusetts.
Submitted by Beth Hurd, 20 Jul 2004.
Here lieth the body of Jnfine (?) Jeremiah Whipple who departed this life may ye 14th 1721 in ye 38th year of his age

RIN 6139. Quick link to this page: https://genweb.whipple.org/6139
View this person at the Whipple One-Name Study

Email corrections and additions to whipple@one-name.org

© Whipple Website. All rights reserved.

---
HTML created by GED2HTML v3.6-Linux (Mar 8 2001) on Mon Nov 27 00:14:57 2023 GMT.