---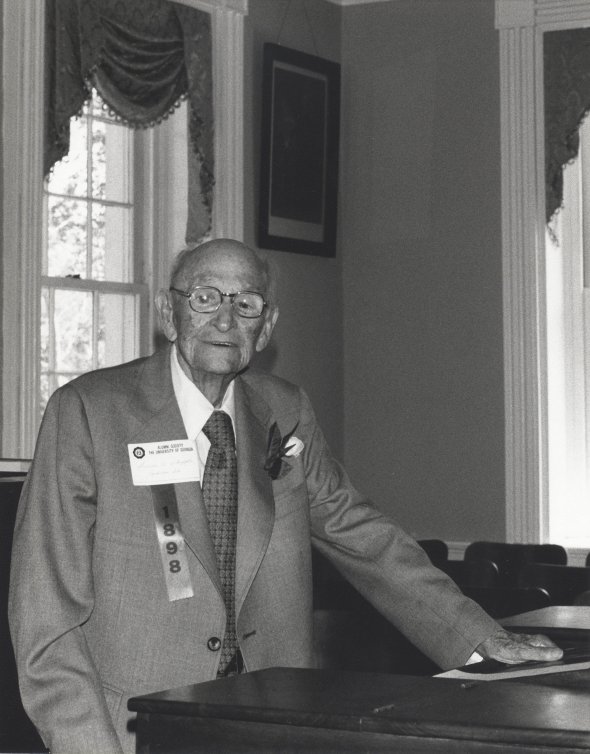 Lucian A. Whipple, Class of 1898
The University of Georgia
Member of Demosthenian Literary Society
On the occasion of his 81st Class Reunion
and his visit to Demosthenian Hall
Athens, Georgia
April 21, 1979
(Submitted by Bennett Whipple, 12 Dec 2005)
BIRTH: 4 Sep 1878, near, Turkey Creek, Laurens, Georgia
DEATH: 24 Aug 1979, Cochran, Bleckley, Georgia
BURIAL: Cedar Hill Cemetery, Cochran, Bleckley, Georgia
Father: Stephen Bennett Whipple (16 Nov 1833 - 28 Jul 1915)
Mother: Sarah Ann Holliman (30 Nov 1839 - 4 Jan 1913)

Family 1: Lella Jackson Dillard (15 Dec 1889 - 23 Feb 1980)

MARRIAGE: 31 Dec 1919, Atlanta, Fulton, Georgia
+Lucian Adolphus Whipple (6 Nov 1920 - 2 Jul 2004)
Fielding Dillard Whipple (10 Jul 1922 - 2 Nov 2018)
+Anne Augusta Whipple (9 Jun 1927 - 28 Jan 2019)
---

                                                                                                     _Daniel Whipple ___________+
                                                                                                    | (1688 - 1768)             
                                                                               _Preserved Whipple __|_Anne Chamberlain _________
                                                                              | (1746 - 1813) m 1766                            
                                                         _Stephen Whipple ____|
                                                        | (1772 - 1844) m 1795|
                                                        |                     |                      _James Ballou _____________+
                                                        |                     |                     | (1723 - 1812) m 1744      
                                                        |                     |_Olive Ballou _______|_Tamasin or Thomasin Cook _
                                                        |                       (1751 - 1845) m 1766  (1725 - 1804)             
                            _Stephen Whipple ___________|
                           | (1799 - 1848) m 1824       |
                           |                            |                                            ___________________________
                           |                            |                                           |                           
                           |                            |                      _Timothy Bennett ____|___________________________
                           |                            |                     | (1742 - 1805) m 1765                            
                           |                            |_Olive Bennett ______|
                           |                              (1770 - 1856) m 1795|
                           |                                                  |                      ___________________________
                           |                                                  |                     |                           
                           |                                                  |_Hannah Darling _____|___________________________
                           |                                                    (1745 - 1819) m 1765                            
 _Stephen Bennett Whipple _|
| (1833 - 1915) m 1859     |
|                          |                                                                         ___________________________
|                          |                                                                        |                           
|                          |                                                   _William Mitchell ___|___________________________
|                          |                                                  | (1741 - 1826)                                   
|                          |                             _Benjamin Mitchell __|
|                          |                            | (1791 - 1826)       |
|                          |                            |                     |                      ___________________________
|                          |                            |                     |                     |                           
|                          |                            |                     |_____________________|___________________________
|                          |                            |                                                                       
|                          |_Ruth Mitchell _____________|
|                            (1808 - 1840) m 1824       |
|                                                       |                                            ___________________________
|                                                       |                                           |                           
|                                                       |                      _____________________|___________________________
|                                                       |                     |                                                 
|                                                       |_Frances ____________|
|                                                                             |
|                                                                             |                      ___________________________
|                                                                             |                     |                           
|                                                                             |_____________________|___________________________
|                                                                                                                               
|
|--Lucian Adolphus Whipple 
|  (1878 - 1979)
|                                                                                                    ___________________________
|                                                                                                   |                           
|                                                                              _____________________|___________________________
|                                                                             |                                                 
|                                                        _____________________|
|                                                       |                     |
|                                                       |                     |                      ___________________________
|                                                       |                     |                     |                           
|                                                       |                     |_____________________|___________________________
|                                                       |                                                                       
|                           _Thomas Jefferson Holliman _|
|                          |                            |
|                          |                            |                                            ___________________________
|                          |                            |                                           |                           
|                          |                            |                      _____________________|___________________________
|                          |                            |                     |                                                 
|                          |                            |_____________________|
|                          |                                                  |
|                          |                                                  |                      ___________________________
|                          |                                                  |                     |                           
|                          |                                                  |_____________________|___________________________
|                          |                                                                                                    
|_Sarah Ann Holliman ______|
  (1839 - 1913) m 1859     |
                           |                                                                         ___________________________
                           |                                                                        |                           
                           |                                                   _____________________|___________________________
                           |                                                  |                                                 
                           |                             _____________________|
                           |                            |                     |
                           |                            |                     |                      ___________________________
                           |                            |                     |                     |                           
                           |                            |                     |_____________________|___________________________
                           |                            |                                                                       
                           |_Nancy Spivey ______________|
                                                        |
                                                        |                                            ___________________________
                                                        |                                           |                           
                                                        |                      _____________________|___________________________
                                                        |                     |                                                 
                                                        |_____________________|
                                                                              |
                                                                              |                      ___________________________
                                                                              |                     |                           
                                                                              |_____________________|___________________________
                                                                                                                                

---
Notes
!SOURCE: Email from Stephen Bennett Whipple (email hidden) to Weldon Whipple, 21 Jun 1998, 1 Jul 2002 and 9 Nov 2005.

!SOURCE: GEDCOM file from Bill Lyons (email hidden) to the Whipple Web Site, 11 Jul 1998.

!BIRTH: At his father's plantation near Turkey Creek and Dudley. --B. Lyons

!BIOGRAPHY: "He had a distinguished career serving several terms as Superintendent of Schools for the county. He was elected to the state legislature and served several terms there. He was appointed by then governor Richard Russell to the State Board of Education back in the 1930s. He was president and first honor graduate of his senior class of 1898 at the University of Georgia and went on from there to Harvard Law School." --S.B. Whipple, 9 Nov 2005
See a longer biographical sketch at http://whipple.org/individuals/21479luciana.pdf

!SOURCE: "Genealogical Notes of the Whipple Lineage of Stephen Bennett Whipple (1833-1915) of Cochran, Georgia," compiled by William Holliman Whipple of Macon, Ga., p. [74]-[77]. PDF file from William Lyons to Weldon Whipple, 29 Nov 2010.
Gravestone of Lucian Adolphus Whipple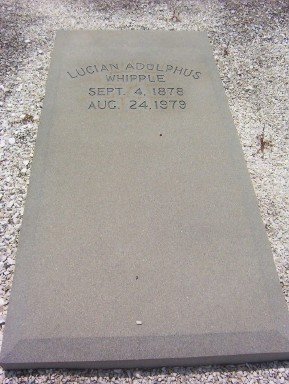 Cedar Hill Cemetery, Cochran, Georgia
(Submitted by Bennett Whipple)
Plaque on Court House Square, Cochran, Georgia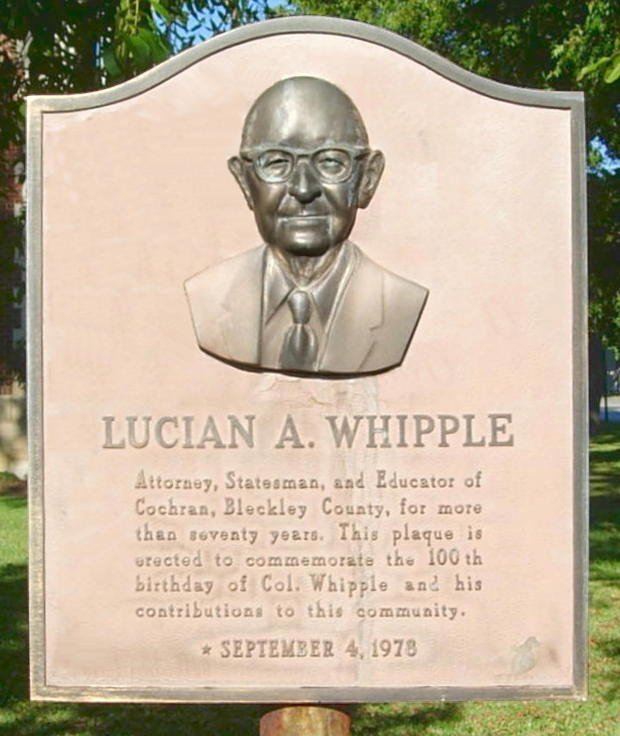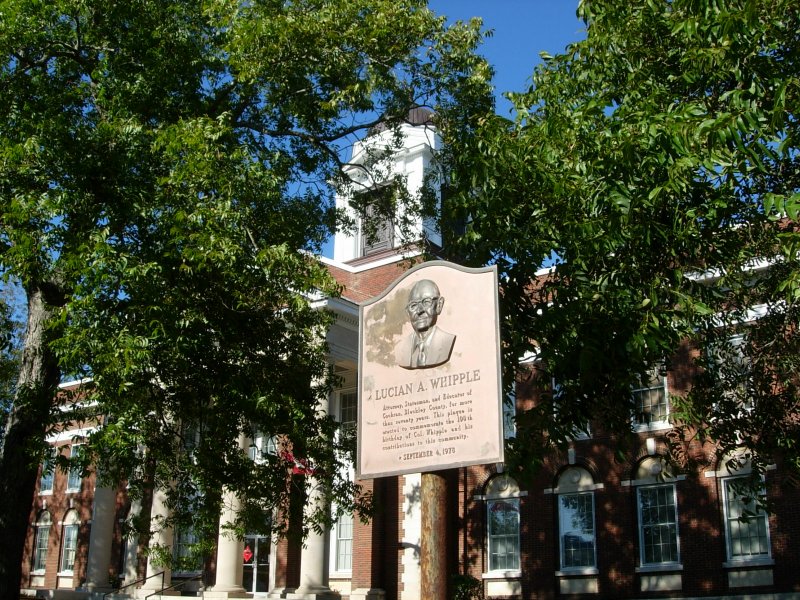 Submitted by Bennett Whipple, 9 Nov 2005

RIN 21479. Quick link to this page: https://genweb.whipple.org/21479
View this person at the Whipple One-Name Study

Email corrections and additions to whipple@one-name.org

© Whipple Website. All rights reserved.

---
HTML created by GED2HTML v3.6-Linux (Mar 8 2001) on Sat May 21 03:14:27 2022 GMT.