---
BIRTH: 24 Dec 1728, Providence, Providence, Rhode Island
DEATH: 21 Aug 1751, Providence, Providence, Rhode Island
BURIAL: North Burial Ground, North Main Street, Providence, Providence, Rhode Island
Father: John Whipple (18 May 1685 - 18 May 1769)
Mother: Abigail Brown (ABT 1705 - 15 Jun 1736)

Family 1: James Fenner (9 Feb 1729/1730 - 25 Oct 1751)

MARRIAGE: 10 Jun 1750, Providence, Providence, Rhode Island
+Freelove Whipple Fenner (ABT 23 Mar 1747/1748 - 19 Feb 1780)
---

                                                                                                       _________________________
                                                                                                      |                         
                                                                               _______________________|_________________________
                                                                              |                                                 
                                             _John Whipple ___________________|
                                            | (1617 - 1685) m 1638            |
                                            |                                 |                        _________________________
                                            |                                 |                       |                         
                                            |                                 |_______________________|_________________________
                                            |                                                                                   
                       _Joseph Whipple _____|
                      | (1662 - 1746) m 1684|
                      |                     |                                                          _________________________
                      |                     |                                                         |                         
                      |                     |                                  _______________________|_________________________
                      |                     |                                 |                                                 
                      |                     |_Sarah __________________________|
                      |                       (1624 - 1666) m 1638            |
                      |                                                       |                        _________________________
                      |                                                       |                       |                         
                      |                                                       |_______________________|_________________________
                      |                                                                                                         
 _John Whipple _______|
| (1685 - 1769)       |
|                     |                                                                                _________________________
|                     |                                                                               |                         
|                     |                                                        _Christopher Smith ____|_________________________
|                     |                                                       | (1600 - 1676) m 1625                            
|                     |                      _Edward Smith ___________________|
|                     |                     | (1630 - 1693) m 1663            |
|                     |                     |                                 |                        _________________________
|                     |                     |                                 |                       |                         
|                     |                     |                                 |_Alice ________________|_________________________
|                     |                     |                                   (1600 - 1681) m 1625                            
|                     |_Alice Smith ________|
|                       (1664 - 1739) m 1684|
|                                           |                                                          _________________________
|                                           |                                                         |                         
|                                           |                                  _Thomas Angell ________|_________________________
|                                           |                                 | (1618 - 1694) m 1643                            
|                                           |_Annphillis or Amphillis Angell _|
|                                             (1640 - 1694) m 1663            |
|                                                                             |                        _James Ashton ___________
|                                                                             |                       | (1580 - 1651)           
|                                                                             |_Alice Ashton _________|_Alice __________________
|                                                                               (1617 - 1694) m 1643                            
|
|--Freelove Whipple 
|  (1728 - 1751)
|                                                                                                      _________________________
|                                                                                                     |                         
|                                                                              _Chad Brown ___________|_________________________
|                                                                             | (1600 - 1650)                                   
|                                            _Jeremiah Brown _________________|
|                                           | (1634 - 1690)                   |
|                                           |                                 |                        _________________________
|                                           |                                 |                       |                         
|                                           |                                 |_Elizabeth Sharparowe _|_________________________
|                                           |                                   (1604 - 1672)                                   
|                      _Joseph Brown _______|
|                     | (1684 - 1764) m 1703|
|                     |                     |                                                          _________________________
|                     |                     |                                                         |                         
|                     |                     |                                  _______________________|_________________________
|                     |                     |                                 |                                                 
|                     |                     |_Mary Slocum ____________________|
|                     |                       (1640 - ....)                   |
|                     |                                                       |                        _________________________
|                     |                                                       |                       |                         
|                     |                                                       |_______________________|_________________________
|                     |                                                                                                         
|_Abigail Brown ______|
  (1705 - 1736)       |
                      |                                                                                _________________________
                      |                                                                               |                         
                      |                                                        _Richard Pray _________|_________________________
                      |                                                       | (1630 - 1693)                                   
                      |                      _John Pray ______________________|
                      |                     | (1653 - 1733) m 1678            |
                      |                     |                                 |                        _________________________
                      |                     |                                 |                       |                         
                      |                     |                                 |_Mary _________________|_________________________
                      |                     |                                                                                   
                      |_Sarah Pray _________|
                        (1681 - 1727) m 1703|
                                            |                                                          _Chad Brown _____________
                                            |                                                         | (1600 - 1650)           
                                            |                                  _John Brown ___________|_Elizabeth Sharparowe ___
                                            |                                 | (1630 - 1706) m 1654    (1604 - 1672)           
                                            |_Sarah Brown ____________________|
                                              (1657 - 1733) m 1678            |
                                                                              |                        _Obadiah Holmes _________
                                                                              |                       | (1607 - 1682) m 1636    
                                                                              |_Mary Holmes __________|_Catharine or Katherine _
                                                                                (1632 - 1690) m 1654    (.... - 1682)           

---
Notes
!SOURCE: Email from N. Combs to the Whipple Website, 11 Sep 2001. Cites Rhode Island Cemeteries Database Index.

!SOURCE: James N. Arnold, Vital Record of Rhode Island, 1636-1850, Vol. 2, Providence, Part 1 (Providence: Narragansett Historical Pub. Co., 1892), p. 69.
Gravestone of Freelove (Whipple) Fenner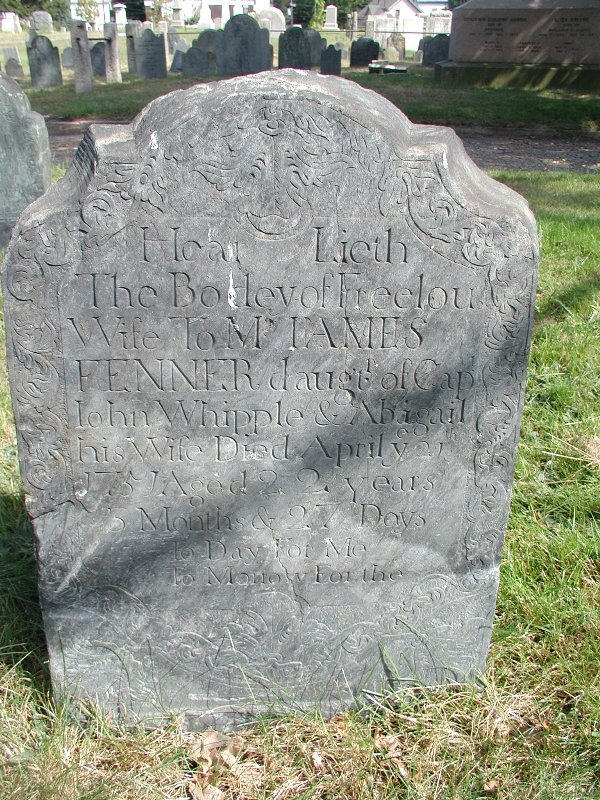 North Burial Ground, Providence, Rhode Island

Here Lieth
The Bodey of Freelou
Wife To Mr JAMES
FENNER daughtr of Capt.
John Whipple & Abigail
his Wife. Died April ye 21,
1751, Aged 22 years,
3 months & 27 days
To Day for Me
To Morrow for the

(Submitted by Beth Hurd)

RIN 54028. Quick link to this page: https://genweb.whipple.org/54028
View this person at the Whipple One-Name Study

Email corrections and additions to whipple@one-name.org

© Whipple Website. All rights reserved.

---
HTML created by GED2HTML v3.6-Linux (Mar 8 2001) on Sat May 20 22:44:52 2023 GMT.