---
CHRISTENING: 8 Mar 1645/1646, Dorchester, Suffolk, Massachusetts
DEATH: 25 Aug 1719, Lime Rock, Providence, Rhode Island
BURIAL: Whipple-Mowry Lot, Lincoln, Providence, Rhode Island
Father: John Whipple (ABT 1617 - 16 May 1685)
Mother: Sarah (ABT 1624 - 1666)

Family 1: Alice Angell (1649 - 13 Aug 1743)

MARRIAGE: 26 Jan 1669/1670, Providence, Providence, Rhode Island
---

                                __
                               |  
                             __|__
                            |     
                          __|
                         |  |
                         |  |   __
                         |  |  |  
                         |  |__|__
                         |        
                       __|
                      |  |
                      |  |      __
                      |  |     |  
                      |  |   __|__
                      |  |  |     
                      |  |__|
                      |     |
                      |     |   __
                      |     |  |  
                      |     |__|__
                      |           
 _John Whipple _______|
| (1617 - 1685) m 1638|
|                     |         __
|                     |        |  
|                     |      __|__
|                     |     |     
|                     |   __|
|                     |  |  |
|                     |  |  |   __
|                     |  |  |  |  
|                     |  |  |__|__
|                     |  |        
|                     |__|
|                        |
|                        |      __
|                        |     |  
|                        |   __|__
|                        |  |     
|                        |__|
|                           |
|                           |   __
|                           |  |  
|                           |__|__
|                                 
|
|--Eleazer Whipple 
|  (.... - 1719)
|                               __
|                              |  
|                            __|__
|                           |     
|                         __|
|                        |  |
|                        |  |   __
|                        |  |  |  
|                        |  |__|__
|                        |        
|                      __|
|                     |  |
|                     |  |      __
|                     |  |     |  
|                     |  |   __|__
|                     |  |  |     
|                     |  |__|
|                     |     |
|                     |     |   __
|                     |     |  |  
|                     |     |__|__
|                     |           
|_Sarah ______________|
  (1624 - 1666) m 1638|
                      |         __
                      |        |  
                      |      __|__
                      |     |     
                      |   __|
                      |  |  |
                      |  |  |   __
                      |  |  |  |  
                      |  |  |__|__
                      |  |        
                      |__|
                         |
                         |      __
                         |     |  
                         |   __|__
                         |  |     
                         |__|
                            |
                            |   __
                            |  |  
                            |__|__
                                  

---
Notes
!OCCUPATION: Housewright. See John Osborne Austin, _Genealogical Dictionary of Rhode Island_ (Albany, N.Y., 1887; reprint ed. Baltimore: Genealogical Publishing Co., 1978) p. 222.

!NAME: Given name spelled Elezer by Henry E. Whipple, p. 14.

!SOURCE: Henry E. Whipple, A Brief Genealogy of the Whipple Families Who Settled in Rhode Island (Providence: A. Crawford Greene, 1873), p. 14. From a corrected copy of the book found in the Rhode Island Historical Society Library, call no. CS71.W574 1873 RIHSL.

!SOURCE: David Jillson, "Descendants of Capt. John Whipple, of Providence, R.I.," New-England Historical and Genealogical Register, 32 (1878): 405.

!SOURCE: James N. Arnold, Vital Record of Rhode Island, 1636-1850, Vol. 2, Providence, Part 1 (Providence: Narragansett Historical Pub. Co., 1892), p. 197.

!SOURCE: Email from Barbara Carroll to Weldon Whipple, 15 Feb 2003. Barbara writes: "The first Eleazer did have a son, ensign James, c. 1686/87, who is buried with him in the Whipple-Mowry Lot in Lincoln."

!DEATH: Place from World Wide Web, 30 Oct, 1997: http://members.tripod.com/~rjsnyder/sub1/fam00208.htm.

!SOURCE: Charles M. Whipple, Jr., A History of William Whipple of Dorchester, Massachusetts and Smithfield, Rhode Island, 1652-1712: His Antecedents and Descendants. (Victoria, B.C.: Trafford, c2006), p. 4. Gives death in Lime Rock, Rhode Island. (Previously entered as Providence, Rhode, Island.)
Eleazer Whipple House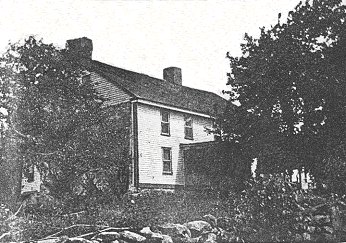 The Eleazer Whipple house was built around the year 1680 and demolished in 1964. It was located here in the 900 block of the Great Road in Limerock. His (earlier) first house--located in the same place--was burned by Indians in the war of 1675. The row of rocks seen in the foreground lining the road and is still partly visible in 2004. Eleazer was the third son of Captain John. Whipple.

Source: Edward Field, State of Rhode Island and Providence Plantations at the End of the Century: A History (Boston: Mason Pub. Co., 1902) 3:608. Submitted by Charles M. Whipple.

RIN 371. Quick link to this page: https://genweb.whipple.org/371
View this person at the Whipple One-Name Study

Email corrections and additions to whipple@one-name.org

© Whipple Website. All rights reserved.

---
HTML created by GED2HTML v3.6-Linux (Mar 8 2001) on Sun Oct 2 23:51:42 2022 GMT.