---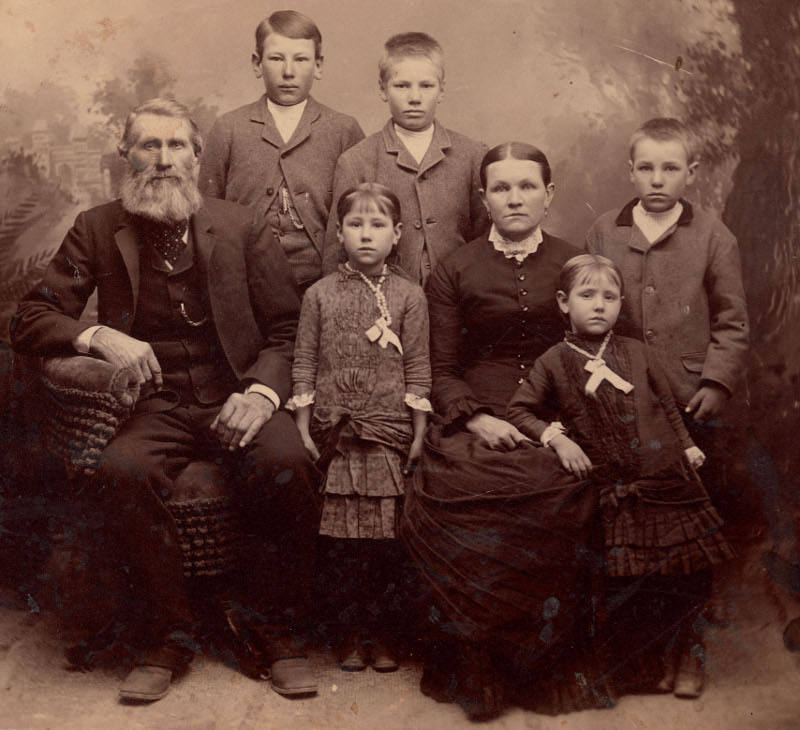 Back (left to right): Eli Whipple Jr., John Lytle Whipple
Front: Eli Whipple, Leah Caroline Whipple, Caroline Elida (Lytle) Whipple, Effie Christina Whipple, Charles Whipple
(Submitted by John Daly, 1 Jan 2014)
BIRTH: 17 Oct 1820, Luzerne, Warren, New York
DEATH: 12 May 1904, Colonia Dublan, Chihuahua, Mexico
BURIAL: 13 May 1904, Colonia Dublan, Chihuahua, Mexico
Father: John Whipple (11 Feb 1791 - 2 Mar 1872)
Mother: Marjory Willard (7 Sep 1794 - 20 Jan 1869)

Family 1: Patience Foster (5 May 1815 - 17 Jan 1890)

Family 2: Caroline Elida Lytle (18 Apr 1840 - 6 Dec 1912)

MARRIAGE: 19 Dec 1868, Salt Lake City, Salt Lake, Utah
Family 3: Mary Jane Legg (18 Jan 1858 - 2 Jul 1947)

MARRIAGE: 6 Jun 1877, St. George, Washington, Utah
---

                                                                                              _Samuel Whipple _____________+
                                                                                             | (1669 - 1728) m 1690        
                                                                        _Samuel Whipple _____|_Elizabeth Eddy _____________
                                                                       | (1695 - 1760) m 1720  (1670 - 1717)               
                                                  _Timothy Whipple ____|
                                                 | (1723 - 1796) m 1744|
                                                 |                     |                      _James Card _________________+
                                                 |                     |                     | (1649 - 1706)               
                                                 |                     |_Ruth Card __________|_Ruth Havens ________________
                                                 |                       (1700 - ....) m 1720  (1654 - ....)               
                       _John Whipple ____________|
                      | (1765 - 1830) m 1789     |
                      |                          |                                            _John Safford _______________+
                      |                          |                                           | (1662 - 1736) m 1685        
                      |                          |                      _John Safford _______|_Hannah Newman ______________
                      |                          |                     | (1687 - 1725) m 1710  (1666 - 1702)               
                      |                          |_Elizabeth Safford __|
                      |                            (1724 - 1810) m 1744|
                      |                                                |                      _Greenfield Larrabee ________+
                      |                                                |                     | (1648 - 1738) m 1672        
                      |                                                |_Dorothy Larrabee ___|_Alice Parke ________________
                      |                                                  (1686 - ....) m 1710  (1658 - 1727)               
 _John Whipple _______|
| (1791 - 1872) m 1811|
|                     |                                                                       _William Hutchins ___________+
|                     |                                                                      | (1638 - ....) m 1661        
|                     |                                                 _John Hutchins ______|_Sarah Hardy ________________
|                     |                                                | (1673 - ....) m 1693  (1637 - 1684)               
|                     |                           _William Hutchins ___|
|                     |                          | (1695 - 1772) m 1759|
|                     |                          |                     |                      _Samuel Hazelton ____________+
|                     |                          |                     |                     | (1645 - 1717) m 1670        
|                     |                          |                     |_Elizabeth Hazelton _|_Deborah Cooper _____________
|                     |                          |                       (1674 - ....) m 1693  (1650 - 1689)               
|                     |_Basmoth Elnore Hutchins _|
|                       (1769 - 1846) m 1789     |
|                                                |                                            _Mighill or Michael Cressey _+
|                                                |                                           | (1661 - 1740) m 1686        
|                                                |                      _Jonathan Cressey ___|_Sarah Hidden _______________
|                                                |                     | (1695 - 1752) m 1724  (1661 - 1751)               
|                                                |_Hepsibah Cressey ___|
|                                                  (1730 - ....) m 1759|
|                                                                      |                      _Henry Bartor _______________+
|                                                                      |                     | (1668 - 1747) m 1694        
|                                                                      |_Eleanor Barter _____|_Sarah Jane Crockett ________
|                                                                        (1695 - ....) m 1724                              
|
|--Eli Whipple 
|  (1820 - 1904)
|                                                                                             _____________________________
|                                                                                            |                             
|                                                                       _____________________|_____________________________
|                                                                      |                                                   
|                                                 _____________________|
|                                                |                     |
|                                                |                     |                      _____________________________
|                                                |                     |                     |                             
|                                                |                     |_____________________|_____________________________
|                                                |                                                                         
|                      __________________________|
|                     |                          |
|                     |                          |                                            _____________________________
|                     |                          |                                           |                             
|                     |                          |                      _____________________|_____________________________
|                     |                          |                     |                                                   
|                     |                          |_____________________|
|                     |                                                |
|                     |                                                |                      _____________________________
|                     |                                                |                     |                             
|                     |                                                |_____________________|_____________________________
|                     |                                                                                                    
|_Marjory Willard ____|
  (1794 - 1869) m 1811|
                      |                                                                       _____________________________
                      |                                                                      |                             
                      |                                                 _____________________|_____________________________
                      |                                                |                                                   
                      |                           _____________________|
                      |                          |                     |
                      |                          |                     |                      _____________________________
                      |                          |                     |                     |                             
                      |                          |                     |_____________________|_____________________________
                      |                          |                                                                         
                      |__________________________|
                                                 |
                                                 |                                            _____________________________
                                                 |                                           |                             
                                                 |                      _____________________|_____________________________
                                                 |                     |                                                   
                                                 |_____________________|
                                                                       |
                                                                       |                      _____________________________
                                                                       |                     |                             
                                                                       |_____________________|_____________________________
                                                                                                                           

---
Notes
!SOURCE: World Wide Web: http://www.calweb.com/~van/archive/whipple/

!SOURCE: LDS Collectors Library: Early LDS Membership Data, (c) 1995 Infobases, Inc.

!SOURCE: Daily Alta California, Vol. 5, no. 301, 30 Oct 1854, p. 4, column 3:
Sheriff's Sale--By virtue of an execution issued out of the Superior Court of the City of San Francisco, at the suit of Willard Whipple, Eli Whipple, Watkin Powell and Robert Palmer against C. Richards, L. Richards and Oliver Wetherbee, duly attested the 17th day of August, 1854, I have seized and taken into execution the following property, to wit: All the interest of the said defendants, any or either of them, in and to the steam sawmill known as "Richards' Mill," situated on the mountain in the Redwoods, near the Pulgas Ranch, in San Francisco county ...
!SOURCE: The Pioneer Database 1847-1868 that tells of Willard's trip to Utah tells of Eli's trip to Utah in the Eli Whipple Company (1858):
This company left Redwood City, California, with 19 missionaries and a few families. They traveled down the San Joaquin Valley, crossing Tejon Pass, and were joined by a few others going across the Mojave Desert to Utah. They reached Cedar City in late May 1858 and most of the company traveled north to Salt Lake City.
RIN 8111. Quick link to this page: https://genweb.whipple.org/8111
View this person at the Whipple One-Name Study

Email corrections and additions to whipple@one-name.org

© Whipple Website. All rights reserved.

---
HTML created by GED2HTML v3.6-Linux (Mar 8 2001) on Sat May 21 03:14:27 2022 GMT.