---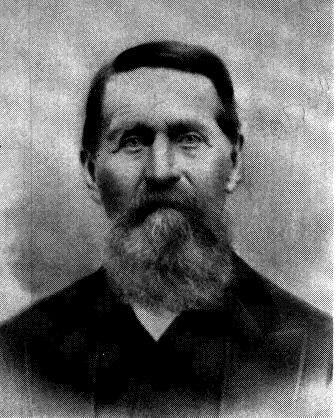 Edson Whipple
BIRTH: 5 Feb 1805, Dummerston, Windham, Vermont
DEATH: 11 May 1894, Colonia Juarez, Chihuahua, Mexico
BURIAL: 12 May 1894, Colonia Juarez, Chihuahua, Mexico
Father: John Whipple (10 Feb 1765 - 7 Nov 1830)
Mother: Basmoth Elnore Hutchins (7 Sep 1769 - 9 Sep 1846)

Family 1: Lavinia Goss (7 Jun 1811 - 13 Sep 1846)

Mariah Blanche Whipple (15 Feb 1845 - 8 Dec 1846)
Family 2: Mary Ann Yeager (1 Nov 1823 - 26 Mar 1877)

MARRIAGE: 4 Nov 1850, Salt Lake City, Salt Lake, Utah
Family 3: Harriet Yeager (15 Jul 1826 - 3 Jul 1901)

MARRIAGE: 4 Nov 1850, Salt Lake City, Salt Lake, Utah
Family 4: Lydia Flint (23 Aug 1793 - 1855)

MARRIAGE: 9 Dec 1851, Salt Lake City, Salt Lake, Utah

Family 5: Amelia Mariah Fellows (13 May 1838 - 4 Jul 1890)

MARRIAGE: 6 Sep 1854, Provo, Utah, Utah
Family 6: Mary Ann Quinney (8 May 1832 - 1 Dec 1910)

DIVORCE: Y
MARRIAGE: 21 Apr 1857, Salt Lake City, Salt Lake, Utah
---

                                                                                                      _Samuel Whipple ______________+
                                                                                                     | (.... - 1710) m 1666         
                                                                        _Samuel Whipple _____________|_Mary Harris _________________
                                                                       | (1669 - 1728) m 1690          (1639 - 1722)                
                                                  _Samuel Whipple _____|
                                                 | (1695 - 1760) m 1720|
                                                 |                     |                              _Zachariah or Zacharias Eddy _+
                                                 |                     |                             | (1639 - 1718) m 1663         
                                                 |                     |_Elizabeth Eddy _____________|_Alice Paddock _______________
                                                 |                       (1670 - 1717) m 1690          (1639 - 1692)                
                            _Timothy Whipple ____|
                           | (1723 - 1796) m 1744|
                           |                     |                                                    _Richard Card ________________
                           |                     |                                                   | (1618 - 1675)                
                           |                     |                      _James Card _________________|_Rebecca _____________________
                           |                     |                     | (1649 - 1706)                 (.... - 1674)                
                           |                     |_Ruth Card __________|
                           |                       (1700 - ....) m 1720|
                           |                                           |                              _William Havens ______________
                           |                                           |                             | (1606 - 1680) m 1639         
                           |                                           |_Ruth Havens ________________|_Dionis ______________________
                           |                                             (1654 - ....)                 (1624 - 1692)                
 _John Whipple ____________|
| (1765 - 1830) m 1789     |
|                          |                                                                          _John Safford ________________+
|                          |                                                                         | (1633 - ....)                
|                          |                                            _John Safford _______________|_Sarah Lowe __________________
|                          |                                           | (1662 - 1736) m 1685          (1633 - 1677)                
|                          |                      _John Safford _______|
|                          |                     | (1687 - 1725) m 1710|
|                          |                     |                     |                              _Thomas Newman _______________+
|                          |                     |                     |                             | (1640 - ....) m 1665         
|                          |                     |                     |_Hannah Newman ______________|_Hannah Morse ________________
|                          |                     |                       (1666 - 1702) m 1685          (1644 - ....)                
|                          |_Elizabeth Safford __|
|                            (1724 - 1810) m 1744|
|                                                |                                                    _Greenfield Larrabee _________+
|                                                |                                                   | (1615 - 1660) m 1647         
|                                                |                      _Greenfield Larrabee ________|_Phebe Brown _________________
|                                                |                     | (1648 - 1738) m 1672          (1620 - 1664)                
|                                                |_Dorothy Larrabee ___|
|                                                  (1686 - ....) m 1710|
|                                                                      |                              _Thomas Parke ________________+
|                                                                      |                             | (1615 - 1709) m 1639         
|                                                                      |_Alice Parke ________________|_Dorothy Thompson ____________
|                                                                        (1658 - 1727) m 1672          (1624 - ....)                
|
|--Edson Whipple 
|  (1805 - 1894)
|                                                                                                     _John Hutchins _______________
|                                                                                                    | (1612 - 1685)                
|                                                                       _William Hutchins ___________|_Frances _____________________
|                                                                      | (1638 - ....) m 1661          (1618 - 1694)                
|                                                 _John Hutchins ______|
|                                                | (1673 - ....) m 1693|
|                                                |                     |                              _Thomas Hardy ________________
|                                                |                     |                             | (1605 - 1677)                
|                                                |                     |_Sarah Hardy ________________|_Anne or Anna ________________
|                                                |                       (1637 - 1684) m 1661          (1608 - 1678)                
|                           _William Hutchins ___|
|                          | (1695 - 1772) m 1759|
|                          |                     |                                                    _John Hazelton _______________+
|                          |                     |                                                   | (1620 - 1690)                
|                          |                     |                      _Samuel Hazelton ____________|_Joan Anter __________________
|                          |                     |                     | (1645 - 1717) m 1670          (1625 - 1698)                
|                          |                     |_Elizabeth Hazelton _|
|                          |                       (1674 - ....) m 1693|
|                          |                                           |                              _Peter Cooper ________________
|                          |                                           |                             | (1616 - 1668)                
|                          |                                           |_Deborah Cooper _____________|_Emm or Ame Cooper ___________
|                          |                                             (1650 - 1689) m 1670          (1620 - ....)                
|_Basmoth Elnore Hutchins _|
  (1769 - 1846) m 1789     |
                           |                                                                          _Mighell Cressey _____________+
                           |                                                                         | (1628 - 1670) m 1660         
                           |                                            _Mighill or Michael Cressey _|_Mary Quilter ________________
                           |                                           | (1661 - 1740) m 1686          (1641 - 1707)                
                           |                      _Jonathan Cressey ___|
                           |                     | (1695 - 1752) m 1724|
                           |                     |                     |                              _Andrew Hidden _______________+
                           |                     |                     |                             | (1622 - 1701)                
                           |                     |                     |_Sarah Hidden _______________|_Sarah Houstin _______________
                           |                     |                       (1661 - 1751) m 1686          (1626 - 1729)                
                           |_Hepsibah Cressey ___|
                             (1730 - ....) m 1759|
                                                 |                                                    _Henry Bartor ________________
                                                 |                                                   | (1642 - ....) m 1667         
                                                 |                      _Henry Bartor _______________|_Jane ________________________
                                                 |                     | (1668 - 1747) m 1694          (1646 - ....)                
                                                 |_Eleanor Barter _____|
                                                   (1695 - ....) m 1724|
                                                                       |                              _Ephraim Crockett ____________+
                                                                       |                             | (1641 - 1688)                
                                                                       |_Sarah Jane Crockett ________|_Ann _________________________
                                                                          m 1694                       (1643 - ....)                

---
Notes
!SOURCE: Michel L. Call, "Royal Ancestors of Some L.D.S. Families" (Afton, Wyoming? 1972), p. 110.

!MARRIAGE: Variant marriage date to Lavinia Goss: 18 Mar 1832.

!MARRIAGE: Variant marriage date to Mary Ann Quinney: 26 Apr 1857.

!SOURCE: Records of the Edson Whipple Family Organization.

!SOURCE: Family group sheet of John Yeager (husband) and Ann Hyatt (wife) prepared by Lydia W. Hansen, Box 314, Lakeside, Arizona. Cites the following:
Rec of Edson Whipple in poss of Charles Whipple, Show Low, Arizona.
Patriarchal blessing of Mary Ann and Harriet Yeager.
Temple rec
!SOURCE: Photocopy of Laura Whipple Ledger, emailed to the Whipple Website by Dorothy Mahler (email hidden), 28 Sep 2016.
Gravestone of Edson Whipple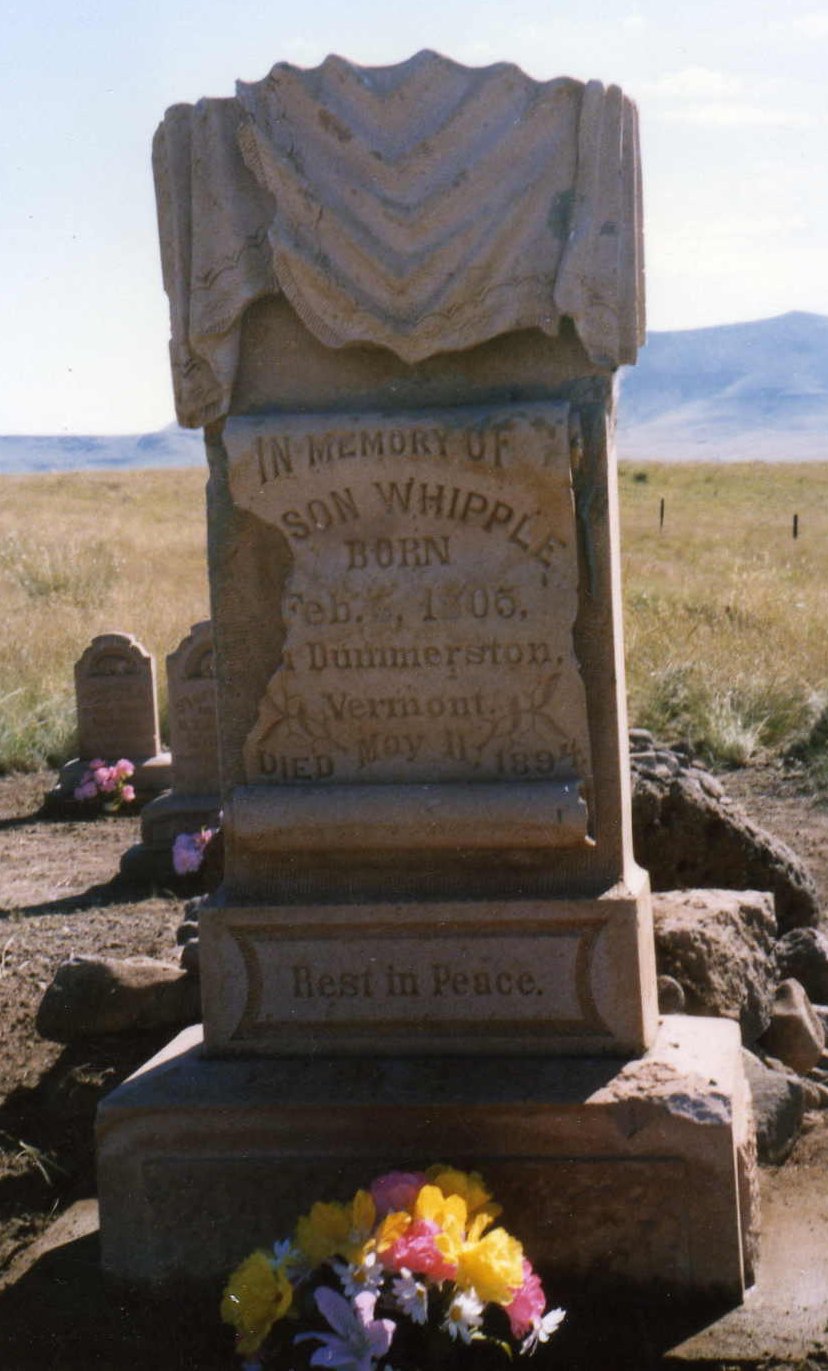 Colonia Juarez, Casas Grandes, Chihuahua, Mexico

In memory of
Edson Whipple
born
Feb. 5, 1805,
in Dummerston,
Vermont
died May 11, 1894
Rest in Peace

(Submitted by Dona Jones Sundeen, 14 April 2005)

RIN 176. Quick link to this page: https://genweb.whipple.org/176
View this person at the Whipple One-Name Study

Email corrections and additions to whipple@one-name.org

© Whipple Website. All rights reserved.

---
HTML created by GED2HTML v3.6-Linux (Mar 8 2001) on Sat May 21 03:14:27 2022 GMT.