---
BIRTH: 12 Sep 1907, , , Connecticut
DEATH: 3 Feb 1975, Norwich, New London, Connecticut
BURIAL: Lambtown Cemetery, Lambtown Road, Ledyard, New London, Connecticut
Father: Alonzo Christopher Shafer (21 Jan 1868 - 28 Aug 1948)
Mother: Jessie Helen Binley (22 Aug 1868 - 5 Oct 1953)

Family 1: Nathan Palmer Whipple (20 Jan 1903 - 18 Mar 1975)

MARRIAGE: 12 Sep 1925, Ledyard, New London, Connecticut
+Nathan Robert Whipple (15 Jun 1928 - 29 Jul 1997)
---

                                                                                                      __________________________
                                                                                                     |                          
                                                                                _____________________|__________________________
                                                                               |                                                
                                                          _Peter Shafer _______|
                                                         |                     |
                                                         |                     |                      __________________________
                                                         |                     |                     |                          
                                                         |                     |_____________________|__________________________
                                                         |                                                                      
                              _Nelson Clark Shafer ______|
                             | (1831 - 1902) m 1856      |
                             |                           |                                            __________________________
                             |                           |                                           |                          
                             |                           |                      _____________________|__________________________
                             |                           |                     |                                                
                             |                           |_Sarah Newton _______|
                             |                                                 |
                             |                                                 |                      __________________________
                             |                                                 |                     |                          
                             |                                                 |_____________________|__________________________
                             |                                                                                                  
 _Alonzo Christopher Shafer _|
| (1868 - 1948) m 1888       |
|                            |                                                                        _Comfort Chapman _________
|                            |                                                                       |  m 1780                  
|                            |                                                  _Samuel Chapman _____|_Eunice Whipple __________
|                            |                                                 | (1780 - 1820) m 1820  (1764 - ....)            
|                            |                            _Ori E. Chapman _____|
|                            |                           | (1813 - 1898) m 1834|
|                            |                           |                     |                      _Timothy Waterhouse ______+
|                            |                           |                     |                     | (1740 - 1814) m 1764     
|                            |                           |                     |_Abiah Watrous ______|_Content Whipple _________
|                            |                           |                       (1782 - 1820) m 1820  (1743 - 1831)            
|                            |_Content Chapman __________|
|                              (1843 - 1915) m 1856      |
|                                                        |                                            _Samuel Stillman Whipple _+
|                                                        |                                           | (1766 - 1843) m 1788     
|                                                        |                      _Noah Whipple _______|_Hepzibah Gates __________
|                                                        |                     | (1792 - 1871) m 1813  (1765 - 1822)            
|                                                        |_Content Whipple ____|
|                                                          (1814 - 1875) m 1834|
|                                                                              |                      _William Crouch __________+
|                                                                              |                     | (1770 - 1840) m 1791     
|                                                                              |_Content Crouch _____|_Content Watrous _________
|                                                                                (1794 - 1835) m 1813  (1769 - 1853)            
|
|--Bertha Estelle Shafer 
|  (1907 - 1975)
|                                                                                                     __________________________
|                                                                                                    |                          
|                                                                               _____________________|__________________________
|                                                                              |                                                
|                                                         _____________________|
|                                                        |                     |
|                                                        |                     |                      __________________________
|                                                        |                     |                     |                          
|                                                        |                     |_____________________|__________________________
|                                                        |                                                                      
|                             _Benjamin Franklin Binley _|
|                            | (1832 - 1903)             |
|                            |                           |                                            __________________________
|                            |                           |                                           |                          
|                            |                           |                      _____________________|__________________________
|                            |                           |                     |                                                
|                            |                           |_____________________|
|                            |                                                 |
|                            |                                                 |                      __________________________
|                            |                                                 |                     |                          
|                            |                                                 |_____________________|__________________________
|                            |                                                                                                  
|_Jessie Helen Binley _______|
  (1868 - 1953) m 1888       |
                             |                                                                        __________________________
                             |                                                                       |                          
                             |                                                  _____________________|__________________________
                             |                                                 |                                                
                             |                            _____________________|
                             |                           |                     |
                             |                           |                     |                      __________________________
                             |                           |                     |                     |                          
                             |                           |                     |_____________________|__________________________
                             |                           |                                                                      
                             |_Lovina C. Sheppard _______|
                               (1842 - 1920)             |
                                                         |                                            __________________________
                                                         |                                           |                          
                                                         |                      _____________________|__________________________
                                                         |                     |                                                
                                                         |_____________________|
                                                                               |
                                                                               |                      __________________________
                                                                               |                     |                          
                                                                               |_____________________|__________________________
                                                                                                                                

---
Notes
!SOURCE: Clara Hammond McGuigan, The Antecedents and Descendants of Noah Whipple of the Rogerene Community at Quakertown, Connecticut (Ithaca, N.Y.: J.M. Kingsbury, 1971), p. 177.

!SOURCE: Email from R. Gilebarto to Weldon Whipple, 21 Nov 1998.

!SOURCE: "Descendants of Content Whipple," submitted to the Whipple Website by R. Gilebarto, 11 May 1999.

!SOURCE: Email from Matt Kingsley (email hidden) to Weldon Whipple, 2 Jan 2022. Cites 1940 U.S. Census of Groton Town, New London, Connecticut. Adds birth state.
Gravestone of Nathan P. and Bertha E. (Shafer) Whipple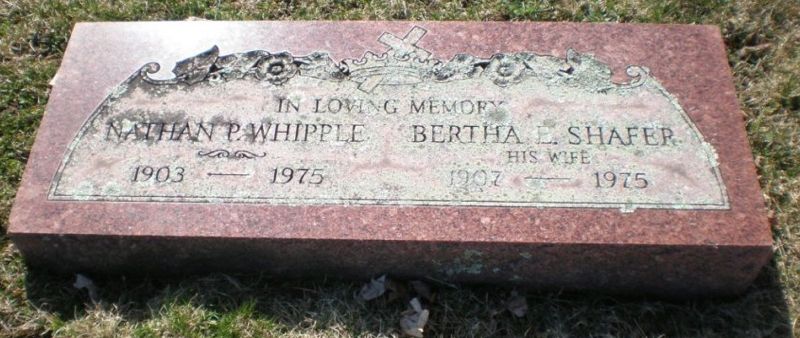 Lambtown Cemetery, Lambtown Road, Ledyard, New London, Connecticut
(Submitted 4/24/2009 by R. Gilebarto)

RIN 30550. Quick link to this page: https://genweb.whipple.org/30550
View this person at the Whipple One-Name Study

Email corrections and additions to whipple@one-name.org

© Whipple Website. All rights reserved.

---
HTML created by GED2HTML v3.6-Linux (Mar 8 2001) on Sun Sep 25 01:43:45 2022 GMT.