---
BIRTH: 21 Aug 1893, , , Connecticut
DEATH: 2 Dec 1938, New London, New London, Connecticut
BURIAL: Ledyard Union Cemetery, Ledyard, New London, Connecticut
Father: Joseph Watrous Prosser (15 Dec 1865 - 5 Sep 1934)
Mother: Julia Watrous (4 Mar 1863 - 24 Mar 1906)

Family 1: Celia Mabel Crouch (25 Oct 1883 - 1932)

MARRIAGE: 21 Aug 1921, Ledyard, New London, Connecticut
---

                                                                                                       _____________________
                                                                                                      |                     
                                                                                 _Isaac Prosser ______|_____________________
                                                                                | (1776 - 1827)                             
                                                     _Welcome Prosser __________|
                                                    | (1803 - 1879)             |
                                                    |                           |                      _____________________
                                                    |                           |                     |                     
                                                    |                           |_Esther Colgrove ____|_____________________
                                                    |                             (1773 - 1844)                             
                           _Isaac Stillman Prosser _|
                          | (1830 - 1895) m 1863    |
                          |                         |                                                  _____________________
                          |                         |                                                 |                     
                          |                         |                            _Joseph Tefft _______|_____________________
                          |                         |                           |                                           
                          |                         |_Jemima A. Tefft or Tafft _|
                          |                           (1808 - 1876)             |
                          |                                                     |                      _____________________
                          |                                                     |                     |                     
                          |                                                     |_____________________|_____________________
                          |                                                                                                 
 _Joseph Watrous Prosser _|
| (1865 - 1934) m 1887    |
|                         |                                                                            _Timothy Waterhouse _+
|                         |                                                                           | (1740 - 1814) m 1764
|                         |                                                      _Timothy Watrous ____|_Content Whipple ____
|                         |                                                     | (1765 - 1820) m 1787  (1743 - 1831)       
|                         |                          _Silas Watrous ____________|
|                         |                         | (1802 - 1852) m 1823      |
|                         |                         |                           |                      _Stephen Wilcox _____
|                         |                         |                           |                     |                     
|                         |                         |                           |_Hannah Wilcox ______|_____________________
|                         |                         |                             (1766 - 1851) m 1787                      
|                         |_Phebe Watrous __________|
|                           (1842 - 1910) m 1863    |
|                                                   |                                                  _William Crouch _____
|                                                   |                                                 |  m 1765             
|                                                   |                            _William Crouch _____|_Christiana Bolles __
|                                                   |                           | (1770 - 1840) m 1791                      
|                                                   |_Mary Crouch ______________|
|                                                     (1801 - 1884) m 1823      |
|                                                                               |                      _Timothy Waterhouse _+
|                                                                               |                     | (1740 - 1814) m 1764
|                                                                               |_Content Watrous ____|_Content Whipple ____
|                                                                                 (1769 - 1853) m 1791  (1743 - 1831)       
|
|--Joseph Watrous Prosser 
|  (1893 - 1938)
|                                                                                                      _Timothy Waterhouse _+
|                                                                                                     | (1740 - 1814) m 1764
|                                                                                _Timothy Watrous ____|_Content Whipple ____
|                                                                               | (1765 - 1820) m 1787  (1743 - 1831)       
|                                                    _Silas Watrous ____________|
|                                                   | (1802 - 1852) m 1823      |
|                                                   |                           |                      _Stephen Wilcox _____
|                                                   |                           |                     |                     
|                                                   |                           |_Hannah Wilcox ______|_____________________
|                                                   |                             (1766 - 1851) m 1787                      
|                          _Charles Watrous ________|
|                         | (1840 - 1906) m 1860    |
|                         |                         |                                                  _William Crouch _____
|                         |                         |                                                 |  m 1765             
|                         |                         |                            _William Crouch _____|_Christiana Bolles __
|                         |                         |                           | (1770 - 1840) m 1791                      
|                         |                         |_Mary Crouch ______________|
|                         |                           (1801 - 1884) m 1823      |
|                         |                                                     |                      _Timothy Waterhouse _+
|                         |                                                     |                     | (1740 - 1814) m 1764
|                         |                                                     |_Content Watrous ____|_Content Whipple ____
|                         |                                                       (1769 - 1853) m 1791  (1743 - 1831)       
|_Julia Watrous __________|
  (1863 - 1906) m 1887    |
                          |                                                                            _William Crouch _____
                          |                                                                           |  m 1765             
                          |                                                      _John Crouch ________|_Christiana Bolles __
                          |                                                     | (1777 - 1830) m 1797                      
                          |                          _Joel Crouch ______________|
                          |                         |  m 1834                   |
                          |                         |                           |                      _Timothy Waterhouse _+
                          |                         |                           |                     | (1740 - 1814) m 1764
                          |                         |                           |_Elizabeth Watrous __|_Content Whipple ____
                          |                         |                             (1780 - 1862) m 1797  (1743 - 1831)       
                          |_Hannah Crouch __________|
                            (1835 - 1906) m 1860    |
                                                    |                                                  _William Crouch _____
                                                    |                                                 |  m 1765             
                                                    |                            _William Crouch _____|_Christiana Bolles __
                                                    |                           | (1770 - 1840) m 1791                      
                                                    |_Hannah Crouch ____________|
                                                      (1811 - 1835) m 1834      |
                                                                                |                      _Timothy Waterhouse _+
                                                                                |                     | (1740 - 1814) m 1764
                                                                                |_Content Watrous ____|_Content Whipple ____
                                                                                  (1769 - 1853) m 1791  (1743 - 1831)       

---
Notes
!SOURCE: Email from R. Gilebarto to the Whipple Web Site, 23 Jan 2000, citing Clara Hammond McGuigan, The Antecedents and Descendants of Noah Whipple of the Rogerene Community at Quakertown, CT (Ithaca, New York: John M. Kingsbury, 1972), p. 142, 224, 243.

!DEATH: At the Mitchell Insulation Hospital, New London, Connecticut. --R. Gilebarto
Gravestone of Joseph W. Prosser Jr. and C. Mabel Crouch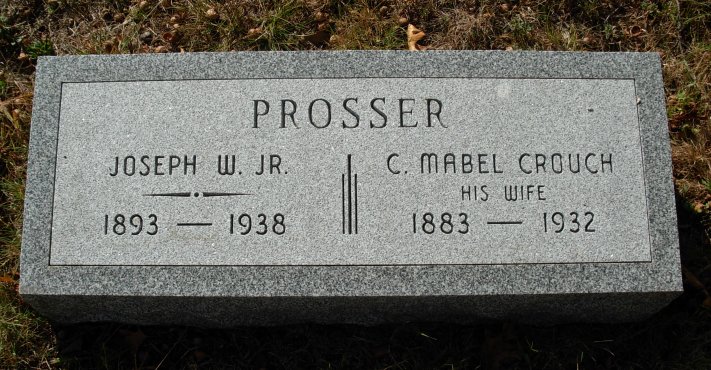 Ledyard Union Cemetery, Colonel Ledyard Highway, Ledyard, Connecticut
(Submitted by R. Gilebarto, 13 Oct 2007)

RIN 45952. Quick link to this page: https://genweb.whipple.org/45952
View this person at the Whipple One-Name Study

Email corrections and additions to whipple@one-name.org

© Whipple Website. All rights reserved.

---
HTML created by GED2HTML v3.6-Linux (Mar 8 2001) on Mon Nov 27 00:14:57 2023 GMT.