---
BIRTH: 13 Dec 1904, , , Connecticut
DEATH: 1976
BURIAL: Lambtown Cemetery, Lambtown Road, Ledyard, New London, Connecticut
Father: Samuel Riley Olin (3 Jan 1868 - 18 Feb 1956)
Mother: Mary Alice Watrous (28 Apr 1877 - Dec 1968)

Family 1: Harold Alonzo Shafer (16 Feb 1900 - Mar 1966)


---

                                                                                                  _____________________
                                                                                                 |                     
                                                                            _____________________|_____________________
                                                                           |                                           
                                                  _Jeffrey Olin ___________|
                                                 |                         |
                                                 |                         |                      _____________________
                                                 |                         |                     |                     
                                                 |                         |_____________________|_____________________
                                                 |                                                                     
                       _George H. Olin __________|
                      | (1843 - 1904) m 1865     |
                      |                          |                                                _____________________
                      |                          |                                               |                     
                      |                          |                          _____________________|_____________________
                      |                          |                         |                                           
                      |                          |_Betsy Maria Wilcox _____|
                      |                                                    |
                      |                                                    |                      _____________________
                      |                                                    |                     |                     
                      |                                                    |_____________________|_____________________
                      |                                                                                                
 _Samuel Riley Olin __|
| (1868 - 1956) m 1901|
|                     |                                                                           _Comfort Chapman ____
|                     |                                                                          |  m 1780             
|                     |                                                     _Samuel Chapman _____|_Eunice Whipple _____
|                     |                                                    | (1780 - 1820) m 1820  (1764 - ....)       
|                     |                           _Samuel Chapman _________|
|                     |                          | (1806 - 1844) m 1827    |
|                     |                          |                         |                      _Timothy Waterhouse _+
|                     |                          |                         |                     | (1740 - 1814) m 1764
|                     |                          |                         |_Abiah Watrous ______|_Content Whipple ____
|                     |                          |                           (1782 - 1820) m 1820  (1743 - 1831)       
|                     |_Elizabeth Chapman _______|
|                       (1829 - 1907) m 1865     |
|                                                |                                                _William Crouch _____
|                                                |                                               |  m 1765             
|                                                |                          _John Crouch ________|_Christiana Bolles __
|                                                |                         | (1777 - 1830) m 1797                      
|                                                |_Abiah Crouch ___________|
|                                                  (1804 - 1871) m 1827    |
|                                                                          |                      _Timothy Waterhouse _+
|                                                                          |                     | (1740 - 1814) m 1764
|                                                                          |_Elizabeth Watrous __|_Content Whipple ____
|                                                                            (1780 - 1862) m 1797  (1743 - 1831)       
|
|--Hazel Ellen Olin 
|  (1904 - 1976)
|                                                                                                 _Timothy Waterhouse _+
|                                                                                                | (1740 - 1814) m 1764
|                                                                           _Zephaniah Watrous __|_Content Whipple ____
|                                                                          | (1785 - 1858)         (1743 - 1831)       
|                                                 _Zephaniah Watrous ______|
|                                                | (1806 - 1868) m 1827    |
|                                                |                         |                      _Alexander Rogers ___
|                                                |                         |                     |  m 1777             
|                                                |                         |_Sarah Rogers _______|_Rachel Larrabee ____
|                                                |                           (1783 - ....)                             
|                      _Elias Everett Watrous ___|
|                     | (1852 - 1924) m 1873     |
|                     |                          |                                                _Comfort Chapman ____
|                     |                          |                                               |  m 1780             
|                     |                          |                          _Samuel Chapman _____|_Eunice Whipple _____
|                     |                          |                         | (1780 - 1820) m 1820  (1764 - ....)       
|                     |                          |_Abiah Chapman __________|
|                     |                            (1808 - 1894) m 1827    |
|                     |                                                    |                      _Timothy Waterhouse _+
|                     |                                                    |                     | (1740 - 1814) m 1764
|                     |                                                    |_Abiah Watrous ______|_Content Whipple ____
|                     |                                                      (1782 - 1820) m 1820  (1743 - 1831)       
|_Mary Alice Watrous _|
  (1877 - 1968) m 1901|
                      |                                                                           _____________________
                      |                                                                          |                     
                      |                                                     _Asa Phillips _______|_____________________
                      |                                                    |                                           
                      |                           _Josiah Fuller Phillips _|
                      |                          | (1826 - 1896) m 1851    |
                      |                          |                         |                      _____________________
                      |                          |                         |                     |                     
                      |                          |                         |_Amelia Thomas ______|_____________________
                      |                          |                                                                     
                      |_Mary Ann Adams Phillips _|
                        (1853 - 1924) m 1873     |
                                                 |                                                _Samuel Chapman _____+
                                                 |                                               | (1780 - 1820) m 1820
                                                 |                          _Samuel Chapman _____|_Abiah Watrous ______
                                                 |                         | (1806 - 1844) m 1827  (1782 - 1820)       
                                                 |_Abiah Chapman __________|
                                                   (1834 - 1911) m 1851    |
                                                                           |                      _John Crouch ________+
                                                                           |                     | (1777 - 1830) m 1797
                                                                           |_Abiah Crouch _______|_Elizabeth Watrous __
                                                                             (1804 - 1871) m 1827  (1780 - 1862)       

---
Notes
!SOURCE: "Descendants of Content Whipple," submitted to the Whipple Website by R. Gilebarto, 11 May 1999.

!SOURCE: Clara Hammond McGuigan, The Antecedents and Descendants of Noah Whipple of the Rogerene Community at Quakertown, Connecticut (Ithaca, N.Y.: J.M. Kingsbury, 1971), p. 250.

!SOURCE: Email from Matthew O. Kingsley (email hidden) to the Whipple Website, 13 Feb 2017. Adds state of birth, citing 1920 census.
Gravestone of Harold A. and Hazel E. (Olin) Shafer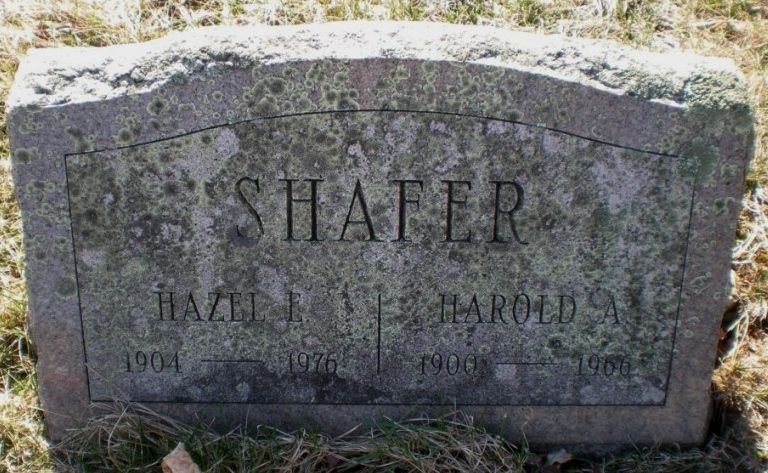 Lambtown Cemetery, Lambtown Road, Ledyard, New London, Connecticut
(Submitted 4/12/2009 by R. Gilebarto)

RIN 39237. Quick link to this page: https://genweb.whipple.org/39237
View this person at the Whipple One-Name Study

Email corrections and additions to whipple@one-name.org

© Whipple Website. All rights reserved.

---
HTML created by GED2HTML v3.6-Linux (Mar 8 2001) on Sat Aug 13 20:01:22 2022 GMT.