---
BIRTH: 3 Nov 1872, Atchison, Atchison, Kansas
DEATH: 19 Jun 1902, Muscotah, Atchison, Kansas
BURIAL: Muscotah, Atchison, Kansas
Father: Esmond Lorenzo Olden (2 Jun 1847 - 19 Nov 1926)
Mother: Amy M. Parks (16 May 1847 - 4 Jan 1923)

Family 1: Frederick Herbert Coombs (17 Jun 1867 - 25 Jun 1957)

MARRIAGE: 5 Jun 1892, Whiting, Jackson, Kansas
Eugene Lorenzo Coombs (5 Apr 1893 - Nov 1965)
+Herbert Pierce Coombs (1 Dec 1894 - 24 Jun 1979)
+Mabel Florence Coombs (2 Apr 1897 - Jun 1987)
---

                                                                                              ______________________________
                                                                                             |                              
                                                                        _____________________|______________________________
                                                                       |                                                    
                                               ________________________|
                                              |                        |
                                              |                        |                      ______________________________
                                              |                        |                     |                              
                                              |                        |_____________________|______________________________
                                              |                                                                             
                         _____________________|
                        |                     |
                        |                     |                                               ______________________________
                        |                     |                                              |                              
                        |                     |                         _____________________|______________________________
                        |                     |                        |                                                    
                        |                     |________________________|
                        |                                              |
                        |                                              |                      ______________________________
                        |                                              |                     |                              
                        |                                              |_____________________|______________________________
                        |                                                                                                   
 _Esmond Lorenzo Olden _|
| (1847 - 1926) m 1872  |
|                       |                                                                     ______________________________
|                       |                                                                    |                              
|                       |                                               _____________________|______________________________
|                       |                                              |                                                    
|                       |                      ________________________|
|                       |                     |                        |
|                       |                     |                        |                      ______________________________
|                       |                     |                        |                     |                              
|                       |                     |                        |_____________________|______________________________
|                       |                     |                                                                             
|                       |_____________________|
|                                             |
|                                             |                                               ______________________________
|                                             |                                              |                              
|                                             |                         _____________________|______________________________
|                                             |                        |                                                    
|                                             |________________________|
|                                                                      |
|                                                                      |                      ______________________________
|                                                                      |                     |                              
|                                                                      |_____________________|______________________________
|                                                                                                                           
|
|--Minnie May Olden 
|  (1872 - 1902)
|                                                                                             ______________________________
|                                                                                            |                              
|                                                                       _____________________|______________________________
|                                                                      |                                                    
|                                              ________________________|
|                                             |                        |
|                                             |                        |                      ______________________________
|                                             |                        |                     |                              
|                                             |                        |_____________________|______________________________
|                                             |                                                                             
|                        _Charles W. Parks ___|
|                       | (1824 - 1870)       |
|                       |                     |                                               ______________________________
|                       |                     |                                              |                              
|                       |                     |                         _____________________|______________________________
|                       |                     |                        |                                                    
|                       |                     |________________________|
|                       |                                              |
|                       |                                              |                      ______________________________
|                       |                                              |                     |                              
|                       |                                              |_____________________|______________________________
|                       |                                                                                                   
|_Amy M. Parks _________|
  (1847 - 1923) m 1872  |
                        |                                                                     _Benjamin Whipple ____________+
                        |                                                                    | (1688 - 1788) m 1734         
                        |                                               _Stephen Whipple ____|_Esther Millard or Miller ____
                        |                                              | (.... - 1813) m 1760                               
                        |                      _Benjamin Whipple ______|
                        |                     | (1787 - 1869) m 1810   |
                        |                     |                        |                      _Nebediah or Nedabiah Angell _+
                        |                     |                        |                     | (1712 - 1786)                
                        |                     |                        |_Zilpha Angell ______|_Mercy Winsor ________________
                        |                     |                          (1742 - 1830) m 1760  (1718 - 1758)                
                        |_Harriet C. Whipple _|
                          (1827 - 1870)       |
                                              |                                               ______________________________
                                              |                                              |                              
                                              |                         _____________________|______________________________
                                              |                        |                                                    
                                              |_Amy Tyrrell or Tyrrel _|
                                                (1793 - 1846) m 1810   |
                                                                       |                      ______________________________
                                                                       |                     |                              
                                                                       |_____________________|______________________________
                                                                                                                            

---
Notes
!SOURCE: History of the Whipples : Descendants of John & Sarah Whipple of R.I. : Copy of Records Taken from B. Whipple's Book as copied / by Madison Whipple, Cheshire, Mass., 1867 ; Typescript by J.M. Whipple, Addenda by J.F. Keve, p. 7. Gives birth 3 Nov 1872.

!SOURCE: GEDCOM file from Tricia Bockeloh (email hidden) to the Whipple Website, 23 Jan 2001. Gives birth 8 Nov 1872.
Gravestone of E.L. Olden, Amy M. (Parks) Olden, Minnie M. (Olden) Coombs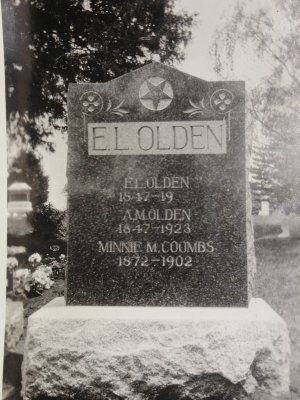 RIN 27071. Quick link to this page: https://genweb.whipple.org/27071
View this person at the Whipple One-Name Study

Email corrections and additions to whipple@one-name.org

© Whipple Website. All rights reserved.

---
HTML created by GED2HTML v3.6-Linux (Mar 8 2001) on Sat Aug 13 20:01:22 2022 GMT.