---
BIRTH: 14 Nov 1884, Ledyard, New London, Connecticut
DEATH: 6 Feb 1970, Norwich, New London, Connecticut
BURIAL: Lambtown Cemetery, Lambtown Road, Ledyard, New London, Connecticut
Father: George Alfred Montgomery or Whipple (2 Sep 1861 - 22 Dec 1932)
Mother: Ida Lamb (22 Aug 1860 - 20 Jun 1948)

Family 1: Timothy Levi Crouch (28 Jul 1879 - 9 Jul 1949)

MARRIAGE: 15 Feb 1905, Ledyard, New London, Connecticut
---

                                                                                                               _Noah Whipple _______+
                                                                                                              | (1741 - 1775) m 1762
                                                                                    _Samuel Stillman Whipple _|_Hope Whipple _______
                                                                                   | (1766 - 1843) m 1788       (1740 - 1829)       
                                                              _Jonathan Whipple ___|
                                                             | (1794 - 1875) m 1815|
                                                             |                     |                           _Thomas Gates _______+
                                                             |                     |                          | (1720 - 1797)       
                                                             |                     |_Hepzibah Gates __________|_Elizabeth Mitchell _
                                                             |                       (1765 - 1822) m 1788       (1724 - ....)       
                                        _Enoch Whipple ______|
                                       | (1825 - 1897) m 1851|
                                       |                     |                                                 _William Crouch _____
                                       |                     |                                                |  m 1765             
                                       |                     |                      _John Crouch _____________|_Christiana Bolles __
                                       |                     |                     | (1777 - 1830) m 1797                           
                                       |                     |_Elizabeth Crouch ___|
                                       |                       (1798 - 1883) m 1815|
                                       |                                           |                           _Timothy Waterhouse _+
                                       |                                           |                          | (1740 - 1814) m 1764
                                       |                                           |_Elizabeth Watrous _______|_Content Whipple ____
                                       |                                             (1780 - 1862) m 1797       (1743 - 1831)       
 _George Alfred Montgomery or Whipple _|
| (1861 - 1932) m 1884                 |
|                                      |                                                                       _William Crouch _____
|                                      |                                                                      |  m 1765             
|                                      |                                            _William Crouch __________|_Christiana Bolles __
|                                      |                                           | (1770 - 1840) m 1791                           
|                                      |                      _Zachariah Crouch ___|
|                                      |                     | (1809 - 1888) m 1834|
|                                      |                     |                     |                           _Timothy Waterhouse _+
|                                      |                     |                     |                          | (1740 - 1814) m 1764
|                                      |                     |                     |_Content Watrous _________|_Content Whipple ____
|                                      |                     |                       (1769 - 1853) m 1791       (1743 - 1831)       
|                                      |_Delight Crouch _____|
|                                        (1835 - 1905) m 1851|
|                                                            |                                                 _Timothy Watrous ____+
|                                                            |                                                | (1765 - 1820) m 1787
|                                                            |                      _William Watrous _________|_Hannah Wilcox ______
|                                                            |                     | (1790 - 1831) m 1811       (1766 - 1851)       
|                                                            |_Delight Watrous ____|
|                                                              (1816 - 1901) m 1834|
|                                                                                  |                           _Jeduthan Cushman ___
|                                                                                  |                          | (1764 - 1805) m 1791
|                                                                                  |_Clarissa Cushman ________|_Delight Rogers _____
|                                                                                    (1792 - 1823) m 1811       (1764 - 1805)       
|
|--Evelyn Delight Montgomery or Whipple 
|  (1884 - 1970)
|                                                                                                              _____________________
|                                                                                                             |                     
|                                                                                   __________________________|_____________________
|                                                                                  |                                                
|                                                             _____________________|
|                                                            |                     |
|                                                            |                     |                           _____________________
|                                                            |                     |                          |                     
|                                                            |                     |__________________________|_____________________
|                                                            |                                                                      
|                                       _Nelson Lamb ________|
|                                      | (1826 - 1900) m 1851|
|                                      |                     |                                                 _____________________
|                                      |                     |                                                |                     
|                                      |                     |                      __________________________|_____________________
|                                      |                     |                     |                                                
|                                      |                     |_____________________|
|                                      |                                           |
|                                      |                                           |                           _____________________
|                                      |                                           |                          |                     
|                                      |                                           |__________________________|_____________________
|                                      |                                                                                            
|_Ida Lamb ____________________________|
  (1860 - 1948) m 1884                 |
                                       |                                                                       _____________________
                                       |                                                                      |                     
                                       |                                            __________________________|_____________________
                                       |                                           |                                                
                                       |                      _____________________|
                                       |                     |                     |
                                       |                     |                     |                           _____________________
                                       |                     |                     |                          |                     
                                       |                     |                     |__________________________|_____________________
                                       |                     |                                                                      
                                       |_Mary Douglas _______|
                                         (1830 - 1910) m 1851|
                                                             |                                                 _____________________
                                                             |                                                |                     
                                                             |                      __________________________|_____________________
                                                             |                     |                                                
                                                             |_____________________|
                                                                                   |
                                                                                   |                           _____________________
                                                                                   |                          |                     
                                                                                   |__________________________|_____________________
                                                                                                                                    

---
Notes
!SOURCE: "Descendants of James Watrous," emailed by R. Gilebarto to Weldon Whipple 1 Jan 2001. Cites Ledyard Connecticut Town Records; Clara McGuigan's "The Antecedants and Descendants of Noah Whipple and the Rogerene Community at Quakertown, CT" (Ithaca, N.Y.: John M. Kingsbury, 1971), p. 99, 159; and Connecticut Death Index, File 03832. Gives name Evelyn Delight Montgomery.

!SOURCE: Email from N. Combs to Weldon Whipple, 8 Dec 2009. Cites the June 19, 1900 Census, Ledyard, New London, CT p.178
Whipple, Alfred G. 38 farmer b. CT Sept. 1861 parents b. CT mar. 16 yrs. {abt 1884}
wife - Whipple, Ida L. 39 b. CT Aug. 1860 father b. CT mother b. FL, 7/6 children
dau. - Whipple, Evelyn D. 15 b. CT Nov. 1884
dau. - Whipple, Anna C. 12 b. CT Feb. 1888
dau. - Whipple, Rachel B. 8 b. CT Oct. 1891
dau. - Whipple, Althea E. 6 b. CT Nov. 1893
dau. - Whipple, Leila M. 4 b. RI Sept. 1895
son - Whipple, Alfred G., Jr. 1 b. CT April 1899
father-in-law Lamb, Nelson 73 b. CT Aug. 1826 mar. 49 yrs. {abt 1851}, parents b. CT
mother-in-law Lamb, Mary D. 70 b. FL March 1830 parents b. FL
!SOURCE: Find a Grave web site memorial 48666063, cited 23 Jun 2022. "In her husband Levi's obituary, she is referred to as Evelyn D. Whipple. They married in 1904. ... Her father was raised by Enoch Whipple and for a time was also known as George Whipple."
Gravestone of Evelyn D. (Montgomery) Crouch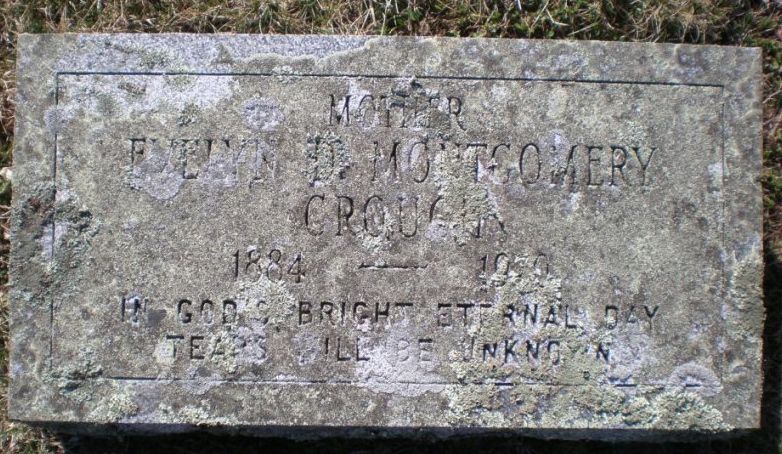 Lambtown Cemetery, Lambtown Road, Ledyard, New London, Connecticut
(Submitted 4/12/2009 by R. Gilebarto)

RIN 49704. Quick link to this page: https://genweb.whipple.org/49704
View this person at the Whipple One-Name Study

Email corrections and additions to whipple@one-name.org

© Whipple Website. All rights reserved.

---
HTML created by GED2HTML v3.6-Linux (Mar 8 2001) on Sat Sep 17 18:15:30 2022 GMT.