---
BIRTH: 13 May 1736, Glocester, Providence, Rhode Island
DEATH: 18 Jul 1812, Cumberland, Providence, Rhode Island
BURIAL: Ballou Cemetery, Old Mendon Road, Cumberland, Providence, Rhode Island
Father: Peregrine Mathewson (12 Sep 1707 - 29 Nov 1789)
Mother: Hannah Hide (____ - ____)

Family 1: Moses Whipple (21 Jan 1729/1730 - 3 Sep 1807)

MARRIAGE: 30 Sep 1764, Glocester, Providence, Rhode Island
---

                                                                                          _____________________
                                                                                         |                     
                                                                    _____________________|_____________________
                                                                   |                                           
                                              _James Mathewson ____|
                                             | (1638 - 1682) m 1663|
                                             |                     |                      _____________________
                                             |                     |                     |                     
                                             |                     |_____________________|_____________________
                                             |                                                                 
                        _Daniel Mathewson ___|
                       | (1683 - 1751) m 1703|
                       |                     |                                            _____________________
                       |                     |                                           |                     
                       |                     |                      _John Field _________|_____________________
                       |                     |                     | (1616 - 1685)                             
                       |                     |_Hannah Field _______|
                       |                       (1642 - 1703) m 1663|
                       |                                           |                      _____________________
                       |                                           |                     |                     
                       |                                           |_Ruth Fairbanks _____|_____________________
                       |                                                                                       
 _Peregrine Mathewson _|
| (1707 - 1789) m 1733 |
|                      |                                                                  _____________________
|                      |                                                                 |                     
|                      |                                            _Edward Inman _______|_____________________
|                      |                                           | (.... - 1706)                             
|                      |                      _John Inman _________|
|                      |                     | (1648 - 1712) m 1672|
|                      |                     |                     |                      _____________________
|                      |                     |                     |                     |                     
|                      |                     |                     |_Barbara ____________|_____________________
|                      |                     |                                                                 
|                      |_Sarah Inman ________|
|                        (.... - 1742) m 1703|
|                                            |                                            _John Wightman ______
|                                            |                                           |                     
|                                            |                      _Valentine Whitman __|_____________________
|                                            |                     | (1627 - 1700) m 1651                      
|                                            |_Mary Whitman _______|
|                                              (1652 - 1720) m 1672|
|                                                                  |                      _____________________
|                                                                  |                     |                     
|                                                                  |_Mary _______________|_____________________
|                                                                    (1630 - 1718) m 1651                      
|
|--Patience Mathewson 
|  (1736 - 1812)
|                                                                                         _____________________
|                                                                                        |                     
|                                                                   _____________________|_____________________
|                                                                  |                                           
|                                             _____________________|
|                                            |                     |
|                                            |                     |                      _____________________
|                                            |                     |                     |                     
|                                            |                     |_____________________|_____________________
|                                            |                                                                 
|                       _____________________|
|                      |                     |
|                      |                     |                                            _____________________
|                      |                     |                                           |                     
|                      |                     |                      _____________________|_____________________
|                      |                     |                     |                                           
|                      |                     |_____________________|
|                      |                                           |
|                      |                                           |                      _____________________
|                      |                                           |                     |                     
|                      |                                           |_____________________|_____________________
|                      |                                                                                       
|_Hannah Hide _________|
   m 1733              |
                       |                                                                  _____________________
                       |                                                                 |                     
                       |                                            _____________________|_____________________
                       |                                           |                                           
                       |                      _____________________|
                       |                     |                     |
                       |                     |                     |                      _____________________
                       |                     |                     |                     |                     
                       |                     |                     |_____________________|_____________________
                       |                     |                                                                 
                       |_____________________|
                                             |
                                             |                                            _____________________
                                             |                                           |                     
                                             |                      _____________________|_____________________
                                             |                     |                                           
                                             |_____________________|
                                                                   |
                                                                   |                      _____________________
                                                                   |                     |                     
                                                                   |_____________________|_____________________
                                                                                                               

---
Notes
!SOURCE: Henry E. Whipple, A Brief Genealogy of the Whipple Families Who Settled in Rhode Island (Providence: A. Crawford Greene, 1873), p. 50. Spells surname Matteson.

!MARRIAGE: Arnold, James N., Vital Record of Rhode Island, 1636-1850, vol. 3, Glocester, part 1 (Providence: Narragansett Historical Pub. Co., 1892), p. 40. Spells surname Mathewson.

!SOURCE: Husband's will, proved 12 Sep 1807. Abstracted in Lucille B. Beaman, "Abstracts of Cumberland, Rhode Island, Wills," Rhode Island Genealogical Register, vol. 4, no. 1 (Jul 1981), p. 90.

!SOURCE: Email from N. Combs to the Whipple Website, 30 Sep 2001. Cites Arnold's Vital Record of Rhode Island, 1636-1850 (Glocester, p. 57); Rhode Island Cemeteries Database Index.
Gravestone of Patience (Mathewson) Whipple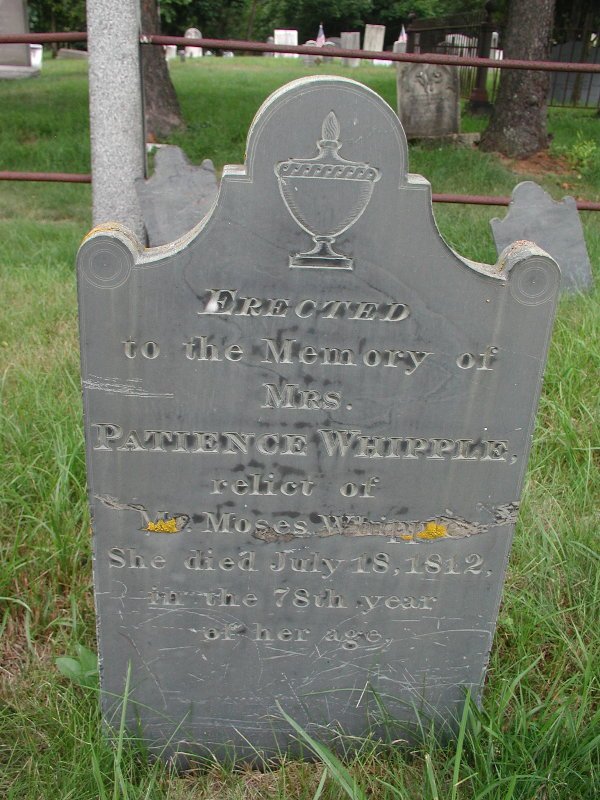 Ballou Cemetery (Historical Cemetery # CU009), Old Mendon Road at telephone pole # 109, Cumberland, Providence, Rhode Island.
Submitted by Beth Hurd, 20 Jul 2004.
Erected to the memory of Mrs. Patience Whipple, relict of Mr. Moses Whipple she died July 18, 1812, in the 78th year of her age

RIN 10187. Quick link to this page: https://genweb.whipple.org/10187
View this person at the Whipple One-Name Study

Email corrections and additions to whipple@one-name.org

© Whipple Website. All rights reserved.

---
HTML created by GED2HTML v3.6-Linux (Mar 8 2001) on Fri Sep 22 22:01:36 2023 GMT.