---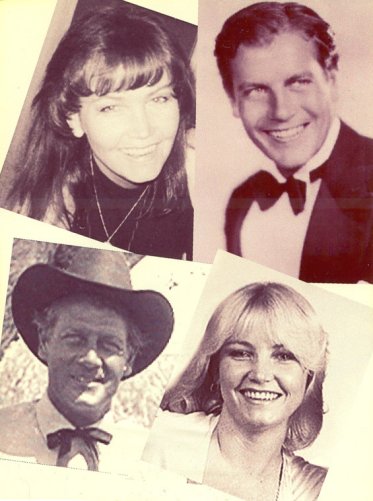 Actor Joel McCrea and daughter (musician/actor/artist) Mona Leigh McCrea
(Submitted by Mona Leigh McCrea, 16 May 2007)
BIRTH: 5 Nov 1905, South Pasadena, Los Angeles, California
DEATH: 20 Oct 1990, Woodland Hills, Los Angeles, California
Father: Thomas Pleasants McCrea (1871 - ____)
Mother: Louise "Lou" Dexter Whipple (Feb 1872 - ____)

Family 1: Frances Dee (26 Nov 1909 - 6 Mar 2004)

MARRIAGE: 20 Oct 1933, Rye, Westchester, New York
Joel Dee "Jody" McCrea (6 Sep 1934 - 4 Apr 2009)
Family 2: Velma Marie Roberts Turner (____ - ____)



---

                                                                                                   _____________________
                                                                                                  |                     
                                                                             _____________________|_____________________
                                                                            |                                           
                                                       _____________________|
                                                      |                     |
                                                      |                     |                      _____________________
                                                      |                     |                     |                     
                                                      |                     |_____________________|_____________________
                                                      |                                                                 
                                ______________________|
                               |                      |
                               |                      |                                            _____________________
                               |                      |                                           |                     
                               |                      |                      _____________________|_____________________
                               |                      |                     |                                           
                               |                      |_____________________|
                               |                                            |
                               |                                            |                      _____________________
                               |                                            |                     |                     
                               |                                            |_____________________|_____________________
                               |                                                                                        
 _Thomas Pleasants McCrea _____|
| (1871 - ....) m 1897         |
|                              |                                                                   _____________________
|                              |                                                                  |                     
|                              |                                             _____________________|_____________________
|                              |                                            |                                           
|                              |                       _____________________|
|                              |                      |                     |
|                              |                      |                     |                      _____________________
|                              |                      |                     |                     |                     
|                              |                      |                     |_____________________|_____________________
|                              |                      |                                                                 
|                              |______________________|
|                                                     |
|                                                     |                                            _____________________
|                                                     |                                           |                     
|                                                     |                      _____________________|_____________________
|                                                     |                     |                                           
|                                                     |_____________________|
|                                                                           |
|                                                                           |                      _____________________
|                                                                           |                     |                     
|                                                                           |_____________________|_____________________
|                                                                                                                       
|
|--Joel Albert McCrea 
|  (1905 - 1990)
|                                                                                                  _Daniel Whipple _____+
|                                                                                                 | (1688 - 1768)       
|                                                                            _Joel Whipple _______|_Anne Chamberlain ___
|                                                                           | (1744 - 1822)                             
|                                                      _Knight Whipple _____|
|                                                     | (1787 - 1878) m 1819|
|                                                     |                     |                      _____________________
|                                                     |                     |                     |                     
|                                                     |                     |_Deborah Bennett ____|_____________________
|                                                     |                       (1750 - 1832)                             
|                               _Albert Whipple ______|
|                              | (1832 - 1877) m 1871 |
|                              |                      |                                            _Abner Ballou _______+
|                              |                      |                                           | (1725 - 1806) m 1752
|                              |                      |                      _Abner Ballou _______|_Beulah Thayer ______
|                              |                      |                     | (1763 - 1851) m 1790  (1733 - 1808)       
|                              |                      |_Lucy Ballou ________|
|                              |                        (1794 - 1890) m 1819|
|                              |                                            |                      _Stephen Brown ______+
|                              |                                            |                     | (1745 - 1787) m 1771
|                              |                                            |_Henrietta Brown ____|_Huldah Dexter ______
|                              |                                              (1772 - 1855) m 1790  (1750 - 1826)       
|_Louise "Lou" Dexter Whipple _|
  (1872 - ....) m 1897         |
                               |                                                                   _____________________
                               |                                                                  |                     
                               |                                             _____________________|_____________________
                               |                                            |                                           
                               |                       _____________________|
                               |                      |                     |
                               |                      |                     |                      _____________________
                               |                      |                     |                     |                     
                               |                      |                     |_____________________|_____________________
                               |                      |                                                                 
                               |_Della I. Whitehouse _|
                                  m 1871              |
                                                      |                                            _____________________
                                                      |                                           |                     
                                                      |                      _____________________|_____________________
                                                      |                     |                                           
                                                      |_____________________|
                                                                            |
                                                                            |                      _____________________
                                                                            |                     |                     
                                                                            |_____________________|_____________________
                                                                                                                        

---
Notes
!SOURCE: Email from Dennis R. McCrea to the Whipple Website, 23 Oct 2005: "Lou(ise) Dexter Whipple was the mother of movie actor Joel McCrea. His father was Thomas Pleasants McCrea who was born in 1871 in California. They were married Jul 14, 1897 in Los Angeles."

!SOURCE: Information from www.imdb.com.

!BIOGRAPHY: "One of the great stars of American Westerns, and a very popular leading man in non-Westerns as well." --www.imdb.com

!SOURCE: Email from Lindsay Mead McCrea (email hidden) to the Whipple Website, 7 Mar 2008. Adds middle name.

RIN 101495. Quick link to this page: https://genweb.whipple.org/101495
View this person at the Whipple One-Name Study

Email corrections and additions to whipple@one-name.org

© Whipple Website. All rights reserved.

---
HTML created by GED2HTML v3.6-Linux (Mar 8 2001) on Sun May 15 02:42:26 2022 GMT.