---
BIRTH: 1853
DEATH: 2 Jun 1917, Cadillac, Wexford, Michigan
BURIAL: Stittsville Cemetery, Stittsville, Missaukee, Michigan
Family 1: William Henry Whipple (24 Oct 1851 - 16 Apr 1927)

---

             __
            |  
          __|__
         |     
       __|
      |  |
      |  |   __
      |  |  |  
      |  |__|__
      |        
    __|
   |  |
   |  |      __
   |  |     |  
   |  |   __|__
   |  |  |     
   |  |__|
   |     |
   |     |   __
   |     |  |  
   |     |__|__
   |           
 __|
|  |
|  |         __
|  |        |  
|  |      __|__
|  |     |     
|  |   __|
|  |  |  |
|  |  |  |   __
|  |  |  |  |  
|  |  |  |__|__
|  |  |        
|  |__|
|     |
|     |      __
|     |     |  
|     |   __|__
|     |  |     
|     |__|
|        |
|        |   __
|        |  |  
|        |__|__
|              
|
|--Rosella A. "Ella" Larabee 
|  (1853 - 1917)
|            __
|           |  
|         __|__
|        |     
|      __|
|     |  |
|     |  |   __
|     |  |  |  
|     |  |__|__
|     |        
|   __|
|  |  |
|  |  |      __
|  |  |     |  
|  |  |   __|__
|  |  |  |     
|  |  |__|
|  |     |
|  |     |   __
|  |     |  |  
|  |     |__|__
|  |           
|__|
   |
   |         __
   |        |  
   |      __|__
   |     |     
   |   __|
   |  |  |
   |  |  |   __
   |  |  |  |  
   |  |  |__|__
   |  |        
   |__|
      |
      |      __
      |     |  
      |   __|__
      |  |     
      |__|
         |
         |   __
         |  |  
         |__|__
               

---
Notes
!SOURCE: Gail M. Ruddy's Family Tree Maker User Home Pages, 1 Dec 1998.

!SOURCE: "Descendants of Thomas Whipple," printout given to Weldon Whipple by Cindi Russell, 4 Jul 1999, Ipswich, Massachusetts.
Gravestone of Henry and Ella Whipple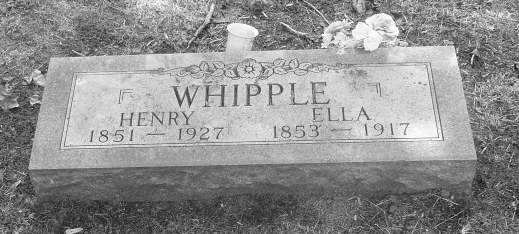 Stittsville Cemetery, Stittsville, Missaukee, Michigan
(Submitted 28 May 2012 by Randall Whipple)

RIN 32968. Quick link to this page: https://genweb.whipple.org/32968
View this person at the Whipple One-Name Study

Email corrections and additions to whipple@one-name.org

© Whipple Website. All rights reserved.

---
HTML created by GED2HTML v3.6-Linux (Mar 8 2001) on Sat Mar 25 00:56:37 2023 GMT.