---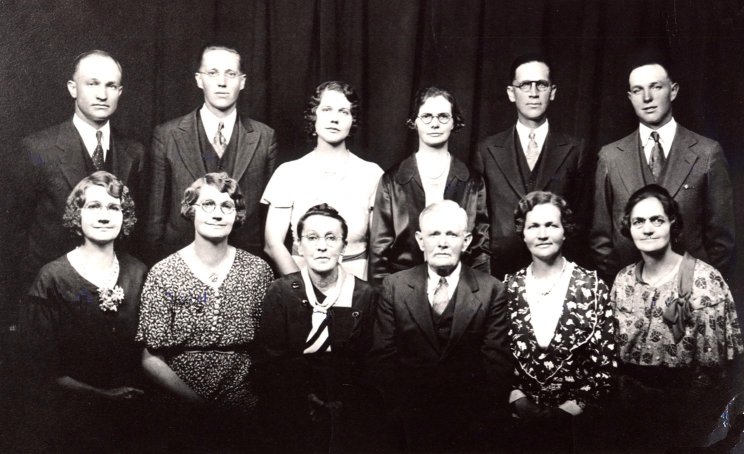 Francis Joseph Law and family:
Back (l-r): Vernon, Reuben, Rozella, Stella, Joseph, Orville
Seated: Myrtle, Mabel, Anine Deem Law, Francis Joseph Law, Nomah, Minerva
BIRTH: 22 Nov 1887, Eden, Weber, Utah
DEATH: 18 Jan 1972, Salt Lake City, Salt Lake, Utah
BURIAL: 22 Jan 1972, Paradise, Cache, Utah
Father: Francis Joseph "Frank" Law (7 Apr 1859 - 18 Oct 1935)
Mother: Anine Mantine "Nina" Dam (4 Mar 1867 - 14 Apr 1943)

Family 1: Alma Obray Jackson (5 Dec 1879 - ____)

MARRIAGE: 4 Oct 1911, Salt Lake City, Salt Lake, Utah
---

                                                                                                                                       _Isaac Law _______________________
                                                                                                                                      | (1730 - 1819) m 1764             
                                                                                                        _John Law ____________________|_Martha Parkinson ________________
                                                                                                       | (1765 - 1845) m 1795           (.... - 1798)                    
                                                                       _Isaac Law _____________________|
                                                                      | (1803 - 1877)                  |
                                                                      |                                |                               _Abraham White ___________________
                                                                      |                                |                              | (1732 - 1802) m 1760             
                                                                      |                                |_Sarah White _________________|_Mary Page _______________________
                                                                      |                                  (1769 - 1804) m 1795           (.... - 1806)                    
                               _Charles Law __________________________|
                              | (1832 - 1862) m 1857                  |
                              |                                       |                                                                __________________________________
                              |                                       |                                                               |                                  
                              |                                       |                                 ______________________________|__________________________________
                              |                                       |                                |                                                                 
                              |                                       |_Mary Grayson __________________|
                              |                                         (1805 - 1878)                  |
                              |                                                                        |                               __________________________________
                              |                                                                        |                              |                                  
                              |                                                                        |______________________________|__________________________________
                              |                                                                                                                                          
 _Francis Joseph "Frank" Law _|
| (1859 - 1935) m 1886        |
|                             |                                                                                                        _Edward Bocock ___________________
|                             |                                                                                                       | (1748 - ....) m 1769             
|                             |                                                                         _John Bocock _________________|_Jane Stockes ____________________
|                             |                                                                        | (.... - 1818) m 1795           (1741 - ....)                    
|                             |                                        _William Bocock ________________|
|                             |                                       | (1796 - 1845)                  |
|                             |                                       |                                |                               _Henry Maltby ____________________+
|                             |                                       |                                |                              |                                  
|                             |                                       |                                |_Mary Maltby _________________|_Mary ____________________________
|                             |                                       |                                   m 1795                        (1746 - ....)                    
|                             |_Emma Bocock __________________________|
|                               (1843 - 1873) m 1857                  |
|                                                                     |                                                                _John Brough _____________________
|                                                                     |                                                               | (1733 - ....)                    
|                                                                     |                                 _James Brough ________________|_Alice ___________________________
|                                                                     |                                |  m 1794                        (1737 - ....)                    
|                                                                     |_Sarah Brough __________________|
|                                                                       (1799 - 1852)                  |
|                                                                                                      |                               _William Bowskill ________________+
|                                                                                                      |                              | (1740 - ....) m 1765             
|                                                                                                      |_Jane Bowskill _______________|_Sarah Palfreyman ________________
|                                                                                                         m 1794                        (1744 - ....)                    
|
|--Nomah Medora Law 
|  (1887 - 1972)
|                                                                                                                                      _Lars Hansen _____________________+
|                                                                                                                                     | (1674 - 1756) m 1702             
|                                                                                                       _Jørgen Larsen _______________|_Kirstine Jørgensdatter __________
|                                                                                                      | (1714 - 1787) m 1770                                            
|                                                                      _Lars Jørgensen Dam ____________|
|                                                                     | (1774 - 1829) m 1805           |
|                                                                     |                                |                               _Rasmus Pedersen _________________+
|                                                                     |                                |                              |                                  
|                                                                     |                                |_Ellen Kirstine Rasmusdatter _|_Sidsele Hansdatter ______________
|                                                                     |                                  (1746 - 1788) m 1770           (1712 - 1754)                    
|                              _Jørgen Larsen Dam ____________________|
|                             | (1809 - 1875) m 1860                  |
|                             |                                       |                                                                _Lars Sivertsen Munch ____________+
|                             |                                       |                                                               | (1718 - 1766) m 1743             
|                             |                                       |                                 _Mogens Larsen _______________|_Kirsten Pedersen ________________
|                             |                                       |                                | (1749 - ....) m 1771           (1716 - 1771)                    
|                             |                                       |_Kirstine Mogensdatter _________|
|                             |                                         (1780 - 1812) m 1805           |
|                             |                                                                        |                               _Hans Danielsen __________________+
|                             |                                                                        |                              | (1689 - 1742) m 1725             
|                             |                                                                        |_Margrethe Hansen ____________|_Margrethe Jacobsen ______________
|                             |                                                                          (1740 - 1787) m 1771                                            
|_Anine Mantine "Nina" Dam ___|
  (1867 - 1943) m 1886        |
                              |                                                                                                        __________________________________
                              |                                                                                                       |                                  
                              |                                                                         _Hans Pedersen _______________|__________________________________
                              |                                                                        | (1760 - ....)                                                   
                              |                                        _Jens Pedersen Marcher _________|
                              |                                       | (1805 - 1885) m 1832           |
                              |                                       |                                |                               _Peder Didericksen _______________+
                              |                                       |                                |                              | (1732 - 1814) m 1756             
                              |                                       |                                |_Margrethe Pedersen __________|_Giertrud Hansen _________________
                              |                                       |                                  (1763 - 1830)                  (1732 - 1791)                    
                              |_Elisabeth Margrethe Pedersen Marcher _|
                                (1834 - 1894) m 1860                  |
                                                                      |                                                                _Hans Olsen Ancher _______________+
                                                                      |                                                               | (1752 - 1812) m 1775             
                                                                      |                                 _Ole Hansen Ancher ___________|_Magdalene or Malene Christensen _
                                                                      |                                | (1779 - 1850) m 1807           (.... - 1816)                    
                                                                      |_Mallene Kirstine Olsen Ancher _|
                                                                        (1810 - 1891) m 1832           |
                                                                                                       |                               _Niels Christensen _______________
                                                                                                       |                              | (1711 - 1787) m 1745             
                                                                                                       |_Elisabeth Nielsen ___________|_Johanne Madsen __________________
                                                                                                         (1772 - 1848) m 1807           (1724 - ....)                    

---
Notes
!SOURCE: Records of Weldon L. Whipple.

!SOURCE: Information on funeral program in the posession of Erline Whipple.

RIN 156. Quick link to this page: https://genweb.whipple.org/156
View this person at the Whipple One-Name Study

Email corrections and additions to whipple@one-name.org

© Whipple Website. All rights reserved.

---
HTML created by GED2HTML v3.6-Linux (Mar 8 2001) on Sat Aug 13 20:01:22 2022 GMT.