---
BIRTH: 5 Sep 1818, Boston, Suffolk, Massachusetts
DEATH: 5 Aug 1899, Providence, Providence, Rhode Island
BURIAL: North Burial Ground, North Main Street, Providence, Providence, Rhode Island
Father: James Huddleston (19 Nov 1784 - 20 Feb 1864)
Mother: Elizabeth Osborn (26 Aug 1791 - 22 Nov 1854)

Family 1: John James Arnold Rhodes Whipple (15 Apr 1815 - 19 Mar 1896)

MARRIAGE: 26 May 1873, East Providence, Providence, Rhode Island
---

                                __
                               |  
                             __|__
                            |     
                          __|
                         |  |
                         |  |   __
                         |  |  |  
                         |  |__|__
                         |        
                       __|
                      |  |
                      |  |      __
                      |  |     |  
                      |  |   __|__
                      |  |  |     
                      |  |__|
                      |     |
                      |     |   __
                      |     |  |  
                      |     |__|__
                      |           
 _James Huddleston ___|
| (1784 - 1864)       |
|                     |         __
|                     |        |  
|                     |      __|__
|                     |     |     
|                     |   __|
|                     |  |  |
|                     |  |  |   __
|                     |  |  |  |  
|                     |  |  |__|__
|                     |  |        
|                     |__|
|                        |
|                        |      __
|                        |     |  
|                        |   __|__
|                        |  |     
|                        |__|
|                           |
|                           |   __
|                           |  |  
|                           |__|__
|                                 
|
|--Elizabeth J. Huddleston 
|  (1818 - 1899)
|                               __
|                              |  
|                            __|__
|                           |     
|                         __|
|                        |  |
|                        |  |   __
|                        |  |  |  
|                        |  |__|__
|                        |        
|                      __|
|                     |  |
|                     |  |      __
|                     |  |     |  
|                     |  |   __|__
|                     |  |  |     
|                     |  |__|
|                     |     |
|                     |     |   __
|                     |     |  |  
|                     |     |__|__
|                     |           
|_Elizabeth Osborn ___|
  (1791 - 1854)       |
                      |         __
                      |        |  
                      |      __|__
                      |     |     
                      |   __|
                      |  |  |
                      |  |  |   __
                      |  |  |  |  
                      |  |  |__|__
                      |  |        
                      |__|
                         |
                         |      __
                         |     |  
                         |   __|__
                         |  |     
                         |__|
                            |
                            |   __
                            |  |  
                            |__|__
                                  

---
Notes
!SOURCE: Email from N. Combs to Weldon Whipple, 15 Oct 2010. Cites Rhode Island Cemeteries Database (birth, burial); Rhode Island Marriages, 1724-1916 (birth, marriage); Rhode Island Deaths and Burials, 1802-1950 (death).
Gravestone of John J.A.R. and Elizabeth J. (Huddleston) Whipple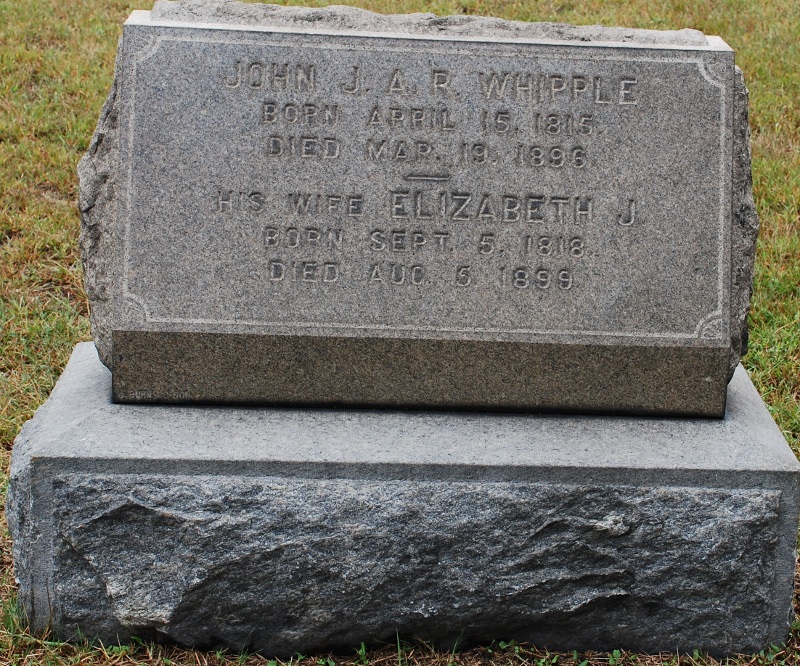 North Burial Ground, North Main Street, Providence, Rhode Island
(Submitted by Hugh Hudson, 17 Mar 2014)

RIN 135517. Quick link to this page: https://genweb.whipple.org/135517
View this person at the Whipple One-Name Study

Email corrections and additions to whipple@one-name.org

© Whipple Website. All rights reserved.

---
HTML created by GED2HTML v3.6-Linux (Mar 8 2001) on Sat May 21 03:14:27 2022 GMT.