---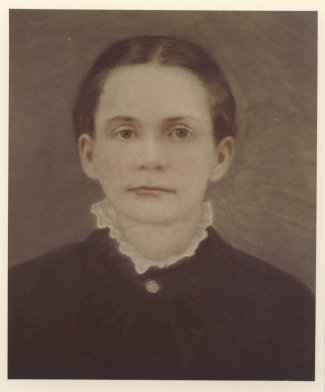 Sarah Ann Holliman Whipple, circa 1887
Submitted by Bennett Whipple
BIRTH: 30 Nov 1839
DEATH: 4 Jan 1913, of, , Wilkinson, Georgia
BURIAL: Cochran, Bleckley, Georgia
Father: Thomas Jefferson Holliman (____ - ____)
Mother: Nancy Spivey (____ - ____)

Family 1: Stephen Bennett Whipple (16 Nov 1833 - 28 Jul 1915)

MARRIAGE: 7 Feb 1859, , Wilkinson, Georgia
Family 2: Benjamin Allen Whipple (29 Apr 1838 - 19 Jan 1870)



---

                                       __
                                      |  
                                    __|__
                                   |     
                                 __|
                                |  |
                                |  |   __
                                |  |  |  
                                |  |__|__
                                |        
                              __|
                             |  |
                             |  |      __
                             |  |     |  
                             |  |   __|__
                             |  |  |     
                             |  |__|
                             |     |
                             |     |   __
                             |     |  |  
                             |     |__|__
                             |           
 _Thomas Jefferson Holliman _|
|                            |
|                            |         __
|                            |        |  
|                            |      __|__
|                            |     |     
|                            |   __|
|                            |  |  |
|                            |  |  |   __
|                            |  |  |  |  
|                            |  |  |__|__
|                            |  |        
|                            |__|
|                               |
|                               |      __
|                               |     |  
|                               |   __|__
|                               |  |     
|                               |__|
|                                  |
|                                  |   __
|                                  |  |  
|                                  |__|__
|                                        
|
|--Sarah Ann Holliman 
|  (1839 - 1913)
|                                      __
|                                     |  
|                                   __|__
|                                  |     
|                                __|
|                               |  |
|                               |  |   __
|                               |  |  |  
|                               |  |__|__
|                               |        
|                             __|
|                            |  |
|                            |  |      __
|                            |  |     |  
|                            |  |   __|__
|                            |  |  |     
|                            |  |__|
|                            |     |
|                            |     |   __
|                            |     |  |  
|                            |     |__|__
|                            |           
|_Nancy Spivey ______________|
                             |
                             |         __
                             |        |  
                             |      __|__
                             |     |     
                             |   __|
                             |  |  |
                             |  |  |   __
                             |  |  |  |  
                             |  |  |__|__
                             |  |        
                             |__|
                                |
                                |      __
                                |     |  
                                |   __|__
                                |  |     
                                |__|
                                   |
                                   |   __
                                   |  |  
                                   |__|__
                                         

---
Notes
!SOURCE: GEDCOM file from Bill Lyons (email hidden) to the Whipple Web Site, 11 Jul 1998.

!SOURCE: Email from Michael Whipple (email hidden) to the Whipple Website, 12 Dec 2006. Cites "Wilkinson County Georgia Whipple Cemetery" (http://ftp.rootsweb.com/pub/usgenweb/ga/wilkinson/cemeteries/whipple.txt)

RIN 24700. Quick link to this page: https://genweb.whipple.org/24700
View this person at the Whipple One-Name Study

Email corrections and additions to whipple@one-name.org

© Whipple Website. All rights reserved.

---
HTML created by GED2HTML v3.6-Linux (Mar 8 2001) on Sat Jul 2 22:37:14 2022 GMT.