---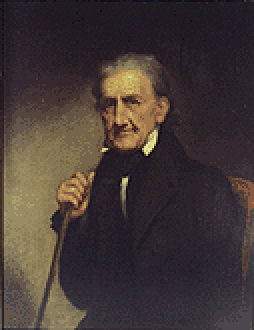 George Robert Twelves Hewes
"The Centenarian," painted 1835 by Joseph Cole
BIRTH: 25 Aug 1742, Boston, Suffolk, Massachusetts
DEATH: 5 Nov 1840, Richfield Springs, Otsego, New York
BURIAL: Grand Army of the Republic plot, Lakeview Cemetery, Richfield Springs, Otsego, New York
Father: George Hewes (13 Aug 1701 - 3 Jul 1749)
Mother: Abigail Sever (1711 - 1755)

Family 1: Sarah "Sally" Sumner (1750 - 1828)

MARRIAGE: 17 Jan 1768, Boston, Suffolk, Massachusetts
+Elizabeth "Betsey" Hewes (3 Feb 1773 - 23 Jul 1837)
---

                                __
                               |  
                             __|__
                            |     
                          __|
                         |  |
                         |  |   __
                         |  |  |  
                         |  |__|__
                         |        
                       __|
                      |  |
                      |  |      __
                      |  |     |  
                      |  |   __|__
                      |  |  |     
                      |  |__|
                      |     |
                      |     |   __
                      |     |  |  
                      |     |__|__
                      |           
 _George Hewes _______|
| (1701 - 1749) m 1728|
|                     |         __
|                     |        |  
|                     |      __|__
|                     |     |     
|                     |   __|
|                     |  |  |
|                     |  |  |   __
|                     |  |  |  |  
|                     |  |  |__|__
|                     |  |        
|                     |__|
|                        |
|                        |      __
|                        |     |  
|                        |   __|__
|                        |  |     
|                        |__|
|                           |
|                           |   __
|                           |  |  
|                           |__|__
|                                 
|
|--George Robert Twelves Hewes 
|  (1742 - 1840)
|                               __
|                              |  
|                            __|__
|                           |     
|                         __|
|                        |  |
|                        |  |   __
|                        |  |  |  
|                        |  |__|__
|                        |        
|                      __|
|                     |  |
|                     |  |      __
|                     |  |     |  
|                     |  |   __|__
|                     |  |  |     
|                     |  |__|
|                     |     |
|                     |     |   __
|                     |     |  |  
|                     |     |__|__
|                     |           
|_Abigail Sever ______|
  (1711 - 1755) m 1728|
                      |         __
                      |        |  
                      |      __|__
                      |     |     
                      |   __|
                      |  |  |
                      |  |  |   __
                      |  |  |  |  
                      |  |  |__|__
                      |  |        
                      |__|
                         |
                         |      __
                         |     |  
                         |   __|__
                         |  |     
                         |__|
                            |
                            |   __
                            |  |  
                            |__|__
                                  

---
Notes
!SOURCE: Email from Joanne Lahr-Kreischer to Weldon Whipple, 6 Mar 2002. Cites the book "The Shoemaker and the Tea Party," which is the story of George Robert Twelve Hewes.

!SOURCE: Alfred F. Young, The Shoemaker and the Tea Party: Memory and the American Revolution (Boston: Beacon Press, 1999), p. 15-16, 26-27, 68-70, 83.

!ACTIVITIES: Noted for his participation in the Boston Tea Party. --A.F. Young

!SOURCE: Lieutenant Joshua Hewes, a New England Pioneer, and Some of His Descendants, with Materials for a Genealogical History of Other Families of the Name, and a Sketch of Joseph Hewes, the Signer," pp. 26-36. Ebook submitted by Hugh Hudson (email hidden) to Weldon Whipple, 13 Nov 2010.

RIN 57371. Quick link to this page: https://genweb.whipple.org/57371
View this person at the Whipple One-Name Study

Email corrections and additions to whipple@one-name.org

© Whipple Website. All rights reserved.

---
HTML created by GED2HTML v3.6-Linux (Mar 8 2001) on Sat May 20 22:44:52 2023 GMT.