---
BIRTH: 28 Feb 1821, Walpole, Norfolk, Massachusetts
DEATH: 17 Feb 1907, Boston, Suffolk, Massachusetts
BURIAL: Mount Auburn Cemetery, Cambridge, Middlesex, Massachusetts
Father: Cyrus Hastings (1791 - 1851)
Mother: Eliza Bullard (1799 - 1893)

Family 1: Edwin Percy Whipple (8 Mar 1819 - 16 Jun 1886)

MARRIAGE: 21 Jun 1847, Boston, Suffolk, Massachusetts
Edwin Augustus Whipple (24 Mar 1849 - 3 Jan 1909)
Charlotte Hastings Whipple (2 Dec 1854 - 28 Nov 1858)
---

                                __
                               |  
                             __|__
                            |     
                          __|
                         |  |
                         |  |   __
                         |  |  |  
                         |  |__|__
                         |        
                       __|
                      |  |
                      |  |      __
                      |  |     |  
                      |  |   __|__
                      |  |  |     
                      |  |__|
                      |     |
                      |     |   __
                      |     |  |  
                      |     |__|__
                      |           
 _Cyrus Hastings _____|
| (1791 - 1851) m 1820|
|                     |         __
|                     |        |  
|                     |      __|__
|                     |     |     
|                     |   __|
|                     |  |  |
|                     |  |  |   __
|                     |  |  |  |  
|                     |  |  |__|__
|                     |  |        
|                     |__|
|                        |
|                        |      __
|                        |     |  
|                        |   __|__
|                        |  |     
|                        |__|
|                           |
|                           |   __
|                           |  |  
|                           |__|__
|                                 
|
|--Charlotte Billings Hastings 
|  (1821 - 1907)
|                               __
|                              |  
|                            __|__
|                           |     
|                         __|
|                        |  |
|                        |  |   __
|                        |  |  |  
|                        |  |__|__
|                        |        
|                      __|
|                     |  |
|                     |  |      __
|                     |  |     |  
|                     |  |   __|__
|                     |  |  |     
|                     |  |__|
|                     |     |
|                     |     |   __
|                     |     |  |  
|                     |     |__|__
|                     |           
|_Eliza Bullard ______|
  (1799 - 1893) m 1820|
                      |         __
                      |        |  
                      |      __|__
                      |     |     
                      |   __|
                      |  |  |
                      |  |  |   __
                      |  |  |  |  
                      |  |  |__|__
                      |  |        
                      |__|
                         |
                         |      __
                         |     |  
                         |   __|__
                         |  |     
                         |__|
                            |
                            |   __
                            |  |  
                            |__|__
                                  

---
Notes
!SOURCE: Robert L. Gale, "Edwin Percy Whipple," in American National Biography (New York, Oxford: Oxford University Press, 1999), 23:160-162.

!SOURCE: Email from Joanne Lahr-Kreischer to Weldon Whipple, 8 Jan 2002. Cites Massachusetts Death Records, vol. 8, p. 299.

!SOURCE: Email from Blaine Whipple to Weldon Whipple 10 Oct 2003. Gives complete marriage date (21 Jun 1847).

!RESIDENCE: 42 Mt. Vernon Street. --J. Lahr-Kreischer

!DEATH: Cause of death: "cerebral arterio-sclerosis and paralysis, gradual development for years." --J. Lahr-Kreischer

!SOURCE: "Some of the Descendants of Matthew Whipple of Gloucester, Essex, Massachusetts," email from Greg Bishop (email hidden) to Weldon Whipple, 18 May 2018. Gives birth in Wallpole, Norfolk, Massachusetts (previously entered as Boston, Suffolk, Massachusetts).
Gravestone of Edwin P., Charlotte B. (Hastings), Edwin A., and Charlotte H. Whipple
With Charlotte B.'s parents Cyrus and Eliza B. Hastings and relatives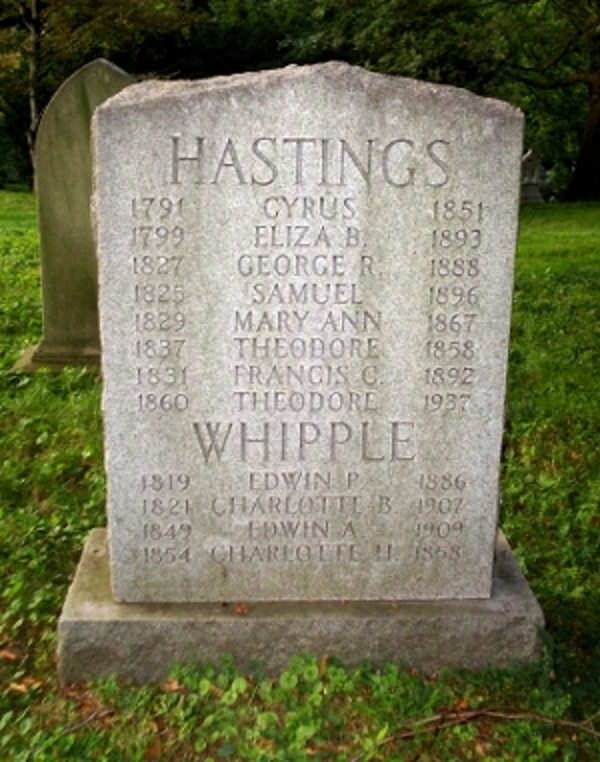 Mount Auburn Cemetery, Cambridge, Middlesex, Massachusetts
(Photo submitted by Hugh Hudson, 23 Mar 2013)

RIN 47297. Quick link to this page: https://genweb.whipple.org/47297
View this person at the Whipple One-Name Study

Email corrections and additions to whipple@one-name.org

© Whipple Website. All rights reserved.

---
HTML created by GED2HTML v3.6-Linux (Mar 8 2001) on Sat Jul 2 22:37:14 2022 GMT.