---
BIRTH: ABT 1639, prob, Providence, Providence, Rhode Island
DEATH: 14 Dec 1722, Providence, Providence, Rhode Island
BURIAL: North Burial Ground, North Main Street, Providence, Providence, Rhode Island
Father: Thomas Harris (CHR 11 Jul 1613 - 7 Jun 1686)
Mother: Elizabeth (____ - BUR Poss 8 Mar 1690)

Family 1: Samuel Whipple (CHR 17 Mar 1643/1644 - 12 Mar 1710/1711)

MARRIAGE: ABT 1666, Providence, Providence, Rhode Island
---

                                                   __
                                                  |  
                                                __|__
                                               |     
                                             __|
                                            |  |
                                            |  |   __
                                            |  |  |  
                                            |  |__|__
                                            |        
                       _Andrew Harris ______|
                      | (.... - 1616) m 1603|
                      |                     |      __
                      |                     |     |  
                      |                     |   __|__
                      |                     |  |     
                      |                     |__|
                      |                        |
                      |                        |   __
                      |                        |  |  
                      |                        |__|__
                      |                              
 _Thomas Harris ______|
| (.... - 1686) m 1636|
|                     |                            __
|                     |                           |  
|                     |                         __|__
|                     |                        |     
|                     |                      __|
|                     |                     |  |
|                     |                     |  |   __
|                     |                     |  |  |  
|                     |                     |  |__|__
|                     |                     |        
|                     |_Jane Bagley ________|
|                        m 1603             |
|                                           |      __
|                                           |     |  
|                                           |   __|__
|                                           |  |     
|                                           |__|
|                                              |
|                                              |   __
|                                              |  |  
|                                              |__|__
|                                                    
|
|--Mary Harris 
|  (1639 - 1722)
|                                                  __
|                                                 |  
|                                               __|__
|                                              |     
|                                            __|
|                                           |  |
|                                           |  |   __
|                                           |  |  |  
|                                           |  |__|__
|                                           |        
|                      _____________________|
|                     |                     |
|                     |                     |      __
|                     |                     |     |  
|                     |                     |   __|__
|                     |                     |  |     
|                     |                     |__|
|                     |                        |
|                     |                        |   __
|                     |                        |  |  
|                     |                        |__|__
|                     |                              
|_Elizabeth __________|
   m 1636             |
                      |                            __
                      |                           |  
                      |                         __|__
                      |                        |     
                      |                      __|
                      |                     |  |
                      |                     |  |   __
                      |                     |  |  |  
                      |                     |  |__|__
                      |                     |        
                      |_____________________|
                                            |
                                            |      __
                                            |     |  
                                            |   __|__
                                            |  |     
                                            |__|
                                               |
                                               |   __
                                               |  |  
                                               |__|__
                                                     

---
Notes
!SOURCE: Helen Schatvet Ullmann and L. Randall Harris, "The Origins of Thomas Harris and William Harris of Providence, Rhode Island," The New England Historical and Genealogical Register, 167 (April 2013): 102.

!SOURCE: John Osborne Austin, _Genealogical Dictionary of Rhode Island_ (Albany, N.Y., 1887; reprint ed. Baltimore: Genealogical Publishing Co., 1978) p. 222

!SOURCE: Judith Whipple, "Genealogy Chart of Captain John Whipple 1617-1685 to Grace Louise (Whipple) Pitcher 1892 and Alfred Whipple 1903 and John Whipple 1904 and Lorey Whipple 1910-1970" (Portland, Tex., c1977). Copy in the NEHGS library, call number CS71.W574 1977. Gives death 1676 in Providence, R.I.

!SOURCE: Husband Samuel's will, dated 9 Mar 1710/11, proved 20 Mar 1710/11, p. 181-2. Abstracted in Abstracts Providence Wills, Rhode Island Genealogical Register, vol. 12, p. 151.
Gravestone of Mary (Harris) Whipple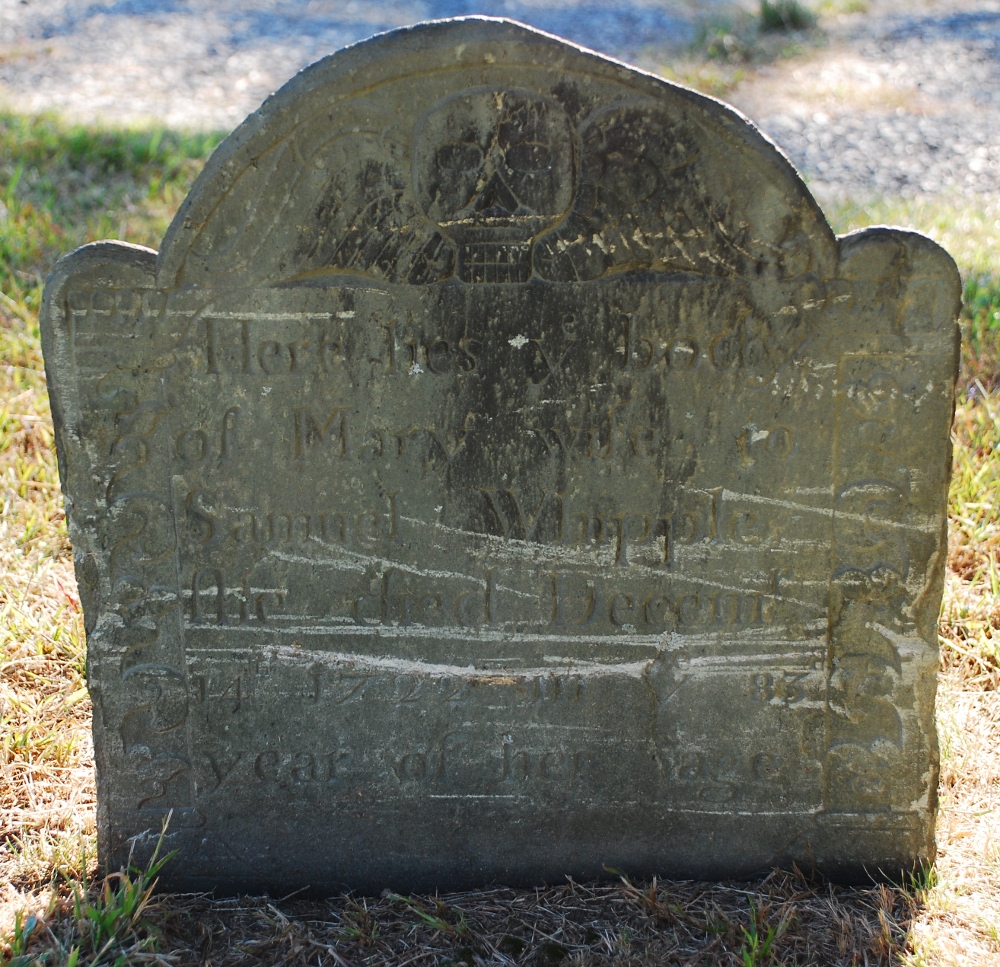 North Burial Ground, Providence, Rhode Island
(Submitted by Hugh Hudson, 20 Sep 2013)

RIN 365. Quick link to this page: https://genweb.whipple.org/365
View this person at the Whipple One-Name Study

Email corrections and additions to whipple@one-name.org

© Whipple Website. All rights reserved.

---
HTML created by GED2HTML v3.6-Linux (Mar 8 2001) on Fri Sep 22 22:01:36 2023 GMT.