---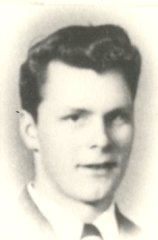 Benjamin Demo Harvey
BIRTH: 10 Nov 1928, Ogden, Weber, Utah
DEATH: 14 Nov 2012, Ogden, Weber, Utah
BURIAL: 20 Nov 2012, Memorial Gardens of the Wasatch, Ogden, Weber, Utah
Father: James Evert Harvey (15 Jan 1900 - 7 Jun 1982)
Mother: Lucille Dye (13 Apr 1908 - 20 Oct 1989)

Family 1: Illa Whipple (27 Aug 1926 - 13 Nov 2020)

MARRIAGE: 12 Jan 1949, Salt Lake City, Salt Lake, Utah
---

                                __
                               |  
                             __|__
                            |     
                          __|
                         |  |
                         |  |   __
                         |  |  |  
                         |  |__|__
                         |        
                       __|
                      |  |
                      |  |      __
                      |  |     |  
                      |  |   __|__
                      |  |  |     
                      |  |__|
                      |     |
                      |     |   __
                      |     |  |  
                      |     |__|__
                      |           
 _James Evert Harvey _|
| (1900 - 1982) m 1927|
|                     |         __
|                     |        |  
|                     |      __|__
|                     |     |     
|                     |   __|
|                     |  |  |
|                     |  |  |   __
|                     |  |  |  |  
|                     |  |  |__|__
|                     |  |        
|                     |__|
|                        |
|                        |      __
|                        |     |  
|                        |   __|__
|                        |  |     
|                        |__|
|                           |
|                           |   __
|                           |  |  
|                           |__|__
|                                 
|
|--Benjamin Demo Harvey 
|  (1928 - 2012)
|                               __
|                              |  
|                            __|__
|                           |     
|                         __|
|                        |  |
|                        |  |   __
|                        |  |  |  
|                        |  |__|__
|                        |        
|                      __|
|                     |  |
|                     |  |      __
|                     |  |     |  
|                     |  |   __|__
|                     |  |  |     
|                     |  |__|
|                     |     |
|                     |     |   __
|                     |     |  |  
|                     |     |__|__
|                     |           
|_Lucille Dye ________|
  (1908 - 1989) m 1927|
                      |         __
                      |        |  
                      |      __|__
                      |     |     
                      |   __|
                      |  |  |
                      |  |  |   __
                      |  |  |  |  
                      |  |  |__|__
                      |  |        
                      |__|
                         |
                         |      __
                         |     |  
                         |   __|__
                         |  |     
                         |__|
                            |
                            |   __
                            |  |  
                            |__|__
                                  

---
Notes
!SOURCE: Family records of Benjamin Harvey, 5080 S. 600 W., Ogden, Utah.

!SOURCE: Records of the Edson Whipple Family Organization.

!SOURCE: Email from Susan Freeze to Weldon Whipple, 16 Nov 2012. Ben, a resident of Washington Terrace, Weber, Utah at the time of death, died in Ogden, Weber, Utah.

RIN 91. Quick link to this page: https://genweb.whipple.org/91
View this person at the Whipple One-Name Study

Email corrections and additions to whipple@one-name.org

© Whipple Website. All rights reserved.

---
HTML created by GED2HTML v3.6-Linux (Mar 8 2001) on Thu Jun 23 02:07:54 2022 GMT.