---
BIRTH: ABT Aug 1926
DEATH: 15 Nov 1950
BURIAL: Union Cemetery, Great Road (Smithfield Road), North Smithfield, Providence, Rhode Island
Father: Raoul Gariepy (19 Nov 1896 - 8 Mar 1963)
Mother: Gertrude May Whipple (22 Sep 1900 - 16 Dec 1960)


---

                                                                                                                   _____________________________
                                                                                                                  |                             
                                                                                             _____________________|_____________________________
                                                                                            |                                                   
                                                     _______________________________________|
                                                    |                                       |
                                                    |                                       |                      _____________________________
                                                    |                                       |                     |                             
                                                    |                                       |_____________________|_____________________________
                                                    |                                                                                           
                         _Philias Garriepy _________|
                        |                           |
                        |                           |                                                              _____________________________
                        |                           |                                                             |                             
                        |                           |                                        _____________________|_____________________________
                        |                           |                                       |                                                   
                        |                           |_______________________________________|
                        |                                                                   |
                        |                                                                   |                      _____________________________
                        |                                                                   |                     |                             
                        |                                                                   |_____________________|_____________________________
                        |                                                                                                                       
 _Raoul Gariepy ________|
| (1896 - 1963) m 1919  |
|                       |                                                                                          _____________________________
|                       |                                                                                         |                             
|                       |                                                                    _____________________|_____________________________
|                       |                                                                   |                                                   
|                       |                            _______________________________________|
|                       |                           |                                       |
|                       |                           |                                       |                      _____________________________
|                       |                           |                                       |                     |                             
|                       |                           |                                       |_____________________|_____________________________
|                       |                           |                                                                                           
|                       |_Felonise Garriepy ________|
|                                                   |
|                                                   |                                                              _____________________________
|                                                   |                                                             |                             
|                                                   |                                        _____________________|_____________________________
|                                                   |                                       |                                                   
|                                                   |_______________________________________|
|                                                                                           |
|                                                                                           |                      _____________________________
|                                                                                           |                     |                             
|                                                                                           |_____________________|_____________________________
|                                                                                                                                               
|
|--Robert E. Gariepy 
|  (1926 - 1950)
|                                                                                                                  _William Whipple ____________+
|                                                                                                                 | (1771 - 1841) m 1791        
|                                                                                            _Willard Whipple ____|_Waitstill "Waitey" Jillson _
|                                                                                           | (1792 - 1878) m 1816  (1759 - 1843)               
|                                                    _Adin Ballou Whipple __________________|
|                                                   | (1833 - 1904) m 1859                  |
|                                                   |                                       |                      _Solomon Brailey ____________+
|                                                   |                                       |                     | (1762 - 1855) m 1785        
|                                                   |                                       |_Lydia Brailey ______|_Esther Ballou ______________
|                                                   |                                         (1791 - 1869) m 1816  (1762 - 1841)               
|                        _Leander Chase Whipple ____|
|                       | (1873 - 1939) m 1900      |
|                       |                           |                                                              _____________________________
|                       |                           |                                                             |                             
|                       |                           |                                        _James H. Smith _____|_____________________________
|                       |                           |                                       | (1814 - 1890)                                     
|                       |                           |_Lucilda Marie or Lucinda Marie Smith _|
|                       |                             (1838 - 1908) m 1859                  |
|                       |                                                                   |                      _____________________________
|                       |                                                                   |                     |                             
|                       |                                                                   |_Almena Hill Miller _|_____________________________
|                       |                                                                     (1813 - 1882)                                     
|_Gertrude May Whipple _|
  (1900 - 1960) m 1919  |
                        |                                                                                          _____________________________
                        |                                                                                         |                             
                        |                                                                    _____________________|_____________________________
                        |                                                                   |                                                   
                        |                            _______________________________________|
                        |                           |                                       |
                        |                           |                                       |                      _____________________________
                        |                           |                                       |                     |                             
                        |                           |                                       |_____________________|_____________________________
                        |                           |                                                                                           
                        |_Lillian M. "Lily" Austin _|
                          (1883 - 1910) m 1900      |
                                                    |                                                              _____________________________
                                                    |                                                             |                             
                                                    |                                        _____________________|_____________________________
                                                    |                                       |                                                   
                                                    |_______________________________________|
                                                                                            |
                                                                                            |                      _____________________________
                                                                                            |                     |                             
                                                                                            |_____________________|_____________________________
                                                                                                                                                

---
Notes
!SOURCE: Email from Beth Hurd to Weldon Whipple, 19 Jun 2005. Cites gravestones in a cemetery in North Smithfield, R.I.

!SOURCE: "Descendants of Leander Chase Whipple," email from N. Combs to Weldon Whipple, 17 Jan 2011. Cites Rhode Island Cemeteries Database (birth, death, burial); 1930 Census, Woonsocket, Providence, RI (birth).
Gravestone of Raoul & Gertrude M. (Whipple) Gariepy &amp son Robert E.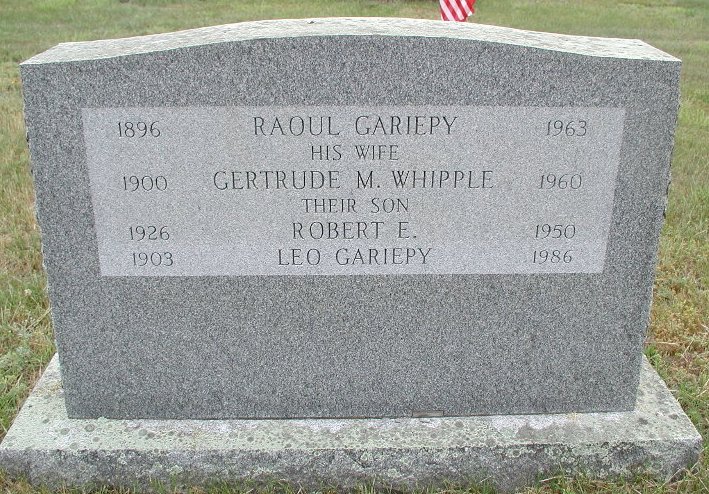 Union Cemetery, North Smithfield, R.I.
(Photo submitted by Beth Hurd, 19 Jun 2005)

RIN 99604. Quick link to this page: https://genweb.whipple.org/99604
View this person at the Whipple One-Name Study

Email corrections and additions to whipple@one-name.org

© Whipple Website. All rights reserved.

---
HTML created by GED2HTML v3.6-Linux (Mar 8 2001) on Sat May 20 22:44:52 2023 GMT.