---
BIRTH: 16 Aug 1841
DEATH: 7 Aug 1903, Waterbury, New Haven, Connecticut
Father: Thomas Geer (6 Jun 1801 - 15 Nov 1866)
Mother: Thankful Whipple (24 Sep 1806 - 26 May 1894)

Family 1: Frank Horace Bentley (2 Jan 1840 - Nov 1888)

MARRIAGE: 14 Nov 1861, Ledyard, New London, Connecticut
+Emily Ida Bentley (18 May 1868 - 13 Aug 1948)
---

                                                                                               _____________________
                                                                                              |                     
                                                                   ___________________________|_____________________
                                                                  |                                                 
                                             _____________________|
                                            |                     |
                                            |                     |                            _____________________
                                            |                     |                           |                     
                                            |                     |___________________________|_____________________
                                            |                                                                       
                       _Solomon Geer _______|
                      |                     |
                      |                     |                                                  _____________________
                      |                     |                                                 |                     
                      |                     |                      ___________________________|_____________________
                      |                     |                     |                                                 
                      |                     |_____________________|
                      |                                           |
                      |                                           |                            _____________________
                      |                                           |                           |                     
                      |                                           |___________________________|_____________________
                      |                                                                                             
 _Thomas Geer ________|
| (1801 - 1866) m 1825|
|                     |                                                                        _____________________
|                     |                                                                       |                     
|                     |                                            ___________________________|_____________________
|                     |                                           |                                                 
|                     |                      _____________________|
|                     |                     |                     |
|                     |                     |                     |                            _____________________
|                     |                     |                     |                           |                     
|                     |                     |                     |___________________________|_____________________
|                     |                     |                                                                       
|                     |_Anna Pierce ________|
|                                           |
|                                           |                                                  _____________________
|                                           |                                                 |                     
|                                           |                      ___________________________|_____________________
|                                           |                     |                                                 
|                                           |_____________________|
|                                                                 |
|                                                                 |                            _____________________
|                                                                 |                           |                     
|                                                                 |___________________________|_____________________
|                                                                                                                   
|
|--Lucinda Melissa Geer 
|  (1841 - 1903)
|                                                                                              _Samuel Whipple _____+
|                                                                                             | (1695 - 1760) m 1720
|                                                                  _Samuel Whipple ___________|_Ruth Card __________
|                                                                 | (1722 - 1794) m 1740        (1700 - ....)       
|                                            _Noah Whipple _______|
|                                           | (1741 - 1775) m 1762|
|                                           |                     |                            _Joseph Mitchell ____
|                                           |                     |                           |                     
|                                           |                     |_Eunice or Unice Mitchell _|_Elizabeth Lamb _____
|                                           |                       (.... - 1801) m 1740                            
|                      _Silas Whipple ______|
|                     | (1773 - 1835) m 1794|
|                     |                     |                                                  _Samuel Whipple _____+
|                     |                     |                                                 | (1669 - 1728) m 1690
|                     |                     |                      _Zachariah Whipple ________|_Elizabeth Eddy _____
|                     |                     |                     | (1706 - 1760) m 1728        (1670 - 1717)       
|                     |                     |_Hope Whipple _______|
|                     |                       (1740 - 1829) m 1762|
|                     |                                           |                            _John Rogers ________+
|                     |                                           |                           |                     
|                     |                                           |_Elizabeth Rogers _________|_Bathsheba Smith ____
|                     |                                             (1706 - 1751) m 1728                            
|_Thankful Whipple ___|
  (1806 - 1894) m 1825|
                      |                                                                        _____________________
                      |                                                                       |                     
                      |                                            _John Waterhouse __________|_____________________
                      |                                           | (1690 - ....) m 1719                            
                      |                      _Timothy Waterhouse _|
                      |                     | (1740 - 1814) m 1764|
                      |                     |                     |                            _John Culver ________
                      |                     |                     |                           | (1670 - ....) m 1697
                      |                     |                     |_Esther Culver ____________|_Sarah Long _________
                      |                     |                       (1698 - ....) m 1719        (1673 - ....)       
                      |_Esther Watrous _____|
                        (1772 - 1852) m 1794|
                                            |                                                  _Samuel Whipple _____+
                                            |                                                 | (1669 - 1728) m 1690
                                            |                      _Zachariah Whipple ________|_Elizabeth Eddy _____
                                            |                     | (1706 - 1760) m 1728        (1670 - 1717)       
                                            |_Content Whipple ____|
                                              (1743 - 1831) m 1764|
                                                                  |                            _John Rogers ________+
                                                                  |                           |                     
                                                                  |_Elizabeth Rogers _________|_Bathsheba Smith ____
                                                                    (1706 - 1751) m 1728                            

---
Notes
!SOURCE: Clara Hammond McGuigan, The Antecedents and Descendants of Noah Whipple of the Rogerene Community at Quakertown, Connecticut (Ithaca, N.Y.: J.M. Kingsbury, 1971), p. 68, 113.
Gravestone of Lucinda M. (Geer) Bentley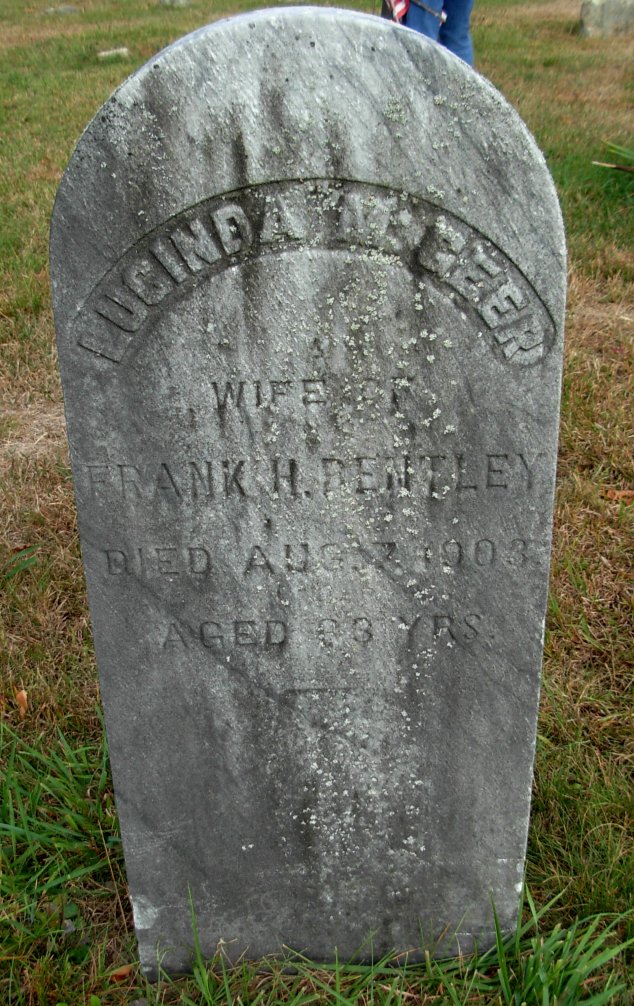 Ledyard Union Cemetery, Colonel Ledyard Highway, Ledyard, Connecticut
(Submitted by R. Gilebarto, 16 Oct 2007)

RIN 30941. Quick link to this page: https://genweb.whipple.org/30941
View this person at the Whipple One-Name Study

Email corrections and additions to whipple@one-name.org

© Whipple Website. All rights reserved.

---
HTML created by GED2HTML v3.6-Linux (Mar 8 2001) on Sat Jun 25 22:29:18 2022 GMT.