---
BIRTH: 1685, Providence, Providence, Rhode Island
DEATH: AFT 18 Oct 1745, Smithfield, Providence, Rhode Island
BURIAL: Cooman Lot, Putnam Pike, Glocester, Providence, Rhode Island
Father: John Field (____ - ____)
Mother: Elizabeth Everden (____ - ____)

Family 1: Samuel Steere (1673 - 18 Oct 1745)


---

                                __
                               |  
                             __|__
                            |     
                          __|
                         |  |
                         |  |   __
                         |  |  |  
                         |  |__|__
                         |        
                       __|
                      |  |
                      |  |      __
                      |  |     |  
                      |  |   __|__
                      |  |  |     
                      |  |__|
                      |     |
                      |     |   __
                      |     |  |  
                      |     |__|__
                      |           
 _John Field _________|
|                     |
|                     |         __
|                     |        |  
|                     |      __|__
|                     |     |     
|                     |   __|
|                     |  |  |
|                     |  |  |   __
|                     |  |  |  |  
|                     |  |  |__|__
|                     |  |        
|                     |__|
|                        |
|                        |      __
|                        |     |  
|                        |   __|__
|                        |  |     
|                        |__|
|                           |
|                           |   __
|                           |  |  
|                           |__|__
|                                 
|
|--Hannah Field 
|  (1685 - 1745)
|                               __
|                              |  
|                            __|__
|                           |     
|                         __|
|                        |  |
|                        |  |   __
|                        |  |  |  
|                        |  |__|__
|                        |        
|                      __|
|                     |  |
|                     |  |      __
|                     |  |     |  
|                     |  |   __|__
|                     |  |  |     
|                     |  |__|
|                     |     |
|                     |     |   __
|                     |     |  |  
|                     |     |__|__
|                     |           
|_Elizabeth Everden __|
                      |
                      |         __
                      |        |  
                      |      __|__
                      |     |     
                      |   __|
                      |  |  |
                      |  |  |   __
                      |  |  |  |  
                      |  |  |__|__
                      |  |        
                      |__|
                         |
                         |      __
                         |     |  
                         |   __|__
                         |  |     
                         |__|
                            |
                            |   __
                            |  |  
                            |__|__
                                  

---
Notes
!SOURCE: Ancestral File (http://www.familysearch.org)

!SOURCE: Email from Beth Hurd to Weldon Whipple, 4 Jul 2004. Cites monument in thye Cooman Lot (Rhode Island Historical Cemetery GL052).

!SOURCE: "Descendants of Samuel Steere," email from N. Combs to Weldon Whipple, 27 Apr 2007. Gives birth after 18 Oct 1745 Smithfield, Providence, RI.
Steere Monument in the Glocester Country Club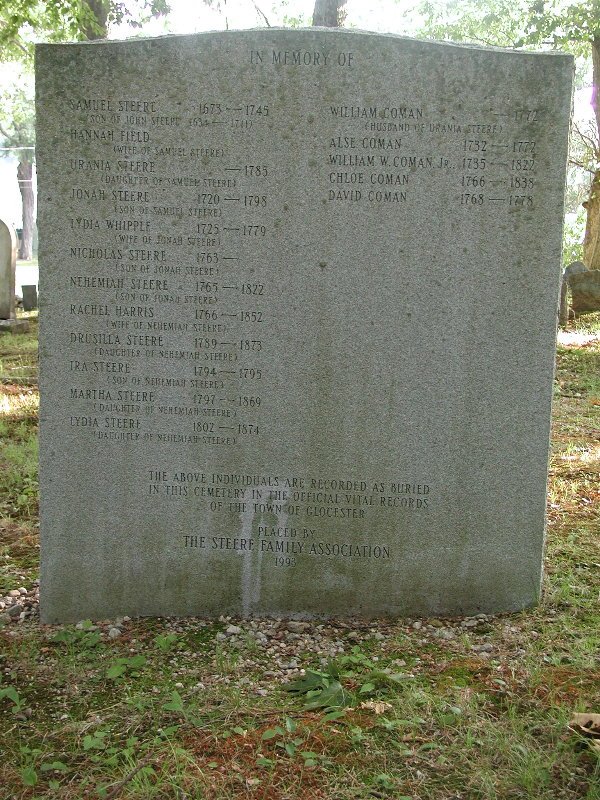 Submitted by Beth Hurd, 10 July 2004. The above monument is in "a small cemetery (GL052 [Cooman Lot]) on the grounds of what is now the Glocester Country Club (celebrating its 75th year), but was once a 'cow pasture'... most of the stones are worn field stones, but someone (the Steere family foundation) went to the trouble to record the interments and have the names and dates inscribed on one big monument, which I photographed. The stone reads:
In Memory of
Samuel Steere, 1673 - 1745
(son of John Steere, 1634 - 1711)
Hannah Field
(wife of Samuel Steere)
Urania Steere, -1785
(daughter of Samuel Steere)
Jonah Steere, 1720 - 1798)
(son of Samuel Steere)
Lydia Whipple, 1725 - 1779
(wife of Jonah Steere)
Nicholas Steere, 1763 -
(son of Jonah Steere)
Nehemiah Steere, 1765 - 1822
(son of Jonah Steere)
Rachel Harris, 1766 - 1852
(wife of Nehemiah Steere)
Drusilla Steere, 1789 - 1873
(daughter of Nehemiah Steere)
Ira Steere, 1794 - 1795
(son of Nehemiah Steere)
Martha Steere, 1797 - 1869
(daughter of Nehemiah Steere)
Lydia Steere, 1802 - 1874
(daughter of Nehemiah Steere)
William Coman, - 1772
(husband of Urania Steere)
Alse Coman, 1732 - 1772
William Coman, Jr., 1735 - 1822
Chloe Coman, 1766 - 1838
David Coman, 1768 - 1778

The above individuals are recorded as buried in this cemetery in the official vital records of the town of Glocester. Placed by the Steere Family Association, 1993.
RIN 43417. Quick link to this page: https://genweb.whipple.org/43417
View this person at the Whipple One-Name Study

Email corrections and additions to whipple@one-name.org

© Whipple Website. All rights reserved.

---
HTML created by GED2HTML v3.6-Linux (Mar 8 2001) on Sun Sep 25 01:43:45 2022 GMT.