---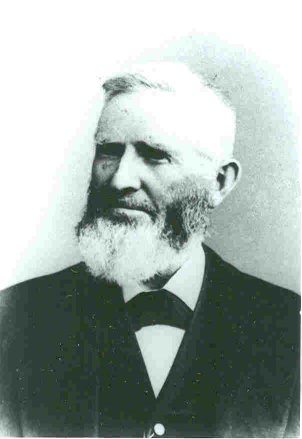 Cephas B. Estey
(Submitted by Deb Nelson, 5 Oct 2005)
BIRTH: 9 Mar 1827, Peru, Clinton, New York
DEATH: AFT 1901, of, Delmar, Clinton, Iowa
Father: John Dean Estey (11 Jun 1800 - 21 Sep 1872)
Mother: Charlotte Lawrence (____ - ____)

Family 1: Lucinda Pulsifer (26 Aug 1829 - 26 Apr 1901)

MARRIAGE: 3 Dec 1848, Mooers, Clinton, New York
---

                                                                                             _Joseph Estey _______
                                                                                            |                     
                                                                   _Edward Estey ___________|_Jane Stewart _______
                                                                  | (1693 - 1789) m 1718                          
                                             _Solomon Estey ______|
                                            | (1737 - ....) m 1770|
                                            |                     |                          _Isaac Stearns ______+
                                            |                     |                         | (1665 - 1741) m 1696
                                            |                     |_Elizabeth Mary Stearns _|_Elizabeth Stone ____
                                            |                       (1696 - ....) m 1718      (1670 - ....)       
                       _John Dean Estey ____|
                      | (1775 - ....) m 1800|
                      |                     |                                                _____________________
                      |                     |                                               |                     
                      |                     |                      _Silas Dean _____________|_____________________
                      |                     |                     |                                               
                      |                     |_Phebe Dean _________|
                      |                       (1748 - ....) m 1770|
                      |                                           |                          _____________________
                      |                                           |                         |                     
                      |                                           |_Joanna Whitcomb ________|_____________________
                      |                                                                                           
 _John Dean Estey ____|
| (1800 - 1872)       |
|                     |                                                                      _____________________
|                     |                                                                     |                     
|                     |                                            _________________________|_____________________
|                     |                                           |                                               
|                     |                      _____________________|
|                     |                     |                     |
|                     |                     |                     |                          _____________________
|                     |                     |                     |                         |                     
|                     |                     |                     |_________________________|_____________________
|                     |                     |                                                                     
|                     |_Jenitha ____________|
|                        m 1800             |
|                                           |                                                _____________________
|                                           |                                               |                     
|                                           |                      _________________________|_____________________
|                                           |                     |                                               
|                                           |_____________________|
|                                                                 |
|                                                                 |                          _____________________
|                                                                 |                         |                     
|                                                                 |_________________________|_____________________
|                                                                                                                 
|
|--Cephas B. Estey 
|  (1827 - 1901)
|                                                                                            _____________________
|                                                                                           |                     
|                                                                  _________________________|_____________________
|                                                                 |                                               
|                                            _____________________|
|                                           |                     |
|                                           |                     |                          _____________________
|                                           |                     |                         |                     
|                                           |                     |_________________________|_____________________
|                                           |                                                                     
|                      _____________________|
|                     |                     |
|                     |                     |                                                _____________________
|                     |                     |                                               |                     
|                     |                     |                      _________________________|_____________________
|                     |                     |                     |                                               
|                     |                     |_____________________|
|                     |                                           |
|                     |                                           |                          _____________________
|                     |                                           |                         |                     
|                     |                                           |_________________________|_____________________
|                     |                                                                                           
|_Charlotte Lawrence _|
                      |
                      |                                                                      _____________________
                      |                                                                     |                     
                      |                                            _________________________|_____________________
                      |                                           |                                               
                      |                      _____________________|
                      |                     |                     |
                      |                     |                     |                          _____________________
                      |                     |                     |                         |                     
                      |                     |                     |_________________________|_____________________
                      |                     |                                                                     
                      |_____________________|
                                            |
                                            |                                                _____________________
                                            |                                               |                     
                                            |                      _________________________|_____________________
                                            |                     |                                               
                                            |_____________________|
                                                                  |
                                                                  |                          _____________________
                                                                  |                         |                     
                                                                  |_________________________|_____________________
                                                                                                                  

---
Notes
!SOURCE: Email from Deb Nelson (email hidden) to the Whipple Website, 5 Oct 2005. Cites "The 1901 Biographical Record of Clinton Co., Iowa, Illustrated published: Chicago : S. J. Clarke Pub. Co., 1901," Entry for Cephas B. Estey.

!SOURCE: 13 Jun 1870 Census of Bloomfield Township, Clinton County, Iowa, p. 25:
Cephas Estee, 43, Farmer, b. NY
Lucinda Estee, 41, Keeping House, b. NY
Louisa M. Estee, 9, at home, b. IA
Loren [?] Estee, 6, b. IA
Loretta [?] Estee, 6, b. IA
Marshal Estee, 4, b. IA
Willy S. Estee, 1, b. IA
John D. Estee, 70, b. NY
RIN 101375. Quick link to this page: https://genweb.whipple.org/101375
View this person at the Whipple One-Name Study

Email corrections and additions to whipple@one-name.org

© Whipple Website. All rights reserved.

---
HTML created by GED2HTML v3.6-Linux (Mar 8 2001) on Sun Sep 25 01:43:45 2022 GMT.