---
BIRTH: 23 Sep 1754, Providence, Providence, Rhode Island
DEATH: 9 Dec 1825
BURIAL: North Burial Ground, North Main Street, Providence, Providence, Rhode Island
Father: Joseph Dexter (1727 - ____)


---

                                                                                                     _____________________
                                                                                                    |                     
                                                                   _Gregory Dexter _________________|_____________________
                                                                  | (1610 - 1700)                                         
                                             _John Dexter ________|
                                            | (1652 - 1706) m 1687|
                                            |                     |                                  _____________________
                                            |                     |                                 |                     
                                            |                     |_Abigail Fullerton ______________|_____________________
                                            |                       (.... - 1706)                                         
                       _Stephen Dexter _____|
                      | (1689 - 1758) m 1709|
                      |                     |                                                        _John Smith _________
                      |                     |                                                       | (1595 - 1649)       
                      |                     |                      _John Smith _____________________|_Alice ______________
                      |                     |                     | (1639 - 1683) m 1659              (.... - 1650)       
                      |                     |_Alice Smith ________|
                      |                       (1665 - 1735) m 1687|
                      |                                           |                                  _John Whipple _______
                      |                                           |                                 | (1617 - 1685) m 1638
                      |                                           |_Sarah Whipple __________________|_Sarah ______________
                      |                                             (1641 - 1710) m 1659              (1624 - 1666)       
 _Joseph Dexter ______|
| (1727 - ....)       |
|                     |                                                                              _____________________
|                     |                                                                             |                     
|                     |                                            _John Whipple ___________________|_____________________
|                     |                                           | (1617 - 1685) m 1638                                  
|                     |                      _Joseph Whipple _____|
|                     |                     | (1662 - 1746) m 1684|
|                     |                     |                     |                                  _____________________
|                     |                     |                     |                                 |                     
|                     |                     |                     |_Sarah __________________________|_____________________
|                     |                     |                       (1624 - 1666) m 1638                                  
|                     |_Susannah Whipple ___|
|                       (1693 - 1776) m 1709|
|                                           |                                                        _Christopher Smith __
|                                           |                                                       | (1600 - 1676) m 1625
|                                           |                      _Edward Smith ___________________|_Alice ______________
|                                           |                     | (1630 - 1693) m 1663              (1600 - 1681)       
|                                           |_Alice Smith ________|
|                                             (1664 - 1739) m 1684|
|                                                                 |                                  _Thomas Angell ______
|                                                                 |                                 | (1618 - 1694) m 1643
|                                                                 |_Annphillis or Amphillis Angell _|_Alice Ashton _______
|                                                                   (1640 - 1694) m 1663              (1617 - 1694)       
|
|--Moses Dexter 
|  (1754 - 1825)
|                                                                                                    _____________________
|                                                                                                   |                     
|                                                                  _________________________________|_____________________
|                                                                 |                                                       
|                                            _____________________|
|                                           |                     |
|                                           |                     |                                  _____________________
|                                           |                     |                                 |                     
|                                           |                     |_________________________________|_____________________
|                                           |                                                                             
|                      _____________________|
|                     |                     |
|                     |                     |                                                        _____________________
|                     |                     |                                                       |                     
|                     |                     |                      _________________________________|_____________________
|                     |                     |                     |                                                       
|                     |                     |_____________________|
|                     |                                           |
|                     |                                           |                                  _____________________
|                     |                                           |                                 |                     
|                     |                                           |_________________________________|_____________________
|                     |                                                                                                   
|_____________________|
                      |
                      |                                                                              _____________________
                      |                                                                             |                     
                      |                                            _________________________________|_____________________
                      |                                           |                                                       
                      |                      _____________________|
                      |                     |                     |
                      |                     |                     |                                  _____________________
                      |                     |                     |                                 |                     
                      |                     |                     |_________________________________|_____________________
                      |                     |                                                                             
                      |_____________________|
                                            |
                                            |                                                        _____________________
                                            |                                                       |                     
                                            |                      _________________________________|_____________________
                                            |                     |                                                       
                                            |_____________________|
                                                                  |
                                                                  |                                  _____________________
                                                                  |                                 |                     
                                                                  |_________________________________|_____________________
                                                                                                                          

---
Notes
!SOURCE: S.C. Newman, Dexter Genealogy: Being a Record of the Families Descended from Rev. Gregory Dexter (Providence: A. Crawford Greene, 1859), p. 49. Gives birth 1752 in Providence.

!SOURCE: E_mail from N. Combs to the Whipple Website, 4 May 2003. Cites Sterling's North Burial Ground, p. 214. Norma writes: "I wonder if the two men below are Moses Dexter {67831}and his brother Joseph Dexter {67830}, even though the dates are slightly off. They are buried next to each other in the North Burial Ground, N. Main St., Providence, RI. There do not appear to be any other family members buried nearby, and notes on their Whipple Genweb pages say they died 'without issue.' Both men were veterans of the Revolutionary War. Per Arnold's VRs, Moses died in North Providence, Providence, RI in his 72nd year.

Dexter, Joseph b. 23 July 1753 d. 27 April 1813 age 59 yrs. 1 mo. and 4 days (Source: Sterling's North Burial Ground, p. 214)
Dexter, Moses b. 23 Sept. 1754 d. 9 Dec. 1825 age 71 yrs. 2 mos. and 16 days (Source: Sterling's North Burial Ground, p. 214)"

!CHILDREN: Died without issue. --S.C. Newman
Gravestone of Moses Dexter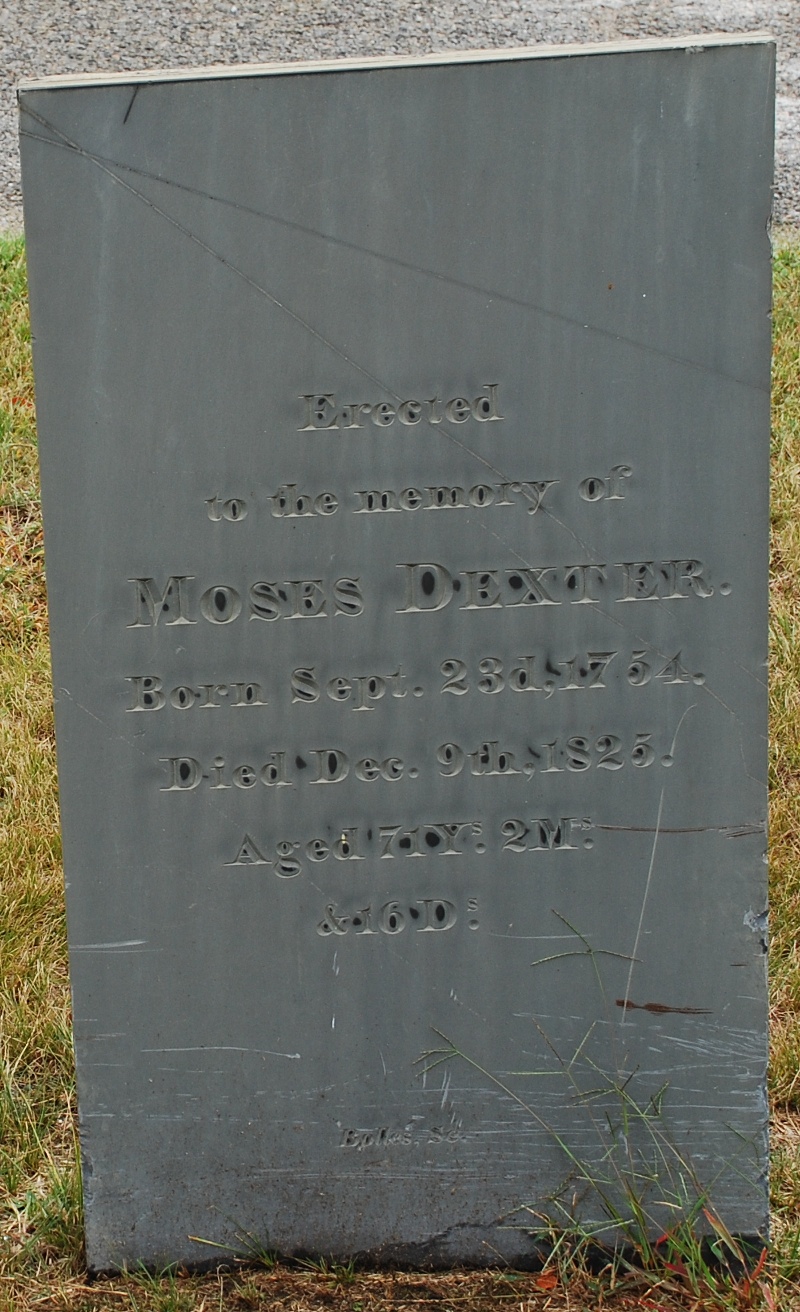 North Burial Ground, North Main Street, Providence, Rhode Island
(Submitted by Hugh Hudson, 19 Mar 2014)

RIN 67831. Quick link to this page: https://genweb.whipple.org/67831
View this person at the Whipple One-Name Study

Email corrections and additions to whipple@one-name.org

© Whipple Website. All rights reserved.

---
HTML created by GED2HTML v3.6-Linux (Mar 8 2001) on Mon Nov 27 00:14:57 2023 GMT.