---
BIRTH: 1728 or abt 10 Sep 1725, Providence, Providence, Rhode Island
DEATH: 11 Jun 1797, North Providence, Providence, Rhode Island
BURIAL: North Burial Ground, North Main Street, Providence, Providence, Rhode Island
Father: Stephen Dexter (15 Apr 1689 - 27 Dec 1758)
Mother: Susannah Whipple (14 Apr 1693 - 15 Dec 1776)

Family 1: Priscilla Carpenter (21 Sep 1728 - 26 May 1800)

MARRIAGE: 28 Sep 1749, Cumberland, Providence, Rhode Island
---

                                                                                                     _____________________
                                                                                                    |                     
                                                                               _____________________|_____________________
                                                                              |                                           
                                             _Gregory Dexter _________________|
                                            | (1610 - 1700)                   |
                                            |                                 |                      _____________________
                                            |                                 |                     |                     
                                            |                                 |_____________________|_____________________
                                            |                                                                             
                       _John Dexter ________|
                      | (1652 - 1706) m 1687|
                      |                     |                                                        _____________________
                      |                     |                                                       |                     
                      |                     |                                  _____________________|_____________________
                      |                     |                                 |                                           
                      |                     |_Abigail Fullerton ______________|
                      |                       (.... - 1706)                   |
                      |                                                       |                      _____________________
                      |                                                       |                     |                     
                      |                                                       |_____________________|_____________________
                      |                                                                                                   
 _Stephen Dexter _____|
| (1689 - 1758) m 1709|
|                     |                                                                              _____________________
|                     |                                                                             |                     
|                     |                                                        _John Smith _________|_____________________
|                     |                                                       | (1595 - 1649)                             
|                     |                      _John Smith _____________________|
|                     |                     | (1639 - 1683) m 1659            |
|                     |                     |                                 |                      _____________________
|                     |                     |                                 |                     |                     
|                     |                     |                                 |_Alice ______________|_____________________
|                     |                     |                                   (.... - 1650)                             
|                     |_Alice Smith ________|
|                       (1665 - 1735) m 1687|
|                                           |                                                        _____________________
|                                           |                                                       |                     
|                                           |                                  _John Whipple _______|_____________________
|                                           |                                 | (1617 - 1685) m 1638                      
|                                           |_Sarah Whipple __________________|
|                                             (1641 - 1710) m 1659            |
|                                                                             |                      _____________________
|                                                                             |                     |                     
|                                                                             |_Sarah ______________|_____________________
|                                                                               (1624 - 1666) m 1638                      
|
|--Christopher Dexter 
|  (.... - 1797)
|                                                                                                    _____________________
|                                                                                                   |                     
|                                                                              _____________________|_____________________
|                                                                             |                                           
|                                            _John Whipple ___________________|
|                                           | (1617 - 1685) m 1638            |
|                                           |                                 |                      _____________________
|                                           |                                 |                     |                     
|                                           |                                 |_____________________|_____________________
|                                           |                                                                             
|                      _Joseph Whipple _____|
|                     | (1662 - 1746) m 1684|
|                     |                     |                                                        _____________________
|                     |                     |                                                       |                     
|                     |                     |                                  _____________________|_____________________
|                     |                     |                                 |                                           
|                     |                     |_Sarah __________________________|
|                     |                       (1624 - 1666) m 1638            |
|                     |                                                       |                      _____________________
|                     |                                                       |                     |                     
|                     |                                                       |_____________________|_____________________
|                     |                                                                                                   
|_Susannah Whipple ___|
  (1693 - 1776) m 1709|
                      |                                                                              _____________________
                      |                                                                             |                     
                      |                                                        _Christopher Smith __|_____________________
                      |                                                       | (1600 - 1676) m 1625                      
                      |                      _Edward Smith ___________________|
                      |                     | (1630 - 1693) m 1663            |
                      |                     |                                 |                      _____________________
                      |                     |                                 |                     |                     
                      |                     |                                 |_Alice ______________|_____________________
                      |                     |                                   (1600 - 1681) m 1625                      
                      |_Alice Smith ________|
                        (1664 - 1739) m 1684|
                                            |                                                        _____________________
                                            |                                                       |                     
                                            |                                  _Thomas Angell ______|_____________________
                                            |                                 | (1618 - 1694) m 1643                      
                                            |_Annphillis or Amphillis Angell _|
                                              (1640 - 1694) m 1663            |
                                                                              |                      _James Ashton _______
                                                                              |                     | (1580 - 1651)       
                                                                              |_Alice Ashton _______|_Alice ______________
                                                                                (1617 - 1694) m 1643                      

---
Notes
!SOURCE: "John Smith, the Miller, of Providence Rhode Island: Some of His Descendants," by Charles William Farnham, in Genealogies of Rhode Island Families, from Rhode Island Periodicals (Baltimore: Genealogical Pub. Co., 1983), 2:8, 19, 27

!SOURCE: S.C. Newman, Dexter Genealogy: Being a Record of the Families Descended from Rev. Gregory Dexter (Providence: A. Crawford Greene, 1859), p. 46, 49-50.

!SOURCE: GEDCOM file sent by Clayton J. Olney to Weldon Whipple, 16 Apr 2002.

!SOURCE: James N. Arnold, Vital Record of Rhode Island, 1636-1850. Vol. 3, Cumberland, Part 5 (Providence, Harragansett Historical Pub. Co., 1892), p. 28 (marriage entry).

!SOURCE: Abby Isabel Brown Bulkley, The Chad Browne Memorial, Consisting of Genealogical Memoirs of a Portion of the Descendants of Chad and Elizabeth Browne (Brooklyn, N.Y., 1888), p. 47.

!SOURCE: "Descendants of Christopher Dexter," descendancy chart emailed by N. Combs to the Whipple Website, 2 May 2003. Cites North Burial Ground, Providence, RI: Old Section 1700-1848 (gives birth abt 10 Sep 1725 in Providence [previous sources give birth in year 1728], death 11 Jun 1797 in North Providence, burial in the North Burial Ground); Vital Record of Rhode Island, 1636-1850 (gives marriage 28 Sep 1749 in Cumberland, R.I.).
Gravestone of Christopher Dexter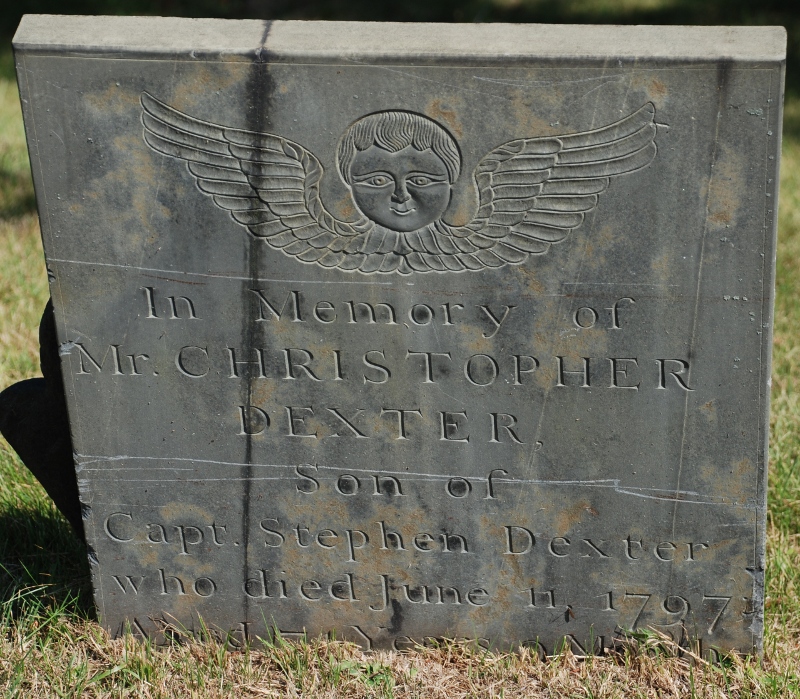 North Burial Ground, North Main Street, Providence, Rhode Island
(Submitted by Hugh Hudson, 19 Mar 2014)

RIN 6281. Quick link to this page: https://genweb.whipple.org/6281
View this person at the Whipple One-Name Study

Email corrections and additions to whipple@one-name.org

© Whipple Website. All rights reserved.

---
HTML created by GED2HTML v3.6-Linux (Mar 8 2001) on Sat Mar 25 00:56:37 2023 GMT.