---
BIRTH: 9 Aug 1799, of, Groton, New London, Connecticut
DEATH: 17 Sep 1871
BURIAL: Ledyard Union Cemetery, Ledyard, New London, Connecticut
Father: Daniel Davis (____ - ____)
Mother: Deborah Anderson (____ - ____)

Family 1: Content Whipple (18 Jun 1798 - 23 Jun 1820)

Family 2: Elizabeth Whipple (19 Apr 1800 - 20 Nov 1882)

MARRIAGE: 27 Aug 1820, Groton, New London, Connecticut
---

                                __
                               |  
                             __|__
                            |     
                          __|
                         |  |
                         |  |   __
                         |  |  |  
                         |  |__|__
                         |        
                       __|
                      |  |
                      |  |      __
                      |  |     |  
                      |  |   __|__
                      |  |  |     
                      |  |__|
                      |     |
                      |     |   __
                      |     |  |  
                      |     |__|__
                      |           
 _Daniel Davis _______|
|                     |
|                     |         __
|                     |        |  
|                     |      __|__
|                     |     |     
|                     |   __|
|                     |  |  |
|                     |  |  |   __
|                     |  |  |  |  
|                     |  |  |__|__
|                     |  |        
|                     |__|
|                        |
|                        |      __
|                        |     |  
|                        |   __|__
|                        |  |     
|                        |__|
|                           |
|                           |   __
|                           |  |  
|                           |__|__
|                                 
|
|--Ichabod Davis 
|  (1799 - 1871)
|                               __
|                              |  
|                            __|__
|                           |     
|                         __|
|                        |  |
|                        |  |   __
|                        |  |  |  
|                        |  |__|__
|                        |        
|                      __|
|                     |  |
|                     |  |      __
|                     |  |     |  
|                     |  |   __|__
|                     |  |  |     
|                     |  |__|
|                     |     |
|                     |     |   __
|                     |     |  |  
|                     |     |__|__
|                     |           
|_Deborah Anderson ___|
                      |
                      |         __
                      |        |  
                      |      __|__
                      |     |     
                      |   __|
                      |  |  |
                      |  |  |   __
                      |  |  |  |  
                      |  |  |__|__
                      |  |        
                      |__|
                         |
                         |      __
                         |     |  
                         |   __|__
                         |  |     
                         |__|
                            |
                            |   __
                            |  |  
                            |__|__
                                  

---
Notes
!SOURCE: William Lee Whipple's (email hidden) database, 4 Dec 1997.

!SOURCE: Email from R. Gilebarto to Weldon Whipple, May 1998, citing information on the grave marker in the Quakertown 1 section of the Ledyard Union Cemetery, Colonel Ledyard Hwy, Ledyard, CT.

!SOURCE: Clara Hammond McGuigan, The Antecedents and Descendants of Noah Whipple of the Rogerene Community at Quakertown, Connecticut (Ithaca, N.Y.: J.M. Kingsbury, 1971), p. 64, 66-67.

!SOURCE: Email from Hugh Hudson (email hidden) to Weldon Whipple, 12 May 2012. Cites Groton Vital Records p. 228 (scanned page attached to email). Part of the Barbour Collection.
Gravestone of Ichabod Davis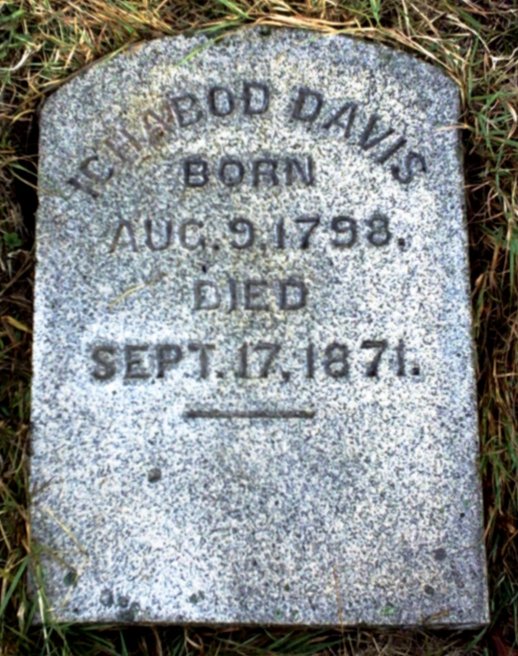 Ledyard Union Cemetery, Colonel Ledyard Highway, Ledyard, Connecticut
(Submitted by R. Gilebarto, 30 Oct 2007)

RIN 13702. Quick link to this page: https://genweb.whipple.org/13702
View this person at the Whipple One-Name Study

Email corrections and additions to whipple@one-name.org

© Whipple Website. All rights reserved.

---
HTML created by GED2HTML v3.6-Linux (Mar 8 2001) on Fri Sep 22 22:01:36 2023 GMT.