---
BIRTH: 29 Aug 1888, Ledyard, New London, Connecticut
DEATH: Jul 1970, of, Gales Ferry, New London, Connecticut
BURIAL: Lambtown Cemetery, Lambtown Road, Ledyard, New London, Connecticut
Father: Alden Avery Crouch (27 Dec 1857 - 2 Mar 1932)
Mother: Lucy W. Phillips (8 Jan 1859 - 28 Jun 1930)


---

                                                                                                  _William Crouch _____
                                                                                                 |  m 1765             
                                                                       _John Crouch _____________|_Christiana Bolles __
                                                                      | (1777 - 1830) m 1797                           
                                                 _John Crouch ________|
                                                | (1800 - 1868) m 1821|
                                                |                     |                           _Timothy Waterhouse _+
                                                |                     |                          | (1740 - 1814) m 1764
                                                |                     |_Elizabeth Watrous _______|_Content Whipple ____
                                                |                       (1780 - 1862) m 1797       (1743 - 1831)       
                       _Timothy Crouch _________|
                      | (1826 - 1874) m 1846    |
                      |                         |                                                 _Timothy Waterhouse _+
                      |                         |                                                | (1740 - 1814) m 1764
                      |                         |                      _John Watrous ____________|_Content Whipple ____
                      |                         |                     | (1778 - 1820) m 1803       (1743 - 1831)       
                      |                         |_Rachel Watrous _____|
                      |                           (1806 - 1826) m 1821|
                      |                                               |                           _Alexander Rogers ___
                      |                                               |                          |  m 1777             
                      |                                               |_Desire Rogers ___________|_Rachel Larrabee ____
                      |                                                 (1780 - 1821) m 1803                           
 _Alden Avery Crouch _|
| (1857 - 1932) m 1877|
|                     |                                                                           _Noah Whipple _______+
|                     |                                                                          | (1741 - 1775) m 1762
|                     |                                                _Samuel Stillman Whipple _|_Hope Whipple _______
|                     |                                               | (1766 - 1843) m 1788       (1740 - 1829)       
|                     |                          _Noah Whipple _______|
|                     |                         | (1792 - 1871) m 1813|
|                     |                         |                     |                           _Thomas Gates _______+
|                     |                         |                     |                          | (1720 - 1797)       
|                     |                         |                     |_Hepzibah Gates __________|_Elizabeth Mitchell _
|                     |                         |                       (1765 - 1822) m 1788       (1724 - ....)       
|                     |_Betsey Whipple _________|
|                       (1826 - 1902) m 1846    |
|                                               |                                                 _William Crouch _____
|                                               |                                                |  m 1765             
|                                               |                      _William Crouch __________|_Christiana Bolles __
|                                               |                     | (1770 - 1840) m 1791                           
|                                               |_Content Crouch _____|
|                                                 (1794 - 1835) m 1813|
|                                                                     |                           _Timothy Waterhouse _+
|                                                                     |                          | (1740 - 1814) m 1764
|                                                                     |_Content Watrous _________|_Content Whipple ____
|                                                                       (1769 - 1853) m 1791       (1743 - 1831)       
|
|--Mary Elizabeth Crouch 
|  (1888 - 1970)
|                                                                                                 _____________________
|                                                                                                |                     
|                                                                      __________________________|_____________________
|                                                                     |                                                
|                                                _Asa Phillips _______|
|                                               |                     |
|                                               |                     |                           _____________________
|                                               |                     |                          |                     
|                                               |                     |__________________________|_____________________
|                                               |                                                                      
|                      _Josiah Fuller Phillips _|
|                     | (1826 - 1896) m 1851    |
|                     |                         |                                                 _____________________
|                     |                         |                                                |                     
|                     |                         |                      __________________________|_____________________
|                     |                         |                     |                                                
|                     |                         |_Amelia Thomas ______|
|                     |                                               |
|                     |                                               |                           _____________________
|                     |                                               |                          |                     
|                     |                                               |__________________________|_____________________
|                     |                                                                                                
|_Lucy W. Phillips ___|
  (1859 - 1930) m 1877|
                      |                                                                           _Comfort Chapman ____
                      |                                                                          |  m 1780             
                      |                                                _Samuel Chapman __________|_Eunice Whipple _____
                      |                                               | (1780 - 1820) m 1820       (1764 - ....)       
                      |                          _Samuel Chapman _____|
                      |                         | (1806 - 1844) m 1827|
                      |                         |                     |                           _Timothy Waterhouse _+
                      |                         |                     |                          | (1740 - 1814) m 1764
                      |                         |                     |_Abiah Watrous ___________|_Content Whipple ____
                      |                         |                       (1782 - 1820) m 1820       (1743 - 1831)       
                      |_Abiah Chapman __________|
                        (1834 - 1911) m 1851    |
                                                |                                                 _William Crouch _____
                                                |                                                |  m 1765             
                                                |                      _John Crouch _____________|_Christiana Bolles __
                                                |                     | (1777 - 1830) m 1797                           
                                                |_Abiah Crouch _______|
                                                  (1804 - 1871) m 1827|
                                                                      |                           _Timothy Waterhouse _+
                                                                      |                          | (1740 - 1814) m 1764
                                                                      |_Elizabeth Watrous _______|_Content Whipple ____
                                                                        (1780 - 1862) m 1797       (1743 - 1831)       

---
Notes
!SOURCE: Email from Dianne Domino (email hidden) to Weldon Whipple, 7 Jan 2002. Cites information from her Great-aunt Evelyn Phillips Hysell's book entitled Phillips Genealogies.

!MARRIAGE: "Did not marry." --D. Domino

!SOURCE: Social Security Death Index.
Gravestone of Mary E. Crouch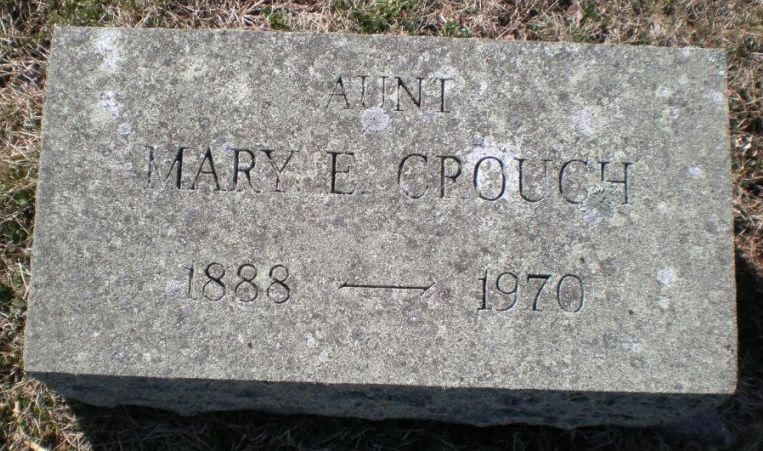 Lambtown Cemetery, Lambtown Road, Ledyard, New London, Connecticut
(Submitted 4/12/2009 by R. Gilebarto)

RIN 56890. Quick link to this page: https://genweb.whipple.org/56890
View this person at the Whipple One-Name Study

Email corrections and additions to whipple@one-name.org

© Whipple Website. All rights reserved.

---
HTML created by GED2HTML v3.6-Linux (Mar 8 2001) on Sat May 20 22:44:52 2023 GMT.