---
BIRTH: 20 Jul 1938, Houston, Harris, Texas
DEATH: 25 Aug 1959, Hampton Mountain, Franconia, Grafton, New Hampshire
Father: Sidney Chester Crouch (28 Apr 1911 - Jul 1973)
Mother: Blanche Fenella Phillips (14 Jul 1912 - 9 Dec 1998)


---

                                                                                                          _John Crouch ________________+
                                                                                                         | (1800 - 1868) m 1821        
                                                                                   _Timothy Crouch ______|_Rachel Watrous _____________
                                                                                  | (1826 - 1874) m 1846   (1806 - 1826)               
                                                        _Frederick Nelson Crouch _|
                                                       | (1851 - 1923) m 1870     |
                                                       |                          |                       _Noah Whipple _______________+
                                                       |                          |                      | (1792 - 1871) m 1813        
                                                       |                          |_Betsey Whipple ______|_Content Crouch _____________
                                                       |                            (1826 - 1902) m 1846   (1794 - 1835)               
                             _Chauncey Chester Crouch _|
                            | (1888 - 1964) m 1910     |
                            |                          |                                                  _Samuel Chapman _____________+
                            |                          |                                                 | (1806 - 1844) m 1827        
                            |                          |                           _John Crouch Chapman _|_Abiah Crouch _______________
                            |                          |                          | (1832 - 1892) m 1851   (1804 - 1871)               
                            |                          |_Augusta Estelle Chapman _|
                            |                            (1853 - 1901) m 1870     |
                            |                                                     |                       _Alexander Watrous __________+
                            |                                                     |                      | (1813 - 1840) m 1831        
                            |                                                     |_Esther Watrous ______|_Esther Watrous _____________
                            |                                                       (1833 - 1868) m 1851   (1809 - 1903)               
 _Sidney Chester Crouch ____|
| (1911 - 1973) m 1937      |
|                           |                                                                             _John Crouch ________________+
|                           |                                                                            | (1800 - 1868) m 1821        
|                           |                                                      _Timothy Crouch ______|_Rachel Watrous _____________
|                           |                                                     | (1826 - 1874) m 1846   (1806 - 1826)               
|                           |                           _Levi Williams Crouch ____|
|                           |                          | (1848 - 1920) m 1870     |
|                           |                          |                          |                       _Noah Whipple _______________+
|                           |                          |                          |                      | (1792 - 1871) m 1813        
|                           |                          |                          |_Betsey Whipple ______|_Content Crouch _____________
|                           |                          |                            (1826 - 1902) m 1846   (1794 - 1835)               
|                           |_Lucy Viola Crouch _______|
|                             (1891 - 1987) m 1910     |
|                                                      |                                                  _Daniel Watrous _____________+
|                                                      |                                                 | (1793 - 1879) m 1813        
|                                                      |                           _James Watrous _______|_Hephzibah Whipple __________
|                                                      |                          | (1825 - 1903) m 1851   (1790 - 1849)               
|                                                      |_Mary Watrous ____________|
|                                                        (1853 - 1927) m 1870     |
|                                                                                 |                       _Silas Watrous ______________+
|                                                                                 |                      | (1802 - 1852) m 1823        
|                                                                                 |_Hannah Watrous ______|_Mary Crouch ________________
|                                                                                   (1832 - 1884) m 1851   (1801 - 1884)               
|
|--Sidney Chester Crouch 
|  (1938 - 1959)
|                                                                                                         _____________________________
|                                                                                                        |                             
|                                                                                  _Asa Phillips ________|_____________________________
|                                                                                 |                                                    
|                                                       _Josiah Fuller Phillips __|
|                                                      | (1826 - 1896) m 1851     |
|                                                      |                          |                       _____________________________
|                                                      |                          |                      |                             
|                                                      |                          |_Amelia Thomas _______|_____________________________
|                                                      |                                                                               
|                            _George Elmer Phillips ___|
|                           | (1866 - 1929) m 1902     |
|                           |                          |                                                  _Samuel Chapman _____________+
|                           |                          |                                                 | (1780 - 1820) m 1820        
|                           |                          |                           _Samuel Chapman ______|_Abiah Watrous ______________
|                           |                          |                          | (1806 - 1844) m 1827   (1782 - 1820)               
|                           |                          |_Abiah Chapman ___________|
|                           |                            (1834 - 1911) m 1851     |
|                           |                                                     |                       _John Crouch ________________+
|                           |                                                     |                      | (1777 - 1830) m 1797        
|                           |                                                     |_Abiah Crouch ________|_Elizabeth Watrous __________
|                           |                                                       (1804 - 1871) m 1827   (1780 - 1862)               
|_Blanche Fenella Phillips _|
  (1912 - 1998) m 1937      |
                            |                                                                             _____________________________
                            |                                                                            |                             
                            |                                                      _John Harvey _________|_____________________________
                            |                                                     |                                                    
                            |                           _John Harvey _____________|
                            |                          | (1840 - 1929) m 1889     |
                            |                          |                          |                       _____________________________
                            |                          |                          |                      |                             
                            |                          |                          |_Eliza Jennings ______|_____________________________
                            |                          |                                                                               
                            |_Mary Eliza Harvey _______|
                              (1875 - 1955) m 1902     |
                                                       |                                                  _Jabez Whipple ______________+
                                                       |                                                 | (1796 - 1870)               
                                                       |                           _Jabez Whipple _______|_Mary "Polly" Gowdy Watrous _
                                                       |                          | (1818 - 1875) m 1840   (1799 - 1820)               
                                                       |_Mary Jane Whipple _______|
                                                         (1844 - 1901) m 1889     |
                                                                                  |                       _Daniel Watrous _____________+
                                                                                  |                      | (1793 - 1879) m 1813        
                                                                                  |_Mary Watrous ________|_Hephzibah Whipple __________
                                                                                    (1823 - 1844) m 1840   (1790 - 1849)               

---
Notes
!SOURCE: "Descendants of Jabez Whipple, Jr.," descent chart emailed by R. Gilebarto to the Whipple Web Site, 28 Sep 1998.
Gravestone of Sidney C. Crouch Jr.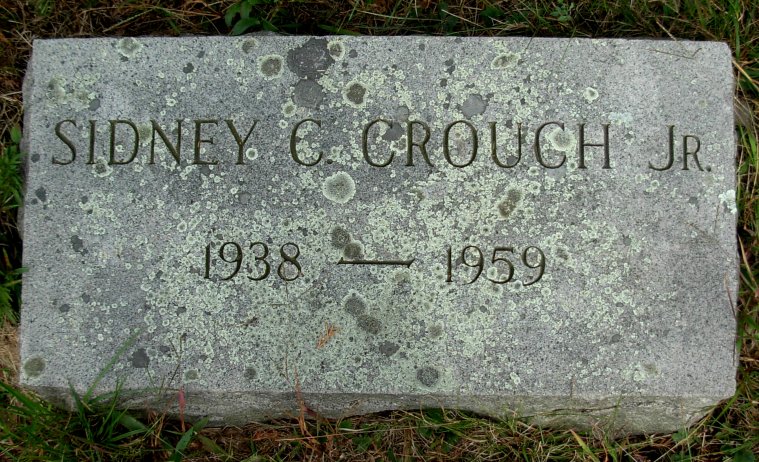 Ledyard Union Cemetery, Colonel Ledyard Highway, Ledyard, Connecticut
(Submitted by R. Gilebarto, 13 Oct 2007)

RIN 28146. Quick link to this page: https://genweb.whipple.org/28146
View this person at the Whipple One-Name Study

Email corrections and additions to whipple@one-name.org

© Whipple Website. All rights reserved.

---
HTML created by GED2HTML v3.6-Linux (Mar 8 2001) on Sat May 20 22:44:52 2023 GMT.