---
BIRTH: 5 Jul 1848
DEATH: 13 Nov 1933
BURIAL: Ledyard Union Cemetery, Ledyard, New London, Connecticut
Father: David Crouch (7 Jun 1806 - 25 May 1891)
Mother: Elizabeth Whipple (2 Nov 1816 - 2 Sep 1881)

Family 1: Jane Elizabeth Olin (28 Jan 1850 - 25 Apr 1914)

+Alice Gertrude Crouch (5 Jan 1874 - 8 May 1946)
Lizzie Crouch (6 Apr 1874 - 16 Apr 1888)
Family 2: Lucy Emeline Watrous (28 Jul 1881 - Apr 1972)


---

                                                                                              ___________________________
                                                                                             |                           
                                                                        _____________________|___________________________
                                                                       |                                                 
                                             _William Crouch __________|
                                            |  m 1765                  |
                                            |                          |                      ___________________________
                                            |                          |                     |                           
                                            |                          |_____________________|___________________________
                                            |                                                                            
                       _William Crouch _____|
                      | (1770 - 1840) m 1791|
                      |                     |                                                 ___________________________
                      |                     |                                                |                           
                      |                     |                           _John Bolles ________|___________________________
                      |                     |                          |                                                 
                      |                     |_Christiana Bolles _______|
                      |                        m 1765                  |
                      |                                                |                      ___________________________
                      |                                                |                     |                           
                      |                                                |_____________________|___________________________
                      |                                                                                                  
 _David Crouch _______|
| (1806 - 1891) m 1833|
|                     |                                                                       ___________________________
|                     |                                                                      |                           
|                     |                                                 _John Waterhouse ____|___________________________
|                     |                                                | (1690 - ....) m 1719                            
|                     |                      _Timothy Waterhouse ______|
|                     |                     | (1740 - 1814) m 1764     |
|                     |                     |                          |                      _John Culver ______________
|                     |                     |                          |                     | (1670 - ....) m 1697      
|                     |                     |                          |_Esther Culver ______|_Sarah Long _______________
|                     |                     |                            (1698 - ....) m 1719  (1673 - ....)             
|                     |_Content Watrous ____|
|                       (1769 - 1853) m 1791|
|                                           |                                                 _Samuel Whipple ___________+
|                                           |                                                | (1669 - 1728) m 1690      
|                                           |                           _Zachariah Whipple __|_Elizabeth Eddy ___________
|                                           |                          | (1706 - 1760) m 1728  (1670 - 1717)             
|                                           |_Content Whipple _________|
|                                             (1743 - 1831) m 1764     |
|                                                                      |                      _John Rogers ______________+
|                                                                      |                     |                           
|                                                                      |_Elizabeth Rogers ___|_Bathsheba Smith __________
|                                                                        (1706 - 1751) m 1728                            
|
|--Nathan Crouch 
|  (1848 - 1933)
|                                                                                             _Samuel Whipple ___________+
|                                                                                            | (1722 - 1794) m 1740      
|                                                                       _Noah Whipple _______|_Eunice or Unice Mitchell _
|                                                                      | (1741 - 1775) m 1762  (.... - 1801)             
|                                            _Samuel Stillman Whipple _|
|                                           | (1766 - 1843) m 1788     |
|                                           |                          |                      _Zachariah Whipple ________+
|                                           |                          |                     | (1706 - 1760) m 1728      
|                                           |                          |_Hope Whipple _______|_Elizabeth Rogers _________
|                                           |                            (1740 - 1829) m 1762  (1706 - 1751)             
|                      _Jonathan Whipple ___|
|                     | (1794 - 1875) m 1815|
|                     |                     |                                                 _Caleb Gates ______________+
|                     |                     |                                                | (1693 - 1774) m 1716      
|                     |                     |                           _Thomas Gates _______|_Mary Forbes or Fobes _____
|                     |                     |                          | (1720 - 1797)         (1697 - ....)             
|                     |                     |_Hepzibah Gates __________|
|                     |                       (1765 - 1822) m 1788     |
|                     |                                                |                      _Joseph Mitchell __________
|                     |                                                |                     |                           
|                     |                                                |_Elizabeth Mitchell _|_Elizabeth Lamb ___________
|                     |                                                  (1724 - ....)                                   
|_Elizabeth Whipple __|
  (1816 - 1881) m 1833|
                      |                                                                       ___________________________
                      |                                                                      |                           
                      |                                                 _William Crouch _____|___________________________
                      |                                                |  m 1765                                         
                      |                      _John Crouch _____________|
                      |                     | (1777 - 1830) m 1797     |
                      |                     |                          |                      _John Bolles ______________
                      |                     |                          |                     |                           
                      |                     |                          |_Christiana Bolles __|___________________________
                      |                     |                             m 1765                                         
                      |_Elizabeth Crouch ___|
                        (1798 - 1883) m 1815|
                                            |                                                 _John Waterhouse __________
                                            |                                                | (1690 - ....) m 1719      
                                            |                           _Timothy Waterhouse _|_Esther Culver ____________
                                            |                          | (1740 - 1814) m 1764  (1698 - ....)             
                                            |_Elizabeth Watrous _______|
                                              (1780 - 1862) m 1797     |
                                                                       |                      _Zachariah Whipple ________+
                                                                       |                     | (1706 - 1760) m 1728      
                                                                       |_Content Whipple ____|_Elizabeth Rogers _________
                                                                         (1743 - 1831) m 1764  (1706 - 1751)             

---
Notes
!SOURCE: Email from R. Gilebarto to Weldon Whipple, 4 Jun 1998, citing Clara McGuigan's _The Antecedants and Descendants of Noah Whipple and the Rogerene Community at Quakertown, CT_
Gravestone of Nathan Crouch, Jane E. (Olin) Crouch and Lucy E. (Watrous) Crouch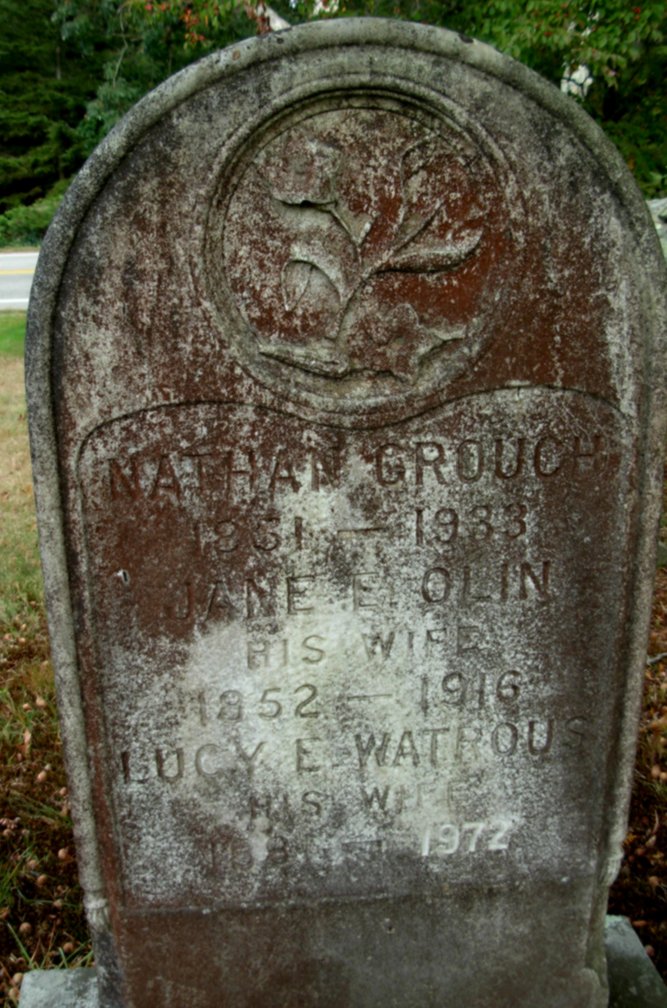 Ledyard Union Cemetery, Colonel Ledyard Highway, Ledyard, Connecticut
(Submitted by R. Gilebarto, 16 Oct 2007)

RIN 21044. Quick link to this page: https://genweb.whipple.org/21044
View this person at the Whipple One-Name Study

Email corrections and additions to whipple@one-name.org

© Whipple Website. All rights reserved.

---
HTML created by GED2HTML v3.6-Linux (Mar 8 2001) on Sat May 20 22:44:52 2023 GMT.