---
BIRTH: 2 Mar 1826, Ledyard, New London, Connecticut
DEATH: 26 Jan 1874, Ledyard, New London, Connecticut
BURIAL: Ledyard Union Cemetery, Ledyard, New London, Connecticut
Father: John Crouch (19 May 1800 - Mar 1868)
Mother: Rachel Watrous (9 May 1806 - 7 Mar 1826)

Family 1: Betsey Whipple (28 Oct 1826 - 10 Jan 1902)

MARRIAGE: 13 Apr 1846, Ledyard, New London, Connecticut
---

                                                                                         _____________________
                                                                                        |                     
                                                                   _____________________|_____________________
                                                                  |                                           
                                             _William Crouch _____|
                                            |  m 1765             |
                                            |                     |                      _____________________
                                            |                     |                     |                     
                                            |                     |_____________________|_____________________
                                            |                                                                 
                       _John Crouch ________|
                      | (1777 - 1830) m 1797|
                      |                     |                                            _____________________
                      |                     |                                           |                     
                      |                     |                      _John Bolles ________|_____________________
                      |                     |                     |                                           
                      |                     |_Christiana Bolles __|
                      |                        m 1765             |
                      |                                           |                      _____________________
                      |                                           |                     |                     
                      |                                           |_____________________|_____________________
                      |                                                                                       
 _John Crouch ________|
| (1800 - 1868) m 1821|
|                     |                                                                  _____________________
|                     |                                                                 |                     
|                     |                                            _John Waterhouse ____|_____________________
|                     |                                           | (1690 - ....) m 1719                      
|                     |                      _Timothy Waterhouse _|
|                     |                     | (1740 - 1814) m 1764|
|                     |                     |                     |                      _John Culver ________
|                     |                     |                     |                     | (1670 - ....) m 1697
|                     |                     |                     |_Esther Culver ______|_Sarah Long _________
|                     |                     |                       (1698 - ....) m 1719  (1673 - ....)       
|                     |_Elizabeth Watrous __|
|                       (1780 - 1862) m 1797|
|                                           |                                            _Samuel Whipple _____+
|                                           |                                           | (1669 - 1728) m 1690
|                                           |                      _Zachariah Whipple __|_Elizabeth Eddy _____
|                                           |                     | (1706 - 1760) m 1728  (1670 - 1717)       
|                                           |_Content Whipple ____|
|                                             (1743 - 1831) m 1764|
|                                                                 |                      _John Rogers ________+
|                                                                 |                     |                     
|                                                                 |_Elizabeth Rogers ___|_Bathsheba Smith ____
|                                                                   (1706 - 1751) m 1728                      
|
|--Timothy Crouch 
|  (1826 - 1874)
|                                                                                        _____________________
|                                                                                       |                     
|                                                                  _John Waterhouse ____|_____________________
|                                                                 | (1690 - ....) m 1719                      
|                                            _Timothy Waterhouse _|
|                                           | (1740 - 1814) m 1764|
|                                           |                     |                      _John Culver ________
|                                           |                     |                     | (1670 - ....) m 1697
|                                           |                     |_Esther Culver ______|_Sarah Long _________
|                                           |                       (1698 - ....) m 1719  (1673 - ....)       
|                      _John Watrous _______|
|                     | (1778 - 1820) m 1803|
|                     |                     |                                            _Samuel Whipple _____+
|                     |                     |                                           | (1669 - 1728) m 1690
|                     |                     |                      _Zachariah Whipple __|_Elizabeth Eddy _____
|                     |                     |                     | (1706 - 1760) m 1728  (1670 - 1717)       
|                     |                     |_Content Whipple ____|
|                     |                       (1743 - 1831) m 1764|
|                     |                                           |                      _John Rogers ________+
|                     |                                           |                     |                     
|                     |                                           |_Elizabeth Rogers ___|_Bathsheba Smith ____
|                     |                                             (1706 - 1751) m 1728                      
|_Rachel Watrous _____|
  (1806 - 1826) m 1821|
                      |                                                                  _____________________
                      |                                                                 |                     
                      |                                            _____________________|_____________________
                      |                                           |                                           
                      |                      _Alexander Rogers ___|
                      |                     |  m 1777             |
                      |                     |                     |                      _____________________
                      |                     |                     |                     |                     
                      |                     |                     |_____________________|_____________________
                      |                     |                                                                 
                      |_Desire Rogers ______|
                        (1780 - 1821) m 1803|
                                            |                                            _____________________
                                            |                                           |                     
                                            |                      _____________________|_____________________
                                            |                     |                                           
                                            |_Rachel Larrabee ____|
                                               m 1777             |
                                                                  |                      _____________________
                                                                  |                     |                     
                                                                  |_____________________|_____________________
                                                                                                              

---
Notes
!SOURCE: William Lee Whipple's (email hidden) database, 4 Dec 1997.

!SOURCE: Email from R. Gilebarto (rogerene@snet) to the Whipple Web Site, 29 May 1998. Gives birth date 2 Mar 1826. (Previously the database recorded the year as 1824.)

!SOURCE: "Ancestors of Frederick Leon Watrous," emailed by R. Gilebarto to Weldon Whipple 22 Nov 1998. Gives death date 26 Jan 1874. (Previously recorded as 6 Jan 1874.) Gives marriage date 13 Apr 1846. (Previously recorded as 19 Apr 1845.)
Gravestone of Timothy Crouch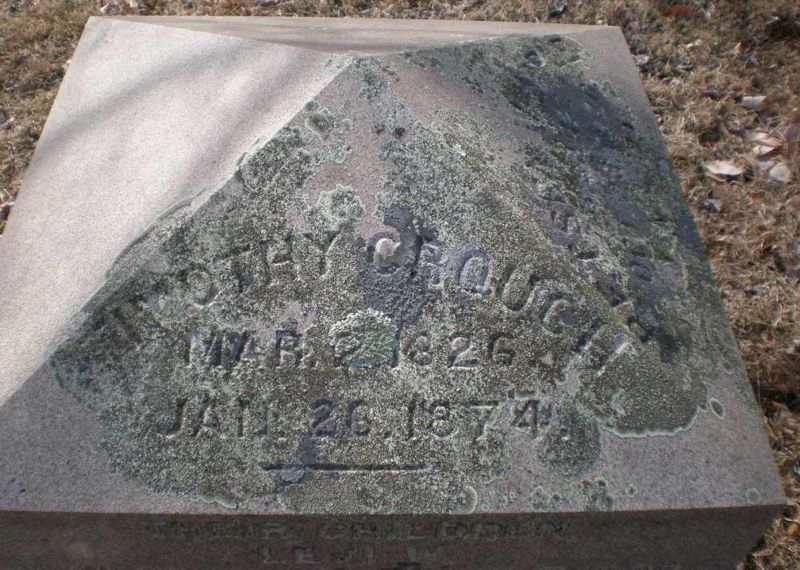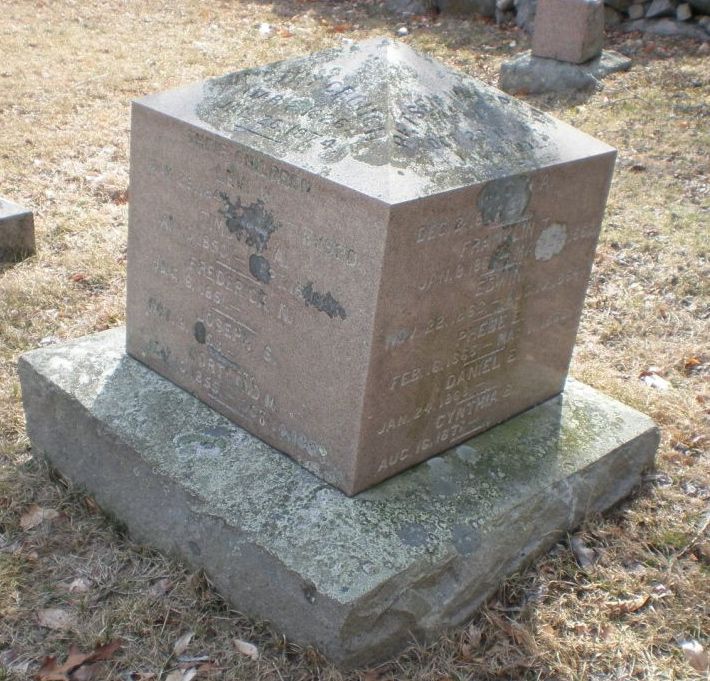 Timothy's Foot Stone: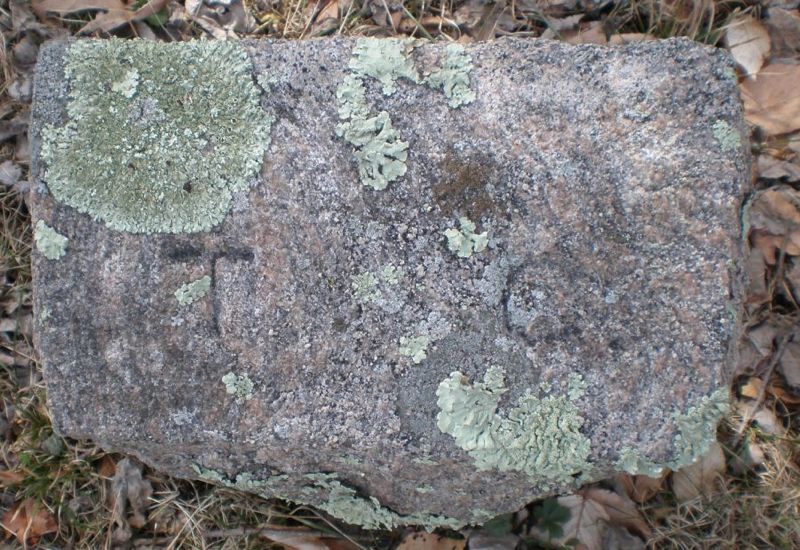 Ledyard Union Cemetery, Colonel Ledyard Highway, Ledyard, New London, Connecticut
(Submitted 3/14/2009 by R. Gilebarto)

RIN 13693. Quick link to this page: https://genweb.whipple.org/13693
View this person at the Whipple One-Name Study

Email corrections and additions to whipple@one-name.org

© Whipple Website. All rights reserved.

---
HTML created by GED2HTML v3.6-Linux (Mar 8 2001) on Mon Nov 27 00:14:57 2023 GMT.