---
BIRTH: 24 Jan 1917
DEATH: 12 May 1917, Ledyard, New London, Connecticut
BURIAL: Ledyard Union Cemetery, Colonel Ledyard Highway, Ledyard, New London, Connecticut
Father: Alfton Fuller Crouch (20 Nov 1885 - 18 Feb 1952)
Mother: Harriet Elizabeth Partridge (8 May 1891 - 18 Aug 1939)


---

                                                                                                            _William Crouch _____
                                                                                                           |  m 1765             
                                                                                      _John Crouch ________|_Christiana Bolles __
                                                                                     | (1777 - 1830) m 1797                      
                                                        _John Crouch ________________|
                                                       | (1800 - 1868) m 1849        |
                                                       |                             |                      _Timothy Waterhouse _+
                                                       |                             |                     | (1740 - 1814) m 1764
                                                       |                             |_Elizabeth Watrous __|_Content Whipple ____
                                                       |                               (1780 - 1862) m 1797  (1743 - 1831)       
                                _Silas Bentley Crouch _|
                               | (1853 - 1913) m 1875  |
                               |                       |                                                    _Joseph Scott _______
                               |                       |                                                   |                     
                               |                       |                              _David Scott ________|_Ellen Stoner _______
                               |                       |                             | (1794 - 1856) m 1820                      
                               |                       |_Eleanor "Ellen" Scott ______|
                               |                         (1829 - 1877) m 1849        |
                               |                                                     |                      _Zachariah Watrous __+
                               |                                                     |                     | (1767 - 1809)       
                               |                                                     |_Lydia Watrous ______|_Sarah Adams ________
                               |                                                       (1795 - 1870) m 1820                      
 _Alfton Fuller Crouch ________|
| (1885 - 1952) m 1903         |
|                              |                                                                            _____________________
|                              |                                                                           |                     
|                              |                                                      _____________________|_____________________
|                              |                                                     |                                           
|                              |                        _Stephen Hazard Peckham _____|
|                              |                       | (1805 - 1863) m 1850        |
|                              |                       |                             |                      _____________________
|                              |                       |                             |                     |                     
|                              |                       |                             |_____________________|_____________________
|                              |                       |                                                                         
|                              |_Julia Abbie Peckham __|
|                                (1854 - 1916) m 1875  |
|                                                      |                                                    _____________________
|                                                      |                                                   |                     
|                                                      |                              _____________________|_____________________
|                                                      |                             |                                           
|                                                      |_Elmira or Almira Holdridge _|
|                                                        (1824 - 1880) m 1850        |
|                                                                                    |                      _____________________
|                                                                                    |                     |                     
|                                                                                    |_____________________|_____________________
|                                                                                                                                
|
|--Elsworth Gene Crouch 
|  (1917 - 1917)
|                                                                                                           _____________________
|                                                                                                          |                     
|                                                                                     _____________________|_____________________
|                                                                                    |                                           
|                                                       _____________________________|
|                                                      |                             |
|                                                      |                             |                      _____________________
|                                                      |                             |                     |                     
|                                                      |                             |_____________________|_____________________
|                                                      |                                                                         
|                               _Sanford Partridge ____|
|                              |                       |
|                              |                       |                                                    _____________________
|                              |                       |                                                   |                     
|                              |                       |                              _____________________|_____________________
|                              |                       |                             |                                           
|                              |                       |_____________________________|
|                              |                                                     |
|                              |                                                     |                      _____________________
|                              |                                                     |                     |                     
|                              |                                                     |_____________________|_____________________
|                              |                                                                                                 
|_Harriet Elizabeth Partridge _|
  (1891 - 1939) m 1903         |
                               |                                                                            _____________________
                               |                                                                           |                     
                               |                                                      _____________________|_____________________
                               |                                                     |                                           
                               |                        _____________________________|
                               |                       |                             |
                               |                       |                             |                      _____________________
                               |                       |                             |                     |                     
                               |                       |                             |_____________________|_____________________
                               |                       |                                                                         
                               |_Hannah F. Wheeler ____|
                                                       |
                                                       |                                                    _____________________
                                                       |                                                   |                     
                                                       |                              _____________________|_____________________
                                                       |                             |                                           
                                                       |_____________________________|
                                                                                     |
                                                                                     |                      _____________________
                                                                                     |                     |                     
                                                                                     |_____________________|_____________________
                                                                                                                                 

---
Notes
!SOURCE: "Ancestors of Ellen Elizabeth Crouch," email from R. Gilebarto to Weldon Whipple, 18 Aug 2003. Cites Clara Hammond McGuigan, The Antecedents and Descendants of Noah Whipple of the Rogerene Community at Quakertown, Connecticut (Ithaca, N.Y.: J.M. Kingsbury, 1971), p. 245; Ledyard, Connecticut Town Records. Spells surname Ellsworth. Other sources use spelling Elsworth.
Gravestone of Elsworth Crouch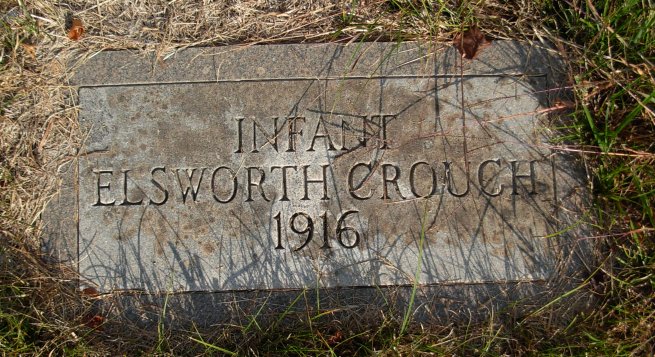 Ledyard Union Cemetery, Colonel Ledyard Highway, Ledyard, Connecticut
(Submitted by R. Gilebarto, 16 Oct 2007)

RIN 81505. Quick link to this page: https://genweb.whipple.org/81505
View this person at the Whipple One-Name Study

Email corrections and additions to whipple@one-name.org

© Whipple Website. All rights reserved.

---
HTML created by GED2HTML v3.6-Linux (Mar 8 2001) on Sat May 20 22:44:52 2023 GMT.