---
BIRTH: 11 Jun 1875
DEATH: 30 Oct 1885
BURIAL: Ledyard Union Cemetery, Ledyard, New London, Connecticut
Father: Levi Williams Crouch (29 May 1848 - 8 Sep 1920)
Mother: Mary Watrous (8 Nov 1853 - 13 Oct 1927)


---

                                                                                                _William Crouch _____
                                                                                               |  m 1765             
                                                                     _John Crouch _____________|_Christiana Bolles __
                                                                    | (1777 - 1830) m 1797                           
                                               _John Crouch ________|
                                              | (1800 - 1868) m 1821|
                                              |                     |                           _Timothy Waterhouse _+
                                              |                     |                          | (1740 - 1814) m 1764
                                              |                     |_Elizabeth Watrous _______|_Content Whipple ____
                                              |                       (1780 - 1862) m 1797       (1743 - 1831)       
                         _Timothy Crouch _____|
                        | (1826 - 1874) m 1846|
                        |                     |                                                 _Timothy Waterhouse _+
                        |                     |                                                | (1740 - 1814) m 1764
                        |                     |                      _John Watrous ____________|_Content Whipple ____
                        |                     |                     | (1778 - 1820) m 1803       (1743 - 1831)       
                        |                     |_Rachel Watrous _____|
                        |                       (1806 - 1826) m 1821|
                        |                                           |                           _Alexander Rogers ___
                        |                                           |                          |  m 1777             
                        |                                           |_Desire Rogers ___________|_Rachel Larrabee ____
                        |                                             (1780 - 1821) m 1803                           
 _Levi Williams Crouch _|
| (1848 - 1920) m 1870  |
|                       |                                                                       _Noah Whipple _______+
|                       |                                                                      | (1741 - 1775) m 1762
|                       |                                            _Samuel Stillman Whipple _|_Hope Whipple _______
|                       |                                           | (1766 - 1843) m 1788       (1740 - 1829)       
|                       |                      _Noah Whipple _______|
|                       |                     | (1792 - 1871) m 1813|
|                       |                     |                     |                           _Thomas Gates _______+
|                       |                     |                     |                          | (1720 - 1797)       
|                       |                     |                     |_Hepzibah Gates __________|_Elizabeth Mitchell _
|                       |                     |                       (1765 - 1822) m 1788       (1724 - ....)       
|                       |_Betsey Whipple _____|
|                         (1826 - 1902) m 1846|
|                                             |                                                 _William Crouch _____
|                                             |                                                |  m 1765             
|                                             |                      _William Crouch __________|_Christiana Bolles __
|                                             |                     | (1770 - 1840) m 1791                           
|                                             |_Content Crouch _____|
|                                               (1794 - 1835) m 1813|
|                                                                   |                           _Timothy Waterhouse _+
|                                                                   |                          | (1740 - 1814) m 1764
|                                                                   |_Content Watrous _________|_Content Whipple ____
|                                                                     (1769 - 1853) m 1791       (1743 - 1831)       
|
|--Lillie Mary Crouch 
|  (1875 - 1885)
|                                                                                               _Timothy Waterhouse _+
|                                                                                              | (1740 - 1814) m 1764
|                                                                    _Timothy Watrous _________|_Content Whipple ____
|                                                                   | (1765 - 1820) m 1787       (1743 - 1831)       
|                                              _Daniel Watrous _____|
|                                             | (1793 - 1879) m 1813|
|                                             |                     |                           _Stephen Wilcox _____
|                                             |                     |                          |                     
|                                             |                     |_Hannah Wilcox ___________|_____________________
|                                             |                       (1766 - 1851) m 1787                           
|                        _James Watrous ______|
|                       | (1825 - 1903) m 1851|
|                       |                     |                                                 _Noah Whipple _______+
|                       |                     |                                                | (1741 - 1775) m 1762
|                       |                     |                      _Samuel Stillman Whipple _|_Hope Whipple _______
|                       |                     |                     | (1766 - 1843) m 1788       (1740 - 1829)       
|                       |                     |_Hephzibah Whipple __|
|                       |                       (1790 - 1849) m 1813|
|                       |                                           |                           _Thomas Gates _______+
|                       |                                           |                          | (1720 - 1797)       
|                       |                                           |_Hepzibah Gates __________|_Elizabeth Mitchell _
|                       |                                             (1765 - 1822) m 1788       (1724 - ....)       
|_Mary Watrous _________|
  (1853 - 1927) m 1870  |
                        |                                                                       _Timothy Waterhouse _+
                        |                                                                      | (1740 - 1814) m 1764
                        |                                            _Timothy Watrous _________|_Content Whipple ____
                        |                                           | (1765 - 1820) m 1787       (1743 - 1831)       
                        |                      _Silas Watrous ______|
                        |                     | (1802 - 1852) m 1823|
                        |                     |                     |                           _Stephen Wilcox _____
                        |                     |                     |                          |                     
                        |                     |                     |_Hannah Wilcox ___________|_____________________
                        |                     |                       (1766 - 1851) m 1787                           
                        |_Hannah Watrous _____|
                          (1832 - 1884) m 1851|
                                              |                                                 _William Crouch _____
                                              |                                                |  m 1765             
                                              |                      _William Crouch __________|_Christiana Bolles __
                                              |                     | (1770 - 1840) m 1791                           
                                              |_Mary Crouch ________|
                                                (1801 - 1884) m 1823|
                                                                    |                           _Timothy Waterhouse _+
                                                                    |                          | (1740 - 1814) m 1764
                                                                    |_Content Watrous _________|_Content Whipple ____
                                                                      (1769 - 1853) m 1791       (1743 - 1831)       

---
Notes
!SOURCE: Grave Marker in the Ledyard Union Cemetery, cited in email from R. Gilebarto to Weldon Whipple, May 1998.
Gravestone of Lillie Mary Crouch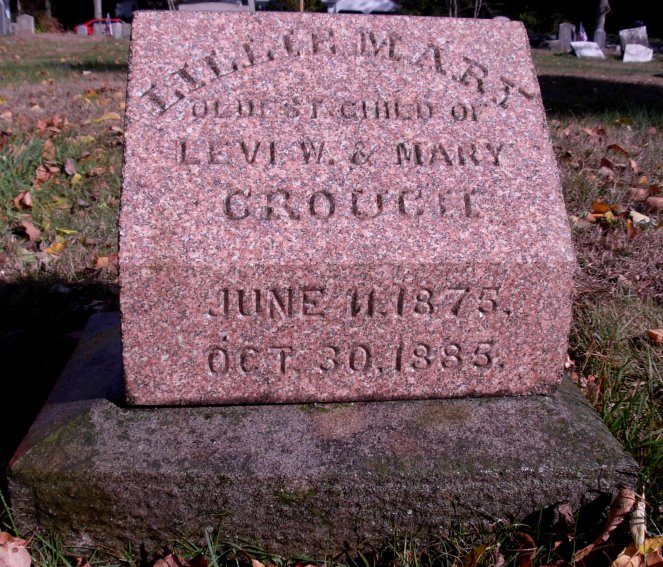 Ledyard Union Cemetery, Colonel Ledyard Highway, Ledyard, Connecticut
(Submitted by R. Gilebarto, 9 Nov 2007)

RIN 21382. Quick link to this page: https://genweb.whipple.org/21382
View this person at the Whipple One-Name Study

Email corrections and additions to whipple@one-name.org

© Whipple Website. All rights reserved.

---
HTML created by GED2HTML v3.6-Linux (Mar 8 2001) on Mon Dec 5 00:29:33 2022 GMT.